Providing opportunity to acquire skills, knowledge and expertise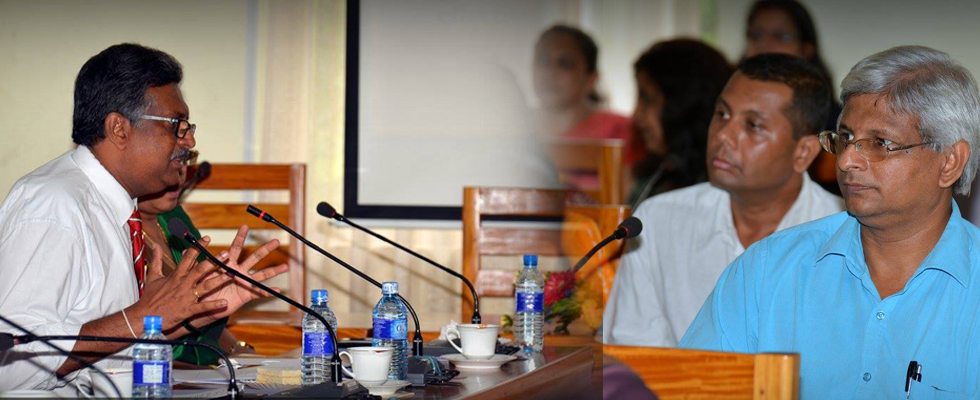 Today, the pace of change continues to accelerate to a large extent, by technological changes taken place at global level. Beyond the University, commerce, industry and society in general are undergoing constant transformation. Hence, the University should prepare graduates and postgraduates who are capable of catering to the needs in the country, region and the world at large. All the members of the teaching staff together with colleagues in the Library, Administration branch, Finance branch and other bodies are jointly responsible for maintaining high quality in the delivery of taught programmes and supervision of research students.
In this context, professional development of the University staff is of primary importance. The programmes developed are a series of ongoing, focused activities which are linked to a professional development plan and the mission of the University. These activities are designed to develop individual professional growth and to nurture and promote leadership in the field each staff member works. Professional development provides knowledge, methods, skills and techniques resulting in changed behavior.
In this connection, the Staff Development Centre has an important role to play, especially in the assurance of quality and high standards of the academic programmes offered. The main aim of the Staff Development Unit is to support the University's goal of ensuring that staff have every opportunity to acquire the skills, knowledge and expertise to carry out their duties effectively and to achieve their full potential. Therefore the Staff Development Centre of the University of Sri Jayewardenepura (SJUSDC) has prioritised the following;
1. Improvement of the knowledge, professional competence and skills of academic, administrative and non-academic staff.
2. Quality assurance and the standards of academic programmes offered need to be enhanced.
GENERAL POLICY OBJECTIVES OF THE SJUSDC
In satisfying the above needs, the Staff Development Policies will increase the effectiveness of University staff in the following;
i. Teaching, learning and researching through upgrading respective methodologies and techniques.
ii. Administration and management at all levels.
iii. Supporting and assisting academic activities.
iv. Planning and implementing strategies that further satisfy the general objectives of the University.
v. Predicting and coping with changes taken place locally and international in the respective field.
vi. Motivating staff to achieve their full potential.
vii. Promoting and maintaining a good relationship between the University staff and external Academic, Research and Administrative Institutions.