Young Research Symposium 2019
University of Sri Jayewardenepura
www.sjp.ac.lk/60/yrs
Young Research Symposium (YRS) 2019 to be held on 30 – 31 May 2019 at University premises from 8.30 am-5.00 pm to mark the 60th anniversary celebration of University of Sri Jayewardenepura
YRS will give the platform to present a school or private projects done by an individual or a group in the field of Science/ Technology/ Social Sciences/ Humanities/ Management or Commerce.
All applicants should be in the age of 15-20 years on 25 March 2019. The projects will be evaluated by an eminent panel of judges. The selected projects will be published in an Abstract Book in par with 60th anniversary celebrations of the university and all the participants will get a certificate.
Rules of the competition
• The projects should be in one of the mentioned fields (Science/ Technology/ Social Sciences/Humanities/ Management or Commerce) and should not have been published or presented in any other public competition.
• An individual or group can submit one project for the competition. An abstract should be submitted with 300 words in an A4 paper, in  Sinhala or English medium, typed document (12 font, 1.5 spacing) should consists of introduction, methodology, results and discussion with the completed application form, downloaded from www.sjp.ac.lk/60/yrs.
• The deadline to submit your project abstracts is 25th March 2019. The completed application form with the abstract should submit to the
The coordinator, YRS 2019
60 anniversary celebration
University of Sri Jayewardenepura
Nugegoda.
• Selected abstracts will be notified on 25 April 2019 in our webpage, www.sjp.ac.lk/60/yrs.
The leaders of the selected projects should present their project for 15 min in front of a public audience at the Young Research Symposium (YRS) 2019, which will be held on 30th and 31st May 2019 at University premises from 8.30 am-5.00 pm. The eminent panel of judges will select the best projects in each filed. The winners of the each of the four fields will be awarded at the last day of the forum during the award ceremony.
Download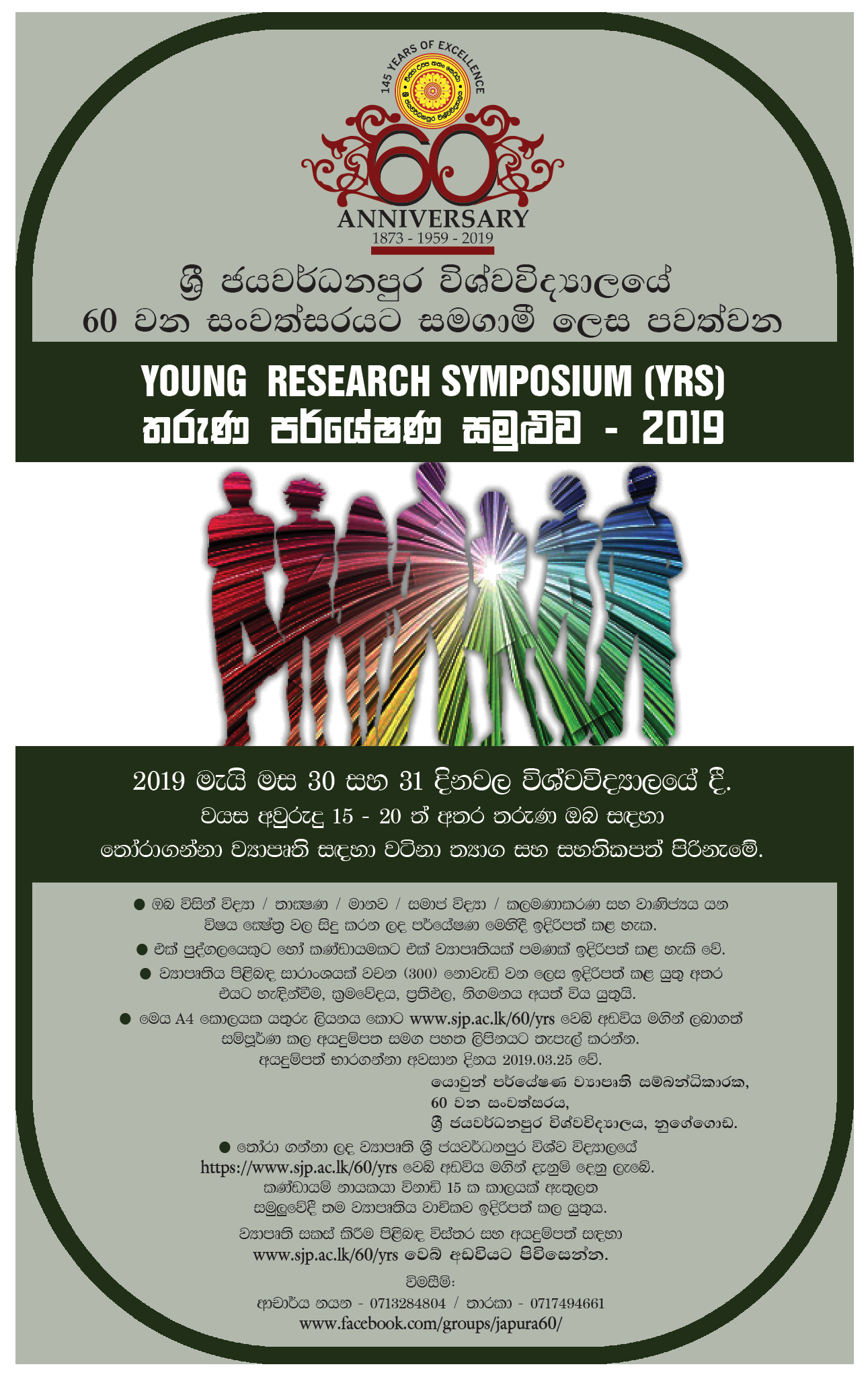 ---
60th Anniversary Page