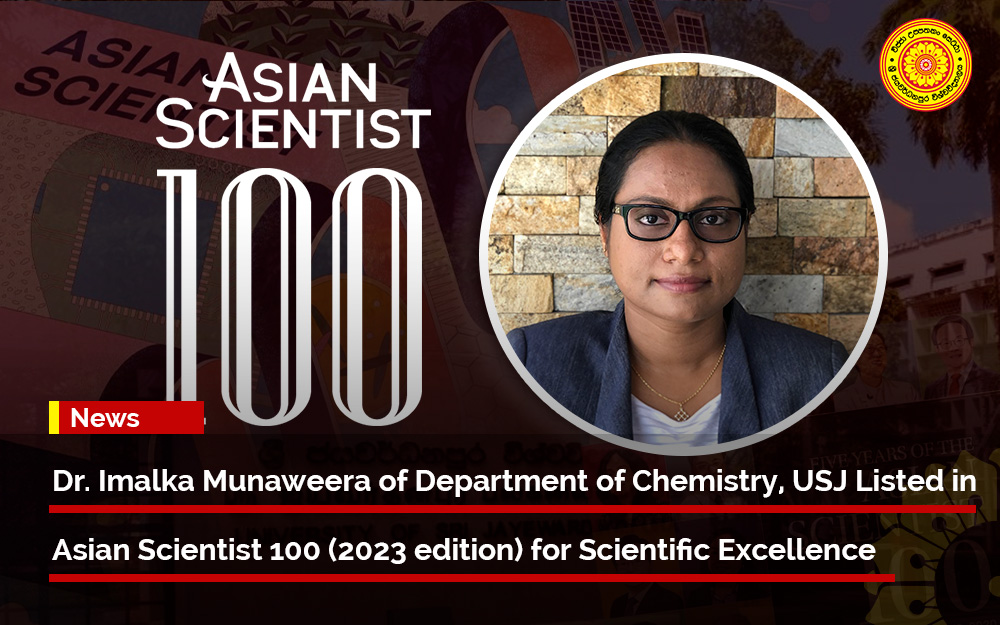 Dr. Imalka Munaweera, from the Department of Chemistry at Faculty of Applied Sciences USJ, has been listed in the "Asian Scientist 100 (2023 edition)" of the Asian Scientist Magazine's eighth iteration which highlights her exceptional groundbreaking scientific advancements in the field.
The "Asian Scientist 100" list features outstanding individuals from various countries, including Bangladesh, Cambodia, China, Hong Kong SAR, India, Indonesia, Japan, Malaysia, Pakistan, the Philippines, Singapore, South Korea, Sri Lanka, Taiwan, Thailand, and Vietnam representing a wide range of fields from the modern number theory to mental health.
Dr. Imalka's remarkable work was honored with the prestigious 2021 OWSD-Elsevier Foundation Award for Early-Career Women Scientists in the Developing World. Her significant research contributions include the fabrication of diverse functionalized materials, nanoparticles, and nanocomposites, with applications ranging from drug delivery to water filtration and the reduction of post-harvest losses in fruits and vegetables.
The USJ web team and the entire university community extend heartfelt congratulations to Dr. Imalka Munaweera for her exceptional achievement and wish her continued success in her future endeavors.