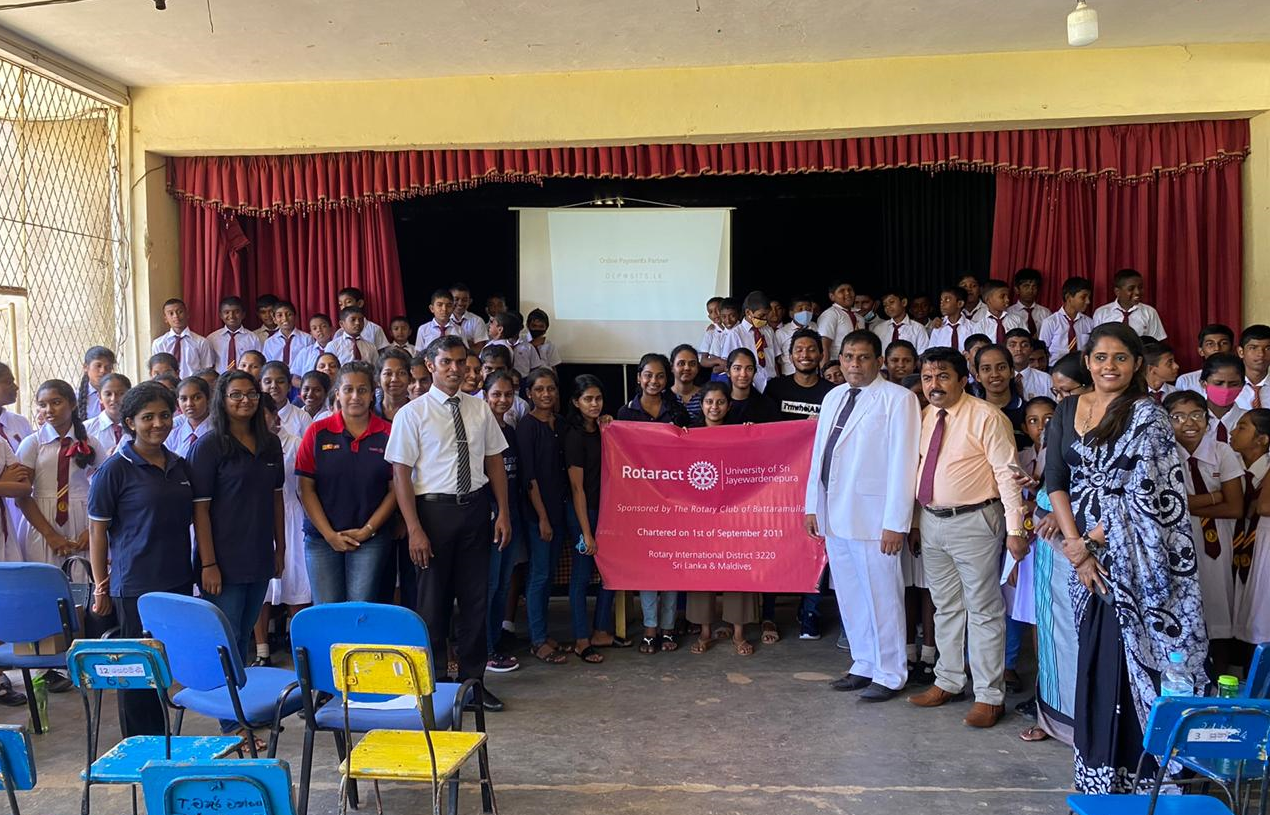 We are collectively facing a pandemic threat that is sweeping across the humanity beyond oceans and borders. Sri Lanka has been successful so far, compared to most other countries, in the fight against Covid-19. But despite controlling the rate of deaths and patients, it is undeniable the effect it had on the education system in Sri Lanka which for so long had minimum involvement of technology compared to other countries. It was about time that we as young Rotaractors stepped up against this deadly disease.
The government of Sri Lanka took timely actions to limit the spread of the disease. Schools and universities had to temporarily shut down and move their classes online. For educators, the COVID-19 pandemic is a quintessential adaptive and transformative challenge, one for which Sri Lanka was never ready and this indeed had no pre-configured rule book that could guide us through the appropriate responses. As the pandemic was running its course it was important to provide the teachers and students with the necessary skills and mindset to meet the emerging educational needs. And thus blossomed project "PERAMAGA".
Project "PERAMAGA" was initiated as the first project of the year by the Community Service Avenue of the Rotaract Club of University of Sri Jayewardenepura under the guidance of the Rotaract District 3220 to STOP THE SPREAD-BEYOND COVID-19.
Project "PERAMAGA" unfolded on the 24th of August, 2020 at Wethara Maha Vidyalaya in Polgasowita. The event included an interactive session on how to prevent further transmission of the disease within school communities with over 95 students taking part in it and secondly an IT focused session for the teachers where all necessary knowledge was discussed beginning from basics. As Rotaractors we needed to do our small part in helping the affected student community, and that's where the donations came into play. We were able to donate many essential items collaborating with our sponsors and well-wishers.
As students try to adjust to the new normal, it is important to remember that they look up to adults for guidance. Our facilitators for the day, Dr. Udesh Hewapathirana and Mrs. Rasini Bandara were the ideal people to give them a sense of control, reassure the children that they will be alright and that the situation will get better.
Dr. Udesh Hewapathirana is the Community Medical Officer of Moratuwa from the Nutrition and Indigenous Medicine, Ministry of Health. Mrs. Rasini Bandara is a Counseling Psychologist from Mind Heals. She is also a renowned public speaker and a personality development coach. Students from grades six, ten, and eleven took part in this interactive session. Students who came and sat down ready for yet another boring lecture were pleasantly surprised. It was an extremely interactive and practical based session where students did not even notice two hours passing by and were ready for more. The feedback received at the end of the session from the school Principal and the teachers were gratifying not just for the amazing facilitators but for us too as young Rotarators trying to be of service to our communities.
The E-learning session that followed was one of a kind. Twenty three teachers were a part of this session and it was conducted by Ms. Sajida Zaheer (CIMA Adv. Dip. MA), a third year undergraduate from the Faculty of Management Studies and Commerce of University of Sri Jayewardenepura. This was a unique invaluable session where teachers got to learn how to conduct the lessons online and to not let the pandemic disrupt the education programs at schools. This was a bottom-up approach on virtual online classes beginning from simple concepts such as creating a WhatsApp group on to creating zoom meetings, recording lectures, using virtual or smart whiteboards, etc. This session was deeply appreciated by all the teachers as it was a needed matter to learn these skills during this time to keep up with the emerging educational requirements.
This event would not have been possible if not for the Platinum Sponsor, Surf Edge Pvt. Ltd., and the banner sponsor, Commercial Bank. Along with other sponsorships from Imedra Healthcare Pvt. Ltd., Paan Paan, and other well-wishers, we were able to donate 200 protection masks, sanitizers, hand wash bottles and refill packets, infra-red thermometers, face shields, rubber gloves, and other essential items which were extremely satisfying and pleasing.
Over twenty members from the Rotaract Club of University of Sri Jayewardenepura were present at the event to witness "PERAMAGA" become a success and it was an incredibly humbling and proud moment to see the immediate impact it had on both the teachers and the students. As Rotaractors this was an event where SERVICE ABOVE SELF came to reality and we wish to extend our heartfelt gratitude to all the facilitators, sponsors, the Rotaract District Steering Committee, and each and every individual who lend a hand in making this event a success.
Viva La Rotaract
Rtr. Akini Karunarathne