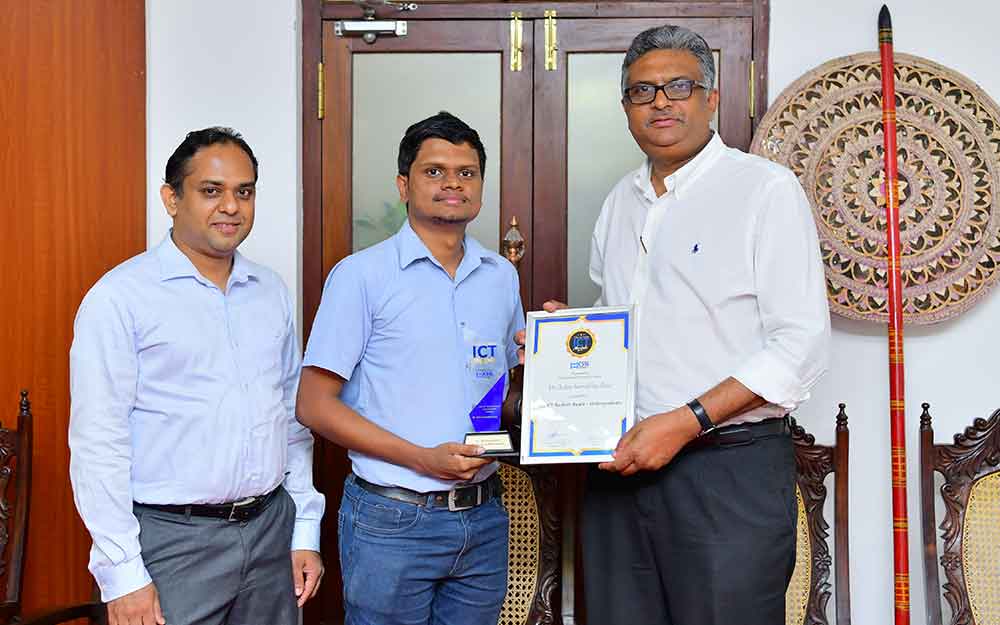 The Computer Society of Sri Lanka (CSSL) is the premier organization dedicated to promoting and improving professional standards in the Information and Communication Technology sector since 1976. National CSSL ICT Awards is an award ceremony conducted with the view of recognizing and motivating those who have served the ICT industry in Sri Lanka. These awards intend to encourage, recognize and celebrate excellence in ICT practice by rewarding the best and the finest of ICT professionals. National CSSL ICT Awards include calling nominations/applications, conducting selection and organizing an award ceremony, however, the final selections will be made by a panel of experts from the ICT industry as well as academia.
Mr. Dulan S. Dias was nominated for this award by Dr. Lasith Gunawardene, Senior Lecturer from the University of Sri Jayewardenepura, for the award category of "CSSL ICT Student (Undergraduate)". This award is awarded to an undergraduate student in the field of ICT, IT or Computer Science who has achieved excellence in both academic as well as in extra-curricular activities, out of any university or institute in Sri Lanka.
Mr. Dulan S. Dias was an undergraduate from the Department of Computer Science, Faculty of Applied Sciences, University of Sri Jayewardenepura, who recently graduated with a B.Sc. (Honours) in Computer Science degree with a First Class Division. He has won numerous awards and competitions with the most prestigious-to-date being the winning of the Gold Award at the Asia-Pacific ICT Alliance (APICTA) Awards 2018, bringing pride and glory to the university as well as the country. He has also organized multiple large scale tech-events with the most recent being organizing the IEEE Sri Lanka Section Congress 2018 in the capacity of Co-Chair. He has also co-founded several tech startups and is considered a budding young entrepreneur with a vision to revolutionize the country with innovation. As an undergraduate, he has published 5 research papers out of which he has also won the award for the Best Paper Presented at one such International conference.
CSSL Awards 2019 was held on the 8th of October 2019 at Shangri-La Hotel, Colombo, where Mr. Dulan S. Dias was able to win the above-said award, making it the very first time our university was able to secure this particular award.