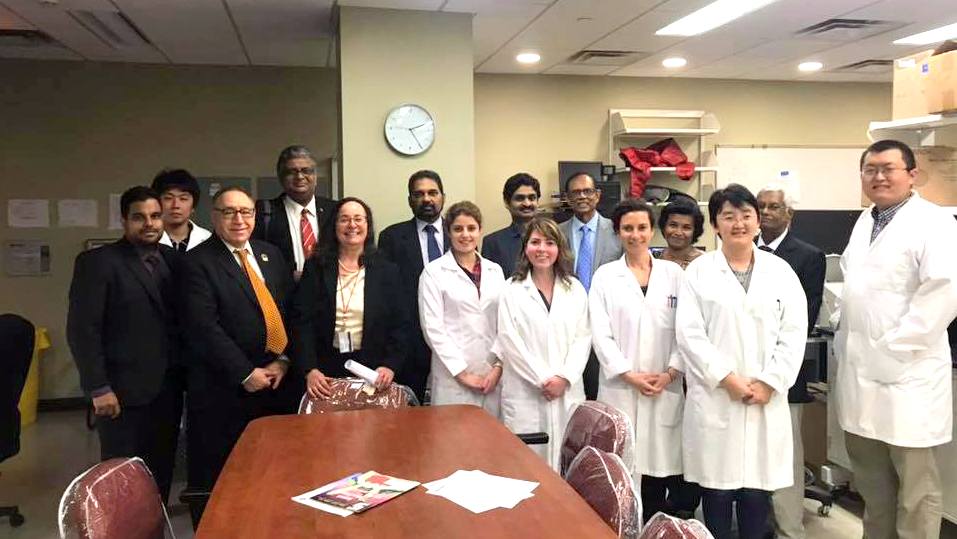 Vice-Chancellor Senior Professor Sampath Amaratunge, Dean Faculty of Technology Professor Sudantha Liyanage, Dean Faculty of Medical Sciences Surangi Yasawardena, Dr Akila Subasinghe former Dean, Faculty of Engineering, Prof Ranil De Silva, Director, World Class University Project and Prof Hiran Amarasekera, Director, Digital Media and Communication visited various USA Universities in Houston, Texas last month.
Dr. Bandula Wijay one of Sri Lanka's most eminent inventors of medical devices and the Ambassador for, Science Technology and Innovation residing in Texas, USA organized this tour.  Dr. Bandula Wijay  has patented more than 30 medical devices and founder of four medical device companies in USA,
Japura academies visited Rice University, Baylor College of Medicine, MD Anderson Cancer Center and the University of Houston.
The University of Sri Jayewardenepura explored the possibility of starting a Bachelor of Engineering course in Bio-Medical Engineering in collaborating with the Bio-engineering Department at Rice University, Baylor College of Medicine and the University of Houston in the future.
The delegation visited the Department of Biomedical Engineering (BME) at the University of Houston, Texas. This department has been in operation within the Department of Electrical Engineering from  1996 and has recently established a separate department of BME. During the visit, the prospects in the fields of Biomedical Informatics, Remote Sensing and Brain-Computer Interfacing (BCI) was discussed in detail, and Japura faculty received a glimpse to the nature of Bio-medical Engineering education. This was followed up with a Laboratory visit and also experiencing a Biomedical Engineering lecture session with an undergraduate student group. The department of Biomedical Engineering at the University of Houston extended its support for developing a program at the University of Sri Jayewardenepura.
Japura faculty also visited Baylor College of Medicine to learn about American medical education, host of professionals, including the Dean of medicine explained the medical education in US Universities and specifically that of the highly ranked Baylor College of Medicine. The clear message was that Baylor medical students engage in clinical exposure quite early during their education and the emphasis on research.  Also, the cycle of innovation and few case studies in the invention of medical devices was explained, which included the work on Ebola outbreak and various other healthcare applications in African Countries under the leadership of Prof Sharmila Anadasabapathi, Vice-President of Baylor Global Initiatives and the Baylor Global Innovation Center.
Prof. Will Clifton of Rice University stressed the importance they place on supporting student start-up projects during their degree program.  The University has a "Design Kitchen" for the undergraduates to develop their new medical devices and conducts regular 'BOOT CAMPS' for entrepreneurship and innovation/ invention.
A discussion was held with Prof. Renata Ramos, Associate Dean/ Academic Affairs, Engineering at Rice University and she explained the process of development of curricula for a BioEngineering degree program. She emphasized the need for hands-on practical education and preparing students to meet new challenges in the workplace.
Other topics discussed included Cancer Biology, control of CKDu, Executive Education for business leaders, Innovations In Medicine, Science and Technology, Mammalian synthetic Biology and Immuno-therapy.
The dedication and support from Ambassador Wijay and his wife Constanza Wijay, Dr. and Mrs. Thivi Varatharasa and Mr. Chanaka Wijesinghe made this visit to Houston to learn about medical and Bio-engineering education by the Japura delegation a very worthwhile learning experience for the Japura faculty.