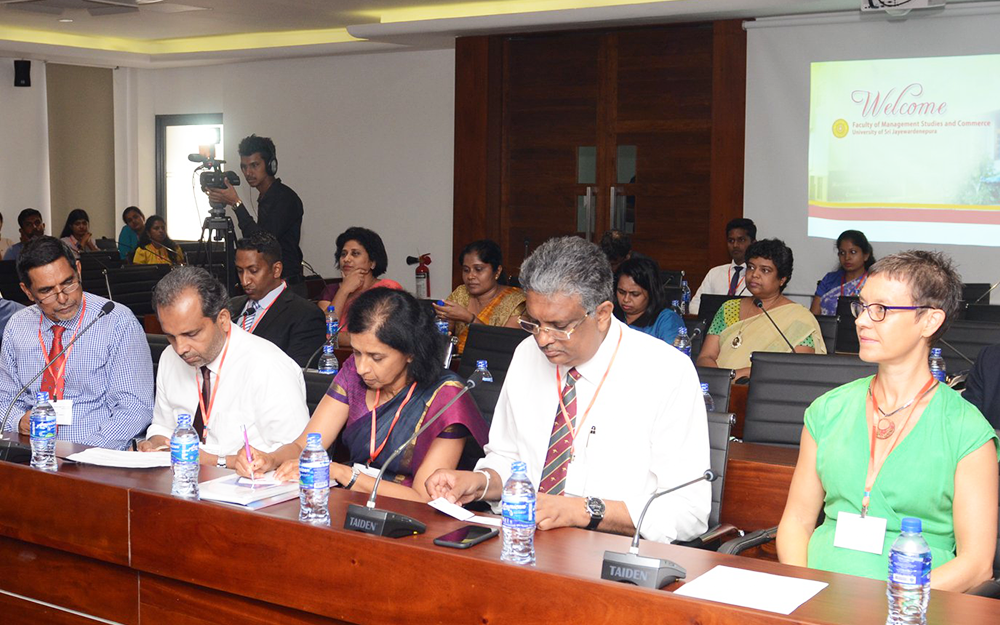 In February 2019, 35 students and 3 staff members from the Monash Business School visited USJP under their second study tour to USJP. This was two-week (10th – 23rd February) study tour which offered a course unit (Engaging with International Business-Asia) as a part of the Monash Business School degree programs. This study program has been designed by the Monash Business School in collaboration with the Faculty of Management Studies and Commerce, USJP. The Monash study group was led by Dr. Ross Booth, Monash Business School, Monash University.
The Monash study group took the opportunity to spend two-weeks exploring business activities in various regions of Sri Lanka.  The first week was spent in Colombo and Galle districts and they had the opportunity to visit the Kingdom of Raigam, consumer goods manufacturer and sole agent for certain international brands in bakery products; Brandix Lanka limited, the largest apparel and textile manufacture in Sri Lanka, producing for international brands such as GAP, VS, Uniqlo, PVH, Decathlon, M&S, Limited brands, Lidl, LBI, H&M; and Dilmah Ceylon Tea Company, a Sri Lankan brand of tea. The Monash study group was honored to see up close the workings with these types of internationally recognized companies, and to meet some inspiring business leaders, hearing about their business and personal journeys. As their day trip, they visited the coastal area around the port city of Galle in Sothern Province.
During the second week, the Monash study group visited Kandy and the beautiful tea plantation surrounding Nuwara Eliya district and enjoyed a change of climate and visiting micro businesses at Pilimathalawa. In Nuwara Eliya they inspected the tea production process at Talawakelle Tea Estate (Somerset), producer of high-quality Ceylon Teas, and the educational opportunities provided to families of tea plantation workers. Further, they were involved in a community engagement project too.
The Monash study group had the opportunity to take part in a range of visits and activities, both academic and co-curricular, enabling them to gain a better understanding of Sri Lanka and the growing global importance of this emerging economy. The program explored the Sri Lankan political and economic environment, commercial sector, society, and culture, with a focus on businesses successfully addressing sustainable development and inclusive employment practices. Cross-cultural communication issues and the relationship between Sri Lanka and its global diaspora were also addressed.
Finally, the students of the Monash study group had the opportunity to engage with USJP students under the sessions of the program such as informal networking, discussion on sustainable development goals and cross-cultural communication and business.
We were grateful to Ms. Victoria Coakley, Deputy Head of Mission, Australian High Commission, Professor Rohana Kuruppu, Chief Executive Officer, Brandix College of Clothing Technology, Mr. Merrill J. Fernando, Chairman/ Founder, Dilmah Ceylon Tea Company, Dr. Ravi Liyanage, Chairman/ Chief Executive Officer, Kingdom of Raigam, Dr. Roshan Rajadurai, Managing Director. Talawakelle Tea Estate (Somerset), Hayles Plantations, Mr. Senaka Alawattegama, Director, Thalawakelle Tea Estate, Mr. Indika Piyadasa, Divisional Secretary, Yatinuwara, Pilimathalawa,  Mr. Eranga Egodawele, Senior Manager, Thalawakelle Tea Estate and Dr. (Mrs.) Sumudu Perera, Senior Lecturer, Department of Business Economics.