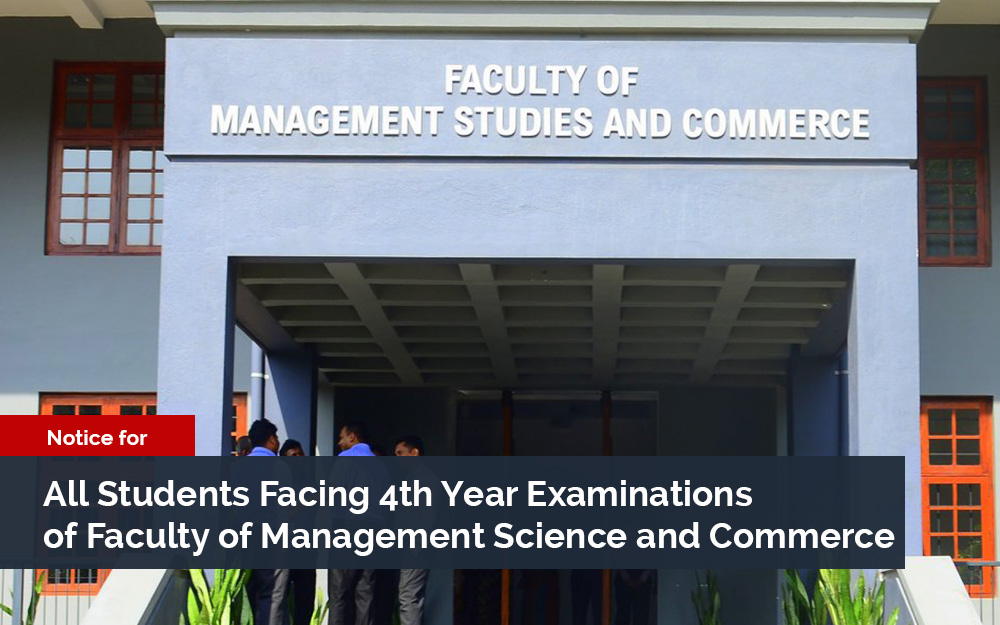 For all students facing 4th year examinations,
The First Semester End Examinations which were to commence on 2020.03.23 will recommence as per the revised time table from 2020.07.13 onwards. It is mandatory that students who are to sit for these examinations follow the undermentioned health and safety advice and bring the following documents along with you.
Student ID / Student Record Book
Quaratine certificate (you may obtain this certificate from the Public Health Officer in charge of the area in which you reside , confirming that you do not suffer from COVID-19. This certificate must be obtained within 03 days of you entering university).
Other guidelines and information
Study leave for students will be granted from 06.07.2020 to 12.07.2020
Students with university hostel facilities may enter the hostel from 8.00 a.m. onwards on 2020.07.10. please note that presenting the 'quarantine certificate' upon entry to the hostel is mandatory.
Library facilities during the examinations period will be as follows,
Weekdays: 8.00 a.m. to 7.00 p.m.
Weekends: 8.00 a.m. to 6.00 p.m.
If you have health issues during your stay at the university, you may contact university medical center using their hot line – 011 3413488 before visiting the medical center (Week days from 8.00am – 4.00pm)
Information on important and mandatory health and safety measures and guidelines to be adhered to by students and issuing of examination admissions will be made available later.
Dean
Faculty of Management Studies and Commerce