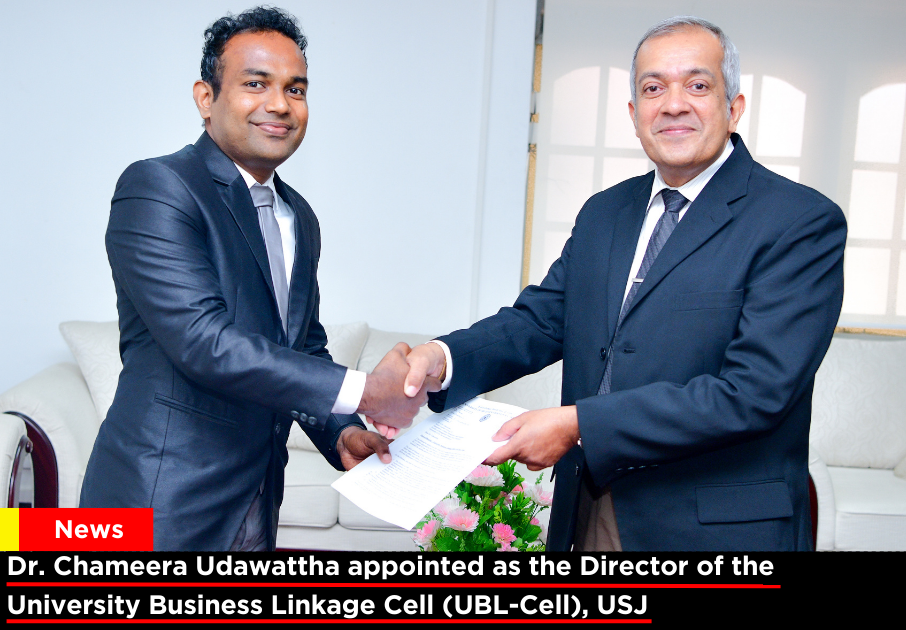 Dr. Chameera Udawattha has been appointed as the Director of the University Business Linkage Cell (UBL-Cell) of University of Sri Jayewardenepura. The Business Linkage Cell of the University of Sri Jayewardenepura is dedicated to linking the innovations and inventions of the University to the needs of the industry.
Currently serving as a senior lecturer in the Department of Estate Management and Valuation within the Faculty of Management Studies and Commerce, Dr. Chameera Udawattha is also a chartered Architect and an Associate member of the Royal Institute of British Architects (RIBA). His expertise lies in Building Construction, Construction Technology, Building pathology, and Cost Estimation. He has published interdisciplinary projects in various outlets and received prestigious awards, including the 2018 President's Award for Scientific Publication, the 2021 President's Award for Outstanding Research, the SLIA Research & Publication Award for 2019-2020, the SLIA Research Award 2020, and the Best Paper Award by Global Academic Research Institute (GARI) in 2017. In 2023, he was honored with the "Young Innovator of the Year" award for his incredible contributions to the field of construction and real estate.
The web team and the university community congratulate Dr. Chameera Udawattha as the Director of the University Business Linkage Cell.