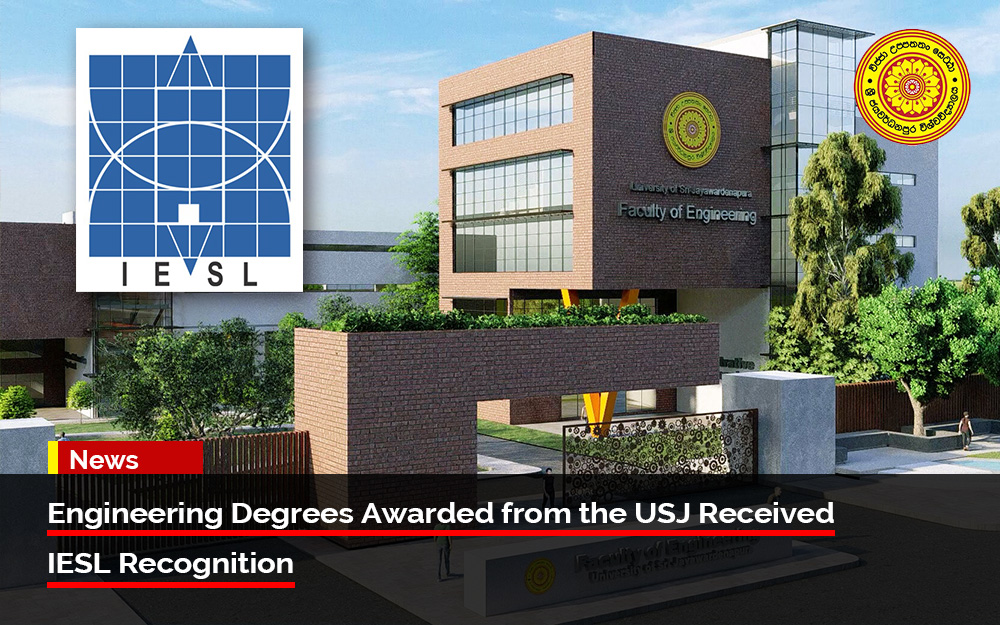 The Institution of Engineers, Sri Lanka (IESL)- the apex body of engineering professionals in Sri Lanka now recognized two batches of Engineering honors degrees awarded by the University of Sri Jayewardenepura. Bachelor of the Science of Engineering Honours degree program offered by the department of Electrical and Electronic Engineering received this recognition for the batches of intake years 2016 and 2017.
The Institution of Engineers, Sri Lanka (IESL) is the apex national body of engineers which ensures internationally recognized and locally relevant standards in the education in engineering that are maintained in Sri Lanka. IESL in accordance with its Charter and provisions of the Act No. 17 of 1968, and amended by Act, No. 3 of 1996, is empowered to admit to membership, classify and confer titles indicating the professional standing of its members. In fulfilment of its Charter obligations, IESL has been responsible for the recognition of engineering education programmes in Sri Lanka and in providing consultative feedback on the development of engineering education programmes comparable to global practice in keeping with the standards of engineering education programmes already adopted and accepted by the IESL.
The Institution of Engineers, Sri Lanka evaluates engineering education programmes and grants recognition in accordance with established criteria and procedures, through the IESL Education Committee. IESL awards credentials such as the Chartered Engineer – CEng (SL), AMIE (SL) enabling one to practice as a licensed engineer in the country. They are also the sole credentialing authority of engineering degrees offered in Sri Lanka, including for the internationally recognised Washington accord. Incorporated in 1968 by the Parliament Act No.17, IESL is the largest engineers' organization in Sri Lanka with over 20,000 members.
This recognition earned by the IESL for USJ Engineering degrees will open more opportunities for the USJ Engineering graduates for reach to higher pay grades in the industry. Also, this IESL recognition will create more opportunities for foreign employment and higher study opportunities for USJ Civil, Electrical and Electronic Engineering graduates.