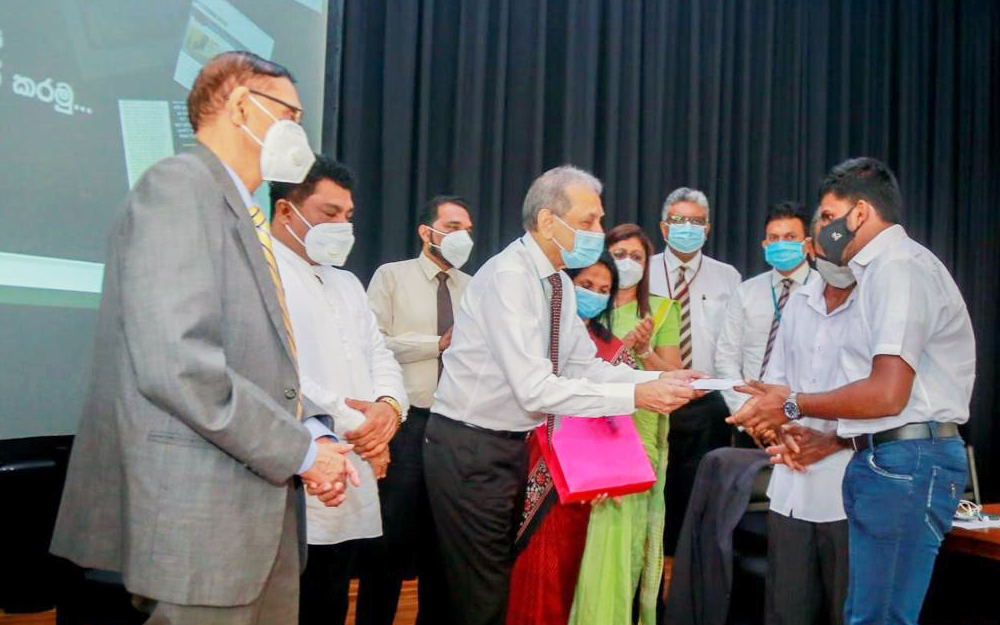 Pasindu Hirushan, a first-year student of the Faculty of Management Studies and Commerce of USJ who was severely injured due to an accident that took place at University premises has been awarded a scholarship by Hemas Holdings, on the invitation of honorable Minister of Education Prof. G.L. Peiris.
Mr. Abhas Isufali, Group Director of Hemas holdings awarded Pasindu Hirushan with the scholarship on 8th of December 2020 at UGC. The scholarship provides house rent and living expenses for Pasindu's future education.
Honorable  Minister of Education; Prof. G.L. Peiris, Honorable State Minister of Education; Mr. Nishantha de Silva, Secretary to the Ministry Prof. Kapila Perera, Chairman of the University Grants Commission; Prof. Sampath Amaratunga, Vice Chairman; Prof. Janitha Liyanage, Vice Chancellor of the University of Sri Jayewardenepura; Prof. Sudantha Liyanage, Media Secretary to the Ministry of Education; Mr. Buddhika Wickramadara, members of alumni association of USJ National Coordinator  Mr. Ranjith Iddamalgoda, Vice President Dr. Ravi Liyanage, and Pasindu Hirushan's parents also participated in the occasion.
Vice Chancellor of USJ Senior Prof. Sudantha Liyanage mentioned the University's commitment towards Pasindu till his recovery. He also thanked this Scholarship on behalf of the University and he also thanked the members of the Alumni Association of USJ for doing everything in their power to help the recovery of the student.