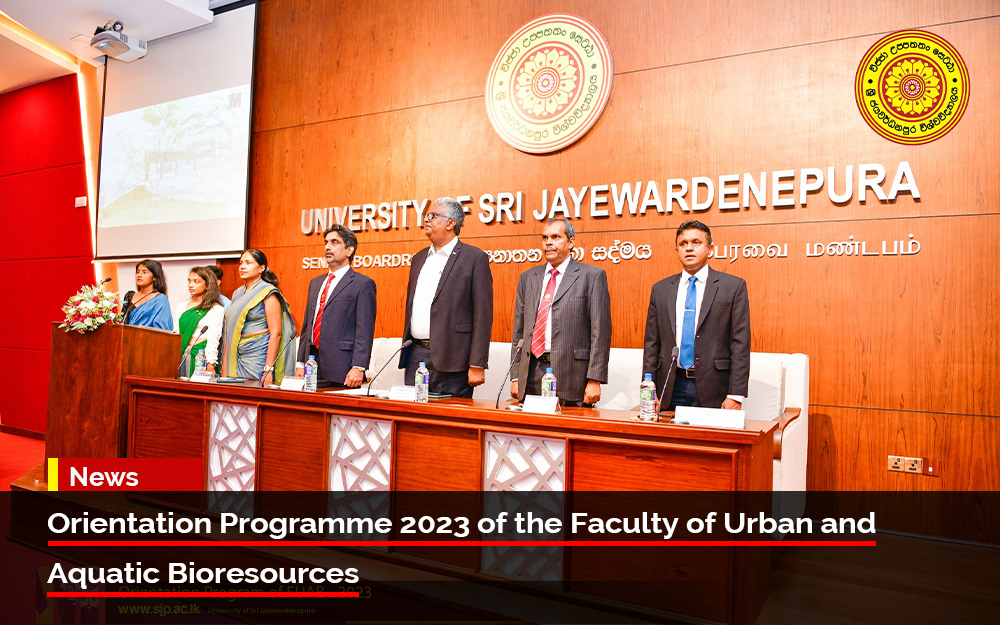 The inaugural session of the Orientation Programme of batch 2021/22 of the Faculty of Urban and Aquatic Bioresources was held from April 3 2023, at the Senate Board Room of the University. Senior Prof. Sampath Amaratunge, Chairman/University Grants Commission graced the occasion as the Chief Guest of the Ceremony.
The orientation program for its new students ran from 3rd to 6th of April 2023 as three-day event. The program aimed to introduce the students to the faculty's vision, mission, academic programs, facilities, and activities.
The first day of the program – The inaugural session – was held at the University Senate board room, where the students were greeted by the chairman of University Grant Commission Prof Sampath AmarathungaThe event was also attended several distinguished guests including Prof. PD Nimal, Acting Vice-Chancellor and Dean/Faculty of Management Studies and Commerce, Senior Prof. Pradeep Jayaweera, Dean/Faculty of Urban and Aquatic Bioresources, respective Deans of other Faculties of the University, the Librarian of
the University, the Registrar of the University, Directors of Centres and several other officers attended this important event. Students enrolled for the degree programmes in Aquatic Bioresources and Urban Bioresources of the Faculty together with their parents attended the ceremony. The Orientation Programme was coordinated by Dr. Erandi Pathirana, Head/Department of Aquatic Bioresources.
The second and third days of the program were held at Sri Sumangala auditorium, where the students also had a chance to interact with their seniors and mentors, who shared their experiences and advice on how to succeed in their studies. The program concluded with a cultural show, where the students enjoyed some entertainment and socialization with their peers and faculty members. The program was well-received by the students, who expressed their gratitude and enthusiasm for joining the faculty of Urban and Aquatic Bioresources.