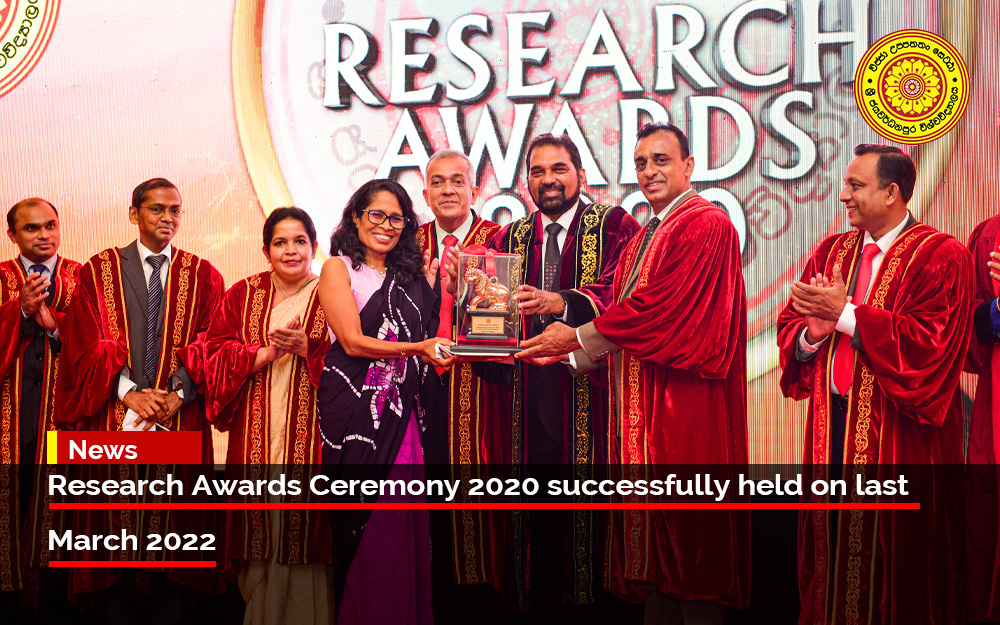 The University of Sri Jayewardenepura's Research Awards Ceremony 2020, organized by the Research Council, was held at the Golden Rose Hotel on March 18, 2022. Senior Prof. Sudantha Liyanage, Vice-Chancellor of the University, and Deans of all 10 Faculties and members of the Research Council and academic staff members attended.
At this prestigious annual event, 200 awardees were recognized for their contributions to a research publication in ten categories, including national and international conferences, peer-reviewed, indexed journals, and high-quality research.
This Research Award system consisted of ten categories in which eligible candidates were given cash prizes, certificates, and souvenirs. The faculty member with the highest h index received a special prize following a rigorous review process. The Early Career Researcher Award was given to the Best Researcher under 40 years of age. The Vice Chancellor's Award was given to the University's Best Researcher.
Following is the awardees list who received awards in the ceremony.
Awardees List
Category 1 – 4 Awardees
An abstract published in local/foreign conference proceedings or symposium
A full paper published in local/foreign conference proceedings
A full paper published in a refereed/any indexed journal
A full paper published in an indexed journal
Faculty of Humanities and Social Sciences
No.
Name
Department
1
Dr. H W Raveendra Kumara
Anthropology
2
Dr. W S P Y N Kanthilatha
Anthropology
3
Prof. Y D Jayathilake
Anthropology
4
Ms. K G N U Ranaweera
Criminology and Criminal Justice
5
Prof. B V N Wijewardhana
Criminology and Criminal Justice
6
Dr. H M T N R Herath
Economics
7
Ms. S U Badullahewage
Economics
8
Dr. W A T Weerasooriya
English and Linguistics
9
Prof. M G L Ananda
English and Linguistics
10
Prof. T M S P K Thennakoon
Geography
11
Ms. A W G N M Abeyrathna
Geography
12
Mr. K T L Sathsara
Geography
13
Ms. N M P Neththasinghe
History and Archeology
14
Dr. W M C Oshan
History and Archeology
15
Mr. K A N Bandara
Sinhala and Mass Comm.
16
Ms. M K G I Dharmasena
Sinhala and Mass Comm.
17
Ms. R G H U Menike
Sinhala and Mass Comm.
18
Dr. M A N R M Perera
Sociology
19
Dr. D P K Manel
Social Statistics
20
Ms. R M K G U Rathnayaka
Social Statistics
Faculty of Applied Sciences
No.
Name
Department
1
Dr. D H H Munasinghe
Botany
2
Dr. M G D S Manamgoda
Botany
3
Dr. Imalka Munaweera
Chemistry
4
Prof. N T Perera
Chemistry
5
Prof. C D Jayaweera
Chemistry
6
Dr. N P L N Palliyaguru
Chemistry
7
Dr. P L A T Cooray
Chemistry
8
Prof. N M S Sirimuthu
Chemistry
9
Snr.Prof. S S L W Liyanage
Chemistry
10
Snr. Prof. P P M Jayaweera
Chemistry
11
Prof. N M M G S B Navaratne
Food Science and Technology
12
Snr. Prof. K K D S Ranaweera
Food Science and Technology
13
Dr. K W M A Jayasinghe
Food Science and Technology
14
Dr. G S A Senanayake
Food Science and Technology
15
Prof. Indira Wickramasinghe
Food Science and Technology
16
Dr. M P G Vanniarachchy
Food Science and Technology
17
Dr. P De A Abeysundara
Food Science and Technology
18
Prof. R A U J Marapana
Food Science and Technology
19
Dr. J M J K Jayasinghe
Food Science and Technology
20
Dr. W L I Wijesekara
Food Science and Technology
21
Dr. V M Jayasooriya
Forestry and Environmental Sciences
22
Prof. N J G J Bandara
Forestry and Environmental Sciences
23
Prof. P K P Perera
Forestry and Environmental Sciences
24
Prof. S M C U P Subasinghe
Forestry and Environmental Sciences
25
Prof. U A D P Gunawardena
Forestry and Environmental Sciences
26
Dr. G H J Lanel
Mathematics
27
Dr. N C Ganegoda
Mathematics
28
Prof. R P K C M Ranasinghe
Mathematics
29
Ms. Dinushiya Rodrigo
Mathematics
30
Prof. M S Vithanage
Office of the Dean
31
Dr. M L C Attygalle
Physics
32
Prof. P K D D P Pitigala
Physics
33
Prof. N G S Shantha Gamage
Physics
34
Dr. W W P De Silva
Physics
35
Dr. W K I L Wanniarachchi
Physics
36
Mr. K S Mannatunga
Physics
37
Dr. S Kandeepan
Physics
38
Dr. T N B Etampawela
Polymer Science
39
Ms. A M G C P Adikari
Sports Science
40
Dr. N Devpura
Statistics
41
Dr. C L Jayasinghe
Statistics
42
Dr. R M Silva
Statistics
43
Dr. R M A U Rajapakshe
Instrument Centre
44
Dr. J K Walpita
Instrument Centre
45
Dr. R S Diyabalanage
Instrument Centre
46
Snr. Prof. M M Pathmalal
Zoology
47
Prof. W A D Mahaulpatha
Zoology
48
Dr. F S Idroos
Zoology
49
Dr. K V K Gunathilake
Zoology
50
Snr. Prof. B G D N K De Silva
Zoology
51
Dr. H S D Fernando
Zoology
52
Prof. L D C Peiris
Zoology
53
Prof. R R M K P Ranatunga
Zoology
54
Dr. D C T Dissanayake
Zoology
55
Dr. L T R K M Thambugala
Genetics & Molecular Biology Unit
Faculty of Management Studies and Commerce
| | | |
| --- | --- | --- |
| No. | Name | Department |
| 1 | Ms. Thilini Cooray | Accounting |
| 2 | Dr. A D N Gunarathne | Accounting |
| 3 | Snr. Prof. D S N P Senaratne | Accounting |
| 4 | Snr. Prof. K D Gunawardana | Accounting |
| 5 | Dr. S M C P Seneviratne | Accounting |
| 6 | Ms. W B M P N Weerasekara | Business Administration |
| 7 | Prof. M D Pushpakumari | Business Administration |
| 8 | Dr. M W Kalyani | Business Administration |
| 9 | Snr. Prof. Sampath Amaratunge | Business  Economics |
| 10 | Ms. G A N Perera | Business  Economics |
| 11 | Ms. K T G P Madhusanka | Decision Science |
| 12 | Prof. T S M Amarasena | Decision Science |
| 13 | Ms. M W A De Silva | Decision Science |
| 14 | Ms. D M Endagamage | Decision Science |
| 15 | Snr. Prof. R G Ariyawansa | Estate Management and Valuation |
| 16 | Dr. N C Wickramaarachchi | Estate Management and Valuation |
| 17 | Dr. H M L P Karunarathne | Estate Management and Valuation |
| 18 | Ms. H T Wickramasinghe | Estate Management and Valuation |
| 19 | Prof. K G P K Weerakoon | Estate Management and Valuation |
| 20 | Mr. M M L M Munasinghe | Estate Management and Valuation |
| 21 | Snr. Prof. D B P H Dissabandara | Finance |
| 22 | Dr. P A N S Anuradha | Finance |
| 23 | Dr. Wasantha Perera | Finance |
| 24 | Prof. N W K D K Dayarathna | Human Resource Management |
| 25 | Dr. T L Sajeevanie | Human Resource Management |
| 26 | Prof. G D N Perera | Human Resource Management |
| 27 | Dr. U K Thalgaspitiya | Human Resource Management |
| 28 | Dr. P Jayasekara | Human Resource Management |
| 29 | Prof. B J H Arachchige | Human Resource Management |
| 30 | Ms. L D C S Subhashini | Information Technology |
| 31 | Ms. V G P Lakshika | Marketing Management |
| 32 | Dr. B S Galdolage | Marketing Management |
| 33 | Dr. L Wijewardene | Office of the Dean |
Faculty of Medical Sciences
| | | |
| --- | --- | --- |
| No. | Name | Department |
| 1 | Dr. V Tennakoon | Anatomy |
| 2 | Dr. E A S T Edirisinghe | Anatomy |
| 3 | Snr. Prof. S G Yasawardene | Anatomy |
| 4 | Snr. Prof. H Peiris | Biochemistry |
| 5 | Dr. N L R Indika | Biochemistry |
| 6 | Prof. L V Athiththan | Biochemistry |
| 7 | Dr. S T C Mahawithanage | Biochemistry |
| 8 | Dr. U D Senarathne | Biochemistry |
| 9 | Prof. P P R Perera | Biochemistry |
| 10 | Snr. Prof. S Ekanayake | Biochemistry |
| 11 | Prof. U P K Hettiarachchi | Biochemistry |
| 12 | Prof. T Sugandhika Suresh | Biochemistry |
| 13 | Dr. K L M D Seneviwickrama | Community Medicine |
| 14 | Prof. Shamini Prathapan | Community Medicine |
| 15 | Dr. A M A D K Alagiyawanna | Community Medicine |
| 16 | Dr. J M S N Jayakody | Community Medicine |
| 17 | Dr. G V M C Fernando | Family Medicine |
| 18 | Dr. S R Hulathduwa | Forensic Medicine |
| 19 | Prof. M Vidanapathirana | Forensic Medicine |
| 20 | Dr. H T D W Ariyarathna | Forensic Medicine |
| 21 | Dr. J M K C Jeewandara | Immunology and Molecular Medicine |
| 22 | Dr. P W M C S B Wijekoon | Medicine |
| 23 | Dr. G N D Perera | Medicine |
| 24 | Dr. A T Matthias | Medicine |
| 25 | Snr. Prof. S S N Fernando | Microbiology |
| 26 | Prof. T D C P Gunasekara | Microbiology |
| 27 | Prof. J Kottahachchi | Microbiology |
| 28 | Dr. D M B T Dissanayake | Microbiology |
| 29 | Prof. M M Weerasekera | Microbiology |
| 30 | Dr. M A M M Jayawardane | Obstetric and Gynaechology |
| 31 | Prof. Ramya Pathiraja | Obstetric and Gynaechology |
| 32 | Dr. R C Fernandopulle | Obstetric and Gynaechology |
| 33 | Prof. G S H Liyanage | Paediatrics |
| 34 | Dr. T M R Perera | Paediatrics |
| 35 | Dr. M A M N Gamage | Paediatrics |
| 36 | Dr. D S Wijesekara | Paediatrics |
| 37 | Prof. D P S Gunasekera | Paediatrics |
| 38 | Dr. T D Jayasena Kaluarachchi | Parasitology |
| 39 | Snr. Prof. D R Wickremasinghe | Parasitology |
| 40 | Dr. C J Weerasekara | Parasitology |
| 41 | Ms. W M C W Menike | Parasitology |
| 42 | Prof. M B S Seneviratne | Pathology |
| 43 | Dr. H W C K Kulathilake | Pathology |
| 44 | Prof. C A Wanigatunge | Pharmacology |
| 45 | Prof. C N Wijekoon | Pharmacology |
| 46 | Prof. S W Wimalasekera | Physiology |
| 47 | Snr. Prof. D M S Fernando | Physiology |
| 48 | Prof. P Hettiarachchi | Physiology |
| 49 | Dr. Y M Rohanachandra | Psychiatry |
| 50 | Dr. M D I Amerasinghe Waas | Psychiatry |
Faculty of Technology
| | | |
| --- | --- | --- |
| No. | Name | Department |
| 1 | Dr. R S Dassanayake | Biosystems Technology |
| 2 | Dr. K G L R Jayathunge | Biosystems Technology |
| 3 | Dr. C M Senanayake | Biosystems Technology |
| 4 | Dr. Dhanushka Udayanga | Biosystems Technology |
| 5 | Dr. P L M Prabhani | Information & Communication Technology |
| 6 | Dr. P R A Udara Sampath | Civil and Environmental Technology |
| 7 | Dr. W M G I Priyadarshana | Materials and Machanical Technology |
| 8 | Dr. R M S M Rajapaksha | Materials and Machanical Technology |
| 9 | Dr. Rajitha Gunaratne | Materials and Machanical Technology |
Faculty of Engineering
| | | |
| --- | --- | --- |
| No. | Name | Department |
| 1 | Dr. K M C Konthesingha | Civil Engineering |
| 2 | Dr. R S M Samarasekara | Civil Engineering |
| 3 | Dr. Chamitha De Alwis | Electrical and Electronic Engineering |
| 4 | Dr. M H V D Y Mudunkotuwa | Mechanical Engineering |
Faculty of Allied Health Sciences
| | | |
| --- | --- | --- |
| No. | Name | Department |
| 1 | Dr. A A T D Amarasekara | Nursing and Midwifery |
| 2 | Dr. M K D L Meegoda | Nursing and Midwifery |
| 3 | Dr. R M T B Abeyratne | Nursing and Midwifery |
| 4 | Dr. I M P S Ilankoon | Nursing and Midwifery |
| 5 | Dr. S M K S Seneviratne | Nursing and Midwifery |
| 6 | Dr. W J A B N Jayasuriya | Pharmacy and Pharmaceutical Science |
| 7 | Dr. D M R K Dissanayake | Pharmacy and Pharmaceutical Science |
| 8 | Ms. L G T Shanika | Pharmacy and Pharmaceutical Science |
| 9 | Dr. A Nadeshkumar | Pharmacy and Pharmaceutical Science |
| 10 | Prof. N R Samaranayake | Pharmacy and Pharmaceutical Science |
| 11 | Dr. H M D R Herath | Pharmacy and Pharmaceutical Science |
| 12 | Mr. M A Siriwardhene | Pharmacy and Pharmaceutical Science |
| 13 | Prof. M D J Wijayabandara | Pharmacy and Pharmaceutical Science |
| 14 | Mr. B A G Chathuranga | Medical Laboratory Science |
| 15 | Dr. L G T Darshana | Medical Laboratory Science |
| 16 | Dr. G U S Wijesekara | Medical Laboratory Science |
| 17 | Dr. K A A Dilhari | Basic Science |
| 18 | Dr. H M Kasuni Akalanka | Basic Science |
Research Council
| | |
| --- | --- |
| No. | Name |
| 1 | Dr. Dilantha Gunawardana |
Library 
| | |
| --- | --- |
| No. | Name |
| 1 | Ms. J G Chandani |
| 2 | Ms. H D M Nishanthi |
Category – 5 Awardees
Researchers having the highest h-index for the year
Faculty of Applied Sciences
| | | |
| --- | --- | --- |
| No. | Name | Department |
| 1st | Dr. L T R K M Thambugala | Genetics and Molecular Biology Unit |
| 2nd | Prof. L D C Peiris | Zoology |
| 3rd | Dr. Imalka Munaweera | Chemistry |
Faculty of Management Studies and Commerce
| | | |
| --- | --- | --- |
| No. | Name | Department |
| 1st | Dr. Chameera Dussantha Udawattha | Estate Management and Valuation |
| 2nd | Dr. Wasantha Perera | Finance |
| 3rd | Prof. N W K D K Dayarathna | Human Resource Management |
| 3rd | Prof. T S M Amarasena | Decision Science |
Faculty of Medical Sciences 
| | | |
| --- | --- | --- |
| No. | Name | Department |
| 1st | Prof. Shamini Prathapan | Community Medicine |
| 2nd | Prof. C A Wanigatunge | Pharmacology |
| 3rd | Prof. P H K I S Ranasinghe | Parasitology |
| 3rd | Prof. T Sugandika Suresh | Biochemistry |
| 3rd | Prof. C N Wijekoon | Pharmacology |
Faculty of Technology 
| | | |
| --- | --- | --- |
| No. | Name | Department |
| 1st | Dr. A M A U Alahakoon | Biosystems Technology |
| 2nd | Dr. W M Gayan Indika Priyadarshana | Materials and Mechanical Technology |
| 3rd | Dr. Danushika Manatunga | Biosystems Technology |
| 3rd | Dr. W P K M Abeysekera |  Biosystems Technology |
Faculty of Engineering
| | | |
| --- | --- | --- |
| No. | Name | Department |
| 1st | Dr. C De Alwis | Electrical and Electronic Engineering |
| 2nd | Dr. C D Makavita | Mechanical Engineering |
Faculty of Allied Health Sciences
| | | |
| --- | --- | --- |
| No. | Name | Department |
| 1st | Dr. D M R K Dissanayake | Pharmacy and Pharmaceutical Sciences |
| 1st | Dr. M N Pahalagedara | Basic Sciences |
| 1st | Dr. K A A Dilhari | Basic Sciences |
| 2nd | Dr. W J A B N Jayasuriya | Pharmacy and Pharmaceutical Sciences |
| 3rd | Dr. A A T D Amarasekara | Nursing and Midwifery |
| 3rd | Dr. I M P S Ilankoon | Nursing and Midwifery |
| 3rd | Prof. M D J Wijayabandara | Pharmacy and Pharmaceutical Sciences |
Category – 6 Awardees
Researchers having published 5 or more full papers in recognized indexed journals
Faculty of Applied Sciences
| | | |
| --- | --- | --- |
| No. | Name | Department |
| 1 | Prof. Meththika Vithanage | Office of the Dean |
| 2 | Prof. Indira Wickremasinghe | Food Science and Technology |
| 3 | Dr. W L I Wijesekara | Food Science and Technology |
| 4 | Dr. P K P Perera | Forestry and Environmental Science |
| 5 | Dr. L T R K M Thambugala | Genetics and Molecular Biology |
| 6 | Snr. Prof. M M Pathmalal | Zoology |
| 7 | Snr. Prof. B G D N K De Silva | Zoology |
Faculty of Management Studies and Commerce 
| | | |
| --- | --- | --- |
| No. | Name | Department |
| 1 | Dr. A D N Gunarathne | Accounting |
Category – 7 Awardees
Researchers successfully completed P.hD/M.Phil degrees in year 2020/2021 under University Research Grants
Faculty of Applied Sciences  
| | | |
| --- | --- | --- |
| No. | Name | Department |
| 1 | Prof. S B Nawarathna | Food Science & Technology |
| 2 | Prof. N G S Shantha Gamage | Physics |
Faculty of Medical Sciences  
| | | |
| --- | --- | --- |
| No. | Name | Department |
| 3 | Prof. Guwani Liyanage | Paediatrics |
| 4 | Dr. M M Weerasekara | Microbiology |
Category 8 – Early Career Researcher Award (Young Researcher of the Year)
| | | |
| --- | --- | --- |
| Name | Department | Faculty |
| Dr. R M A U Rajapaksha | Office of the Dean | Faculty of Applied Sciences |
Category 9 – Vice Chancellor's Award (Best Researcher of the Year)
| | | |
| --- | --- | --- |
| Name | Department | Faculty |
| Prof. L D C Peiris | Zoology | Faculty of Applied Sciences |
Category – 10 –Awardees
Researchers who have obtained External Research Grants
| | | |
| --- | --- | --- |
| No | Name | Department |
| 1 | Dr. R M A U Rajapaksha | Instrument Center |
| 2 | Dr. K W M A Jayasinghe | Food Science and Technology |
| 3 | Dr. A T Matthias | Medicine |
| 4 | Dr. Hiruni Harischandra | Genetics and Molecular Biology |
| 5 | Prof. P K P Perera | Forestry and Environmental Science |
| 6 | Dr. Imalka Munaweera | Chemistry |
| 7 | Dr. Chamitha De Alwis | Electrical Engineering |