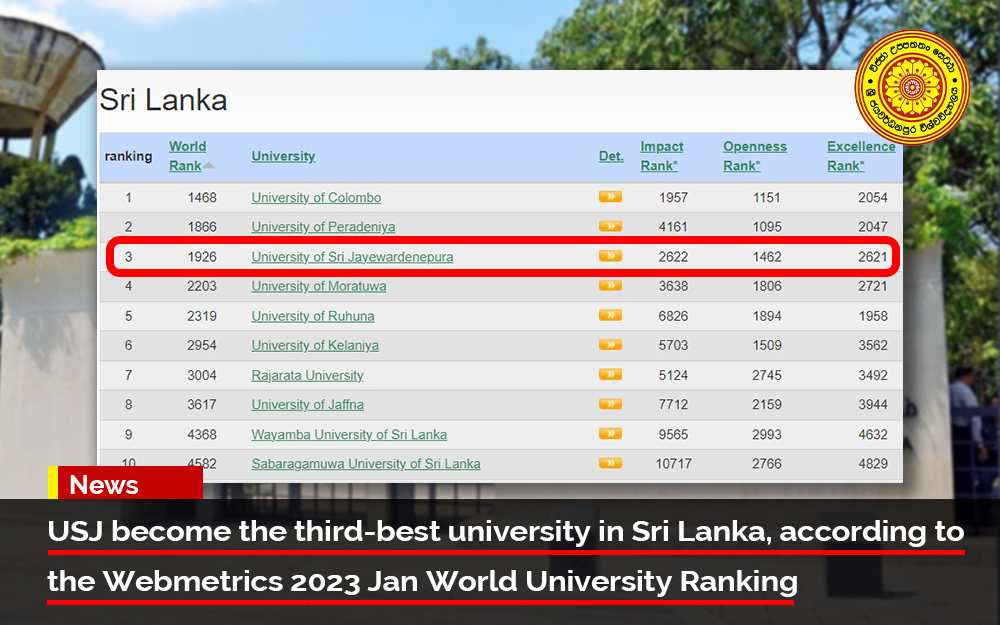 We are proud to announce that the University of Sri Jayewardenepura has become the third-best university in Sri Lanka, according to the Webometrics World University Ranking. This achievement is a testament to the hard work and dedication of our VC, Deans, research committee, researchers, academics, content creators, and staff. We are grateful for their contributions and efforts in making our university a leader in education and research.
The Webometrics ranking considers a number of factors, including impact, openness, and excellence, and our university has excelled in all areas. We are thrilled to have placed ahead of other leading universities in Sri Lanka and to have earned recognition for the quality of our programs and facilities.
We would like to extend our heartfelt thanks to everyone who has supported us along the way and we look forward to continuing our mission to provide the best education and research opportunities for our students.
According to the data, the University of SJP has improved its ranking compared to last year.
Last Year (2022 July) –
Sri Lankan country rank: 2
World Rank: 1964
Impact Rank: 2504
Openness Rank: 1614
Excellence Rank: 2654
This Year (2023 January) –
Sri Lankan country rank: 3
World Rank: 1926
Impact Rank: 2622
Openess Rank: 1462
Excellence Rank: 2621
The university has improved its world rank by 38 places from 1964 to 1926 and also improved its openness rank from 1614 to 1462. The excellence rank of the University of SJP has also improved from 2654 to 2621. In Impact ranking USJ is in the second place, but has decreased the number of points when compared with the July 2022 Webometrics update.