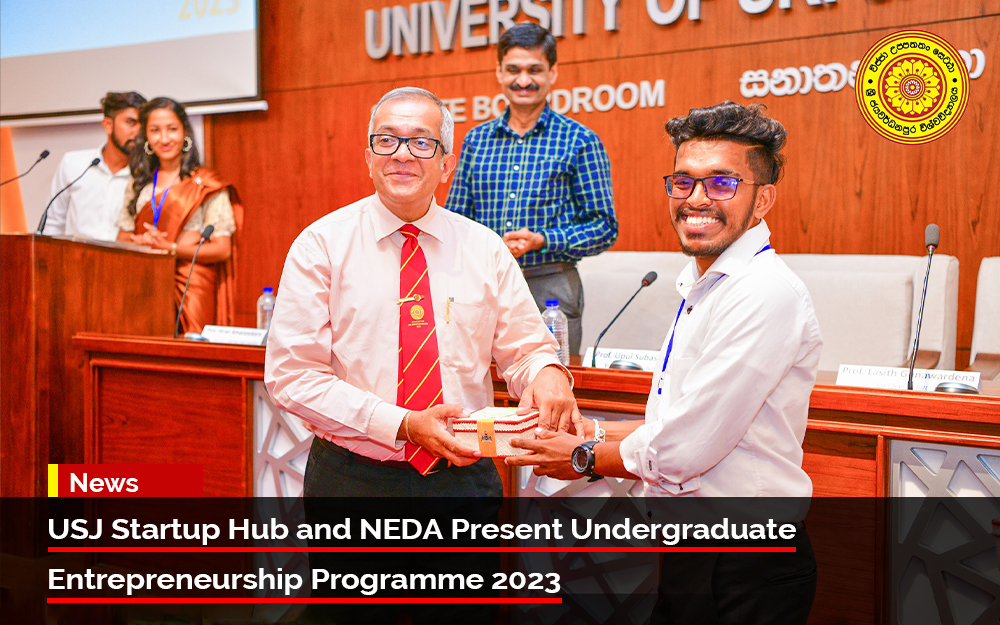 A three-day training session for aspiring entrepreneurs from the University of Sri Jayewardenepura (USJ) started on May 19 and concluded successfully on May 21, 2023, at the Senate Boardroom USJ. The event, titled "Upadhidhari Vyavasaya Udaanaya 2023," was organized by the StartUp Hub of USJ in collaboration with the National Enterprise Development Authority (NEDA).
The training session aimed to promote and encourage the entrepreneurial mindsets and skills of undergraduates and recent graduates of USJ, who had the opportunity to learn from experienced entrepreneurs and business leaders. The most exceptional ideas from Entrepreneurship undergraduates' and graduates' final year thesis/dissertation/projects were also funded by NEDA.
The program was a three-day journey of learning and growth for aspiring entrepreneurs. It covered various topics such as industry insights, entrepreneurship skills, business transformation, production and administration, and business plan development. Participants gained valuable knowledge and experience from experts and mentors, and had the opportunity to work on their own entrepreneurial ideas. Also, the program covered various topics related to starting and running a successful business, such as production and admin plan, business plan development, market analysis, financial management, and legal aspects. The participants also engaged in interactive activities to boost their creativity, teamwork, and problem-solving skills.
The event was graced by esteemed guests from various institutions, including Prof. Upul Subasinghe, Acting Vice Chancellor of the University of Sri Jayawardenapura; Prof. Hiran Amarasekara, Senior Treasurer and Startup Hub Founder at the University of Sri Jayawardenapura; Prof. Lasith Gunawardena, Co-Chair of IIVC at the University of Sri Jayawardenapura; Ms. Chathurangani Thennakon, Senior Careers Advisor at the Career Guidance Unit of the University of Sri Jayawardenapura; Dr. Chathurie Nupearchchi, Advisor at StartupHub, University of Sri Jayawardenapura; Ravindu Jayanath Jayewardena, President of StartupHub, University of Sri Jayawardenapura; Mr. Dulanjana Vithanage, Founder of Jack Fruit Ceylon Ltd; a representative from the International Labour Organization (ILO); Mr. Lasantha Kariyapperuma, Chairman/Director General of NEDA; Mr. Dhanuka Liyanagamage, Director of NEDA; Mr. Sashika De Mel, Assistant Director of NEDA; D.B. Jayathilaka and Jayashantha Kumara, resource persons from NEDA; Chathya Jayamanna, District Coordinator at NEDA; B.M. Nakandala, EPO at NEDA; and Mr. Sasanka Weerarathne, EPA at NEDA.
The event was attended by students from all faculties of USJ, as well as several dignitaries from NEDA, USJ, and the private sector. The event was part of NEDA's "Upadhidari Vyavasayake Udanaya" Program, which is implemented with all interested universities in Sri Lanka to encourage educated youths in the business sector.