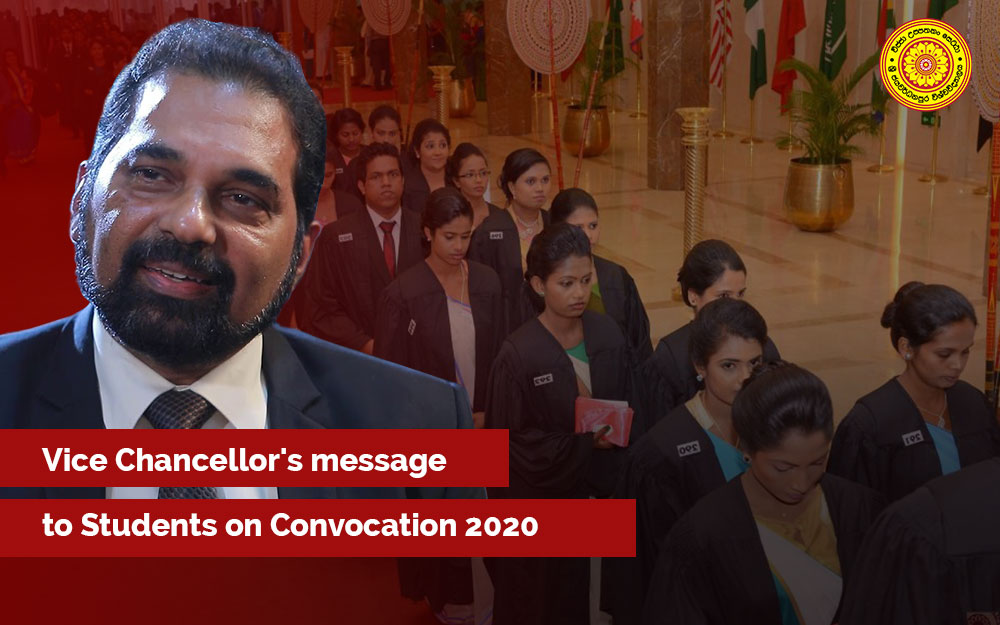 All students,
University of Sri Jayewardenepura
Convocation 2020
Due to the prevailing situation the Officials of the BMICH has informed that the convocation cannot take place as per usual standards on the 2nd and 3rd of November 2020 for Internal students and on the 16th of November 2020 for Postgraduate and External students. The following decisions were arrived at in the special Deans Committee meeting held on the 21.10.2020 in this regard:
The official Convocation planed for the 2nd, 3rdand 16thof November 2020 for Internal, Postgraduate and external graduands of the University will be held in the following manner, with the participation of very restricted number of students due to recent health guidelines;
a) A symbolic ceremonial convocation will be held on the 2nd of November 2020 to all graduands (internal, post graduate and external). The Chancellor, Vice-Chancellor, Registrar, All Deans and best students as determined by each faculty will take part in this event,
b) No formal convocation will take place due to the prevailing circumstances.
c) The date of award will be stated as 2nd or 3rd or 16thof November 2020 as announced earlier.
All students except the students of Faculty of Medical Sciences, will receive their transcripts via registered post or a courier service.
a) If any student except the graduates of medical faculty needs the degree certificate urgently, it can be collected by the internal graduate students from the Examination division of the University of Sri Jayewardenepura from the 4th of November 2020 onwards, by an appointment.
b) Graduates of the Faculty of Medical Sciences can collect their degree certificates and the transcripts from the Examination Unit of the Faculty of Medical Sciences from the 4th of November 2020 onwards, by an appointment.
If any Post graduate degree awardee or an external graduate needs their degree certificate, it can be collected by respective students from The faculty of Graduate Studies or External Examinations Unit respectively from the 17th of November 2020 onwards, by an appointment.
A date will be announced for students to take photographs with their certificates once the situation of the country has settled.
Your attention to the above is much appreciated
Senior Professor Sudantha Liyanage
Vice-Chancellor