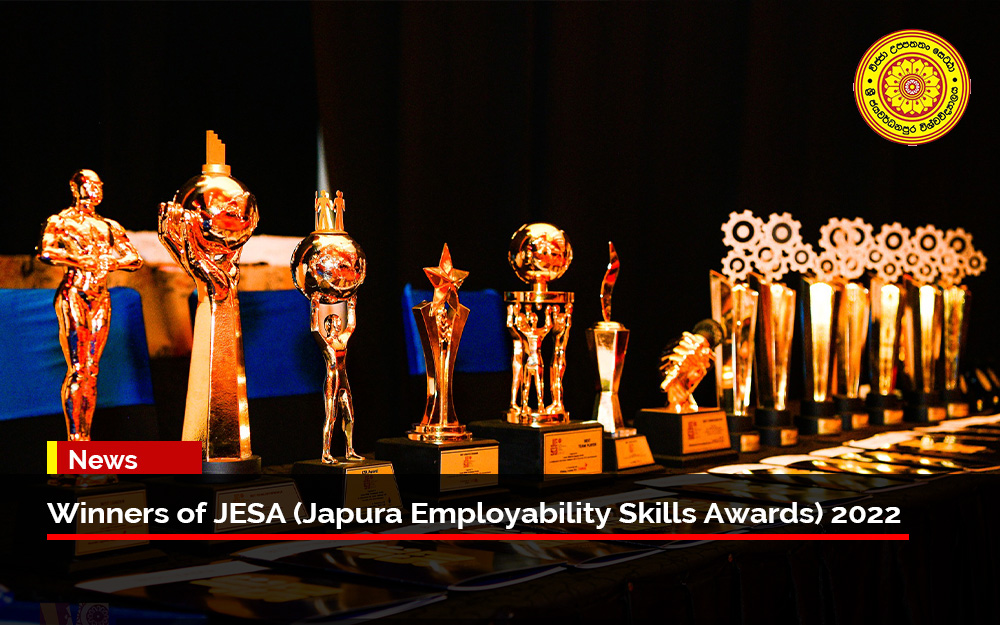 7th Employability Skills Awards (JESA), the awarding ceremony organized by the Career Skills Development Society, University of Sri Jayewardenepura, was held on the 27th of September 2022 from 6 PM onwards at the Eagles' Lakeside Hotel, Attidiya. This is the only employability award program organized and conducting in Sri Lankan university system to enhance the students' skills and capabilities.
The awarding ceremony was graced by the chief guest Snr Prof. Sudantha Liyanage, Vice-Chancellor of the University of Sri Jayewardenepura. The deans of all the faculties of the USJ, Register of the USJ, Librarian of the USJ as well as company representatives and career advisers participated the event.
"USJ career guidance unit is helping to enhance the soft skills of USJ students who has gained and gaining good knowledge through the best programs in USJ system. And I appreciate the effort of Prof Sudath Amarasena and his team for their works on conducting, organizing weekly activities for the students of USJ" said the Vice Chancellor of USJ Snr Prof Sudantha Liyanage addressing the audience of the event as the chief guest of the event.
Following undergraduates claimed the following titles at Japura Employability Skills Awards (JESA) 2021.
Senara Vidanapathirana of Faculty of Medical Sciences won the award for the Best Communicator
Yasiru Chamalka of Faculty Management Studies & Commerce won the award for the Best Creative Designer
Yenuka Rupasinghe of Faculty Management Studies & Commerce won the award for the Best Innovator
Hasarah Dasanayake of Faculty of Medical Sciences won the award for the Best Leader
Nayanajith Athukoralage of Faculty Management Studies & Commerce won the award for the Best Team Player
Sandun Amarasiri of Faculty Management Studies & Commerce won the award for the Best Young Entreprenuer
Diviyata Diviyak Program organized by the Rotract Club of USJ won the award for the CSR Award
BESA-FAHS          –              Fathima Fawaziya
BESA-FAS             –              Thisaakhya Jayakody
BESA-FHSS           –              Dilakshi Abeysinghe
BESA-FMS            –              Bhanu Wijetilake
BESA-FMSC         –              Anuradha Dayabandara
BESA-FOE            –              Chirantha Udeshaka
BESA-FOT            –              Yasuri Hettiarachchi