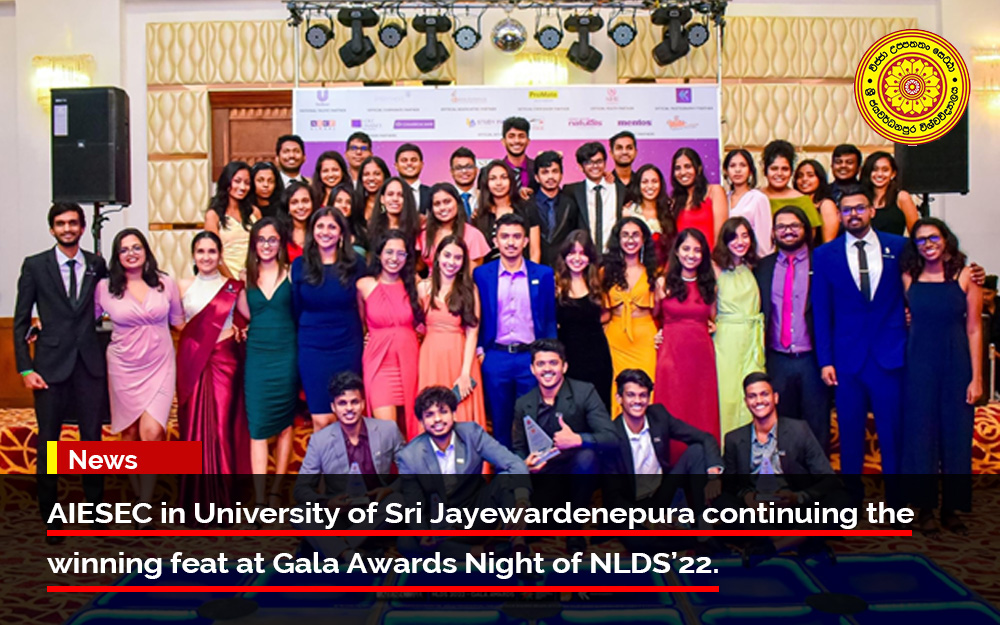 AIESEC in University of Sri Jayewardenepura proved its brilliance yet again by taking five awards home while being nominated for another five out of the total of 15 awards that were presented at the Gala Awards Night of NLDS'22 organized by AIESEC in Sri Lanka. Above all, AIESEC in USJ was crowned with the Most Outstanding Local Committee Award for the third consecutive time in the national gala awards night. This marked a heartfelt moment with gratitude and dignity for AIESEC in USJ and the devoted membership.
AIESEC is the world's largest youth-led organization currently operating in more than 109 countries and delivering over 30,000 leadership experiences per year. NLDS'22 is the National Leadership Development Seminar organized by AIESEC in Sri Lanka with the participation of Local Entities focusing on creating value-driven leaders among the Sri Lankan youth. NLDS'22 was held in the course of three days giving an amazing delegate experience; after being held virtually for the past year due to the Covid Pandemic.
In Gala Awards Night, AIESEC in USJ was also awarded Activating Leadership in oGTa Award, Activating Leadership in oGV Award, Enjoying Participation in PM Award and Acting Sustainability Finance Award while being nominated with Activating Leadership in OGTe Award, Activating Leadership in iGTa Award, Excellence in External Relevance Award, Striving for Excellence BD Award and Thanushi Perera for the Best Emerging Young Leader Award.
These awards represent the impactful leadership behind AIESEC in USJ who drive the membership towards new initiatives and guide them to develop and discover their true potential within themselves. And the immense contribution of the membership towards the Local Committee has driven AIESEC in USJ beyond the limits in every circumstance. In addition, this achievement has depicted the excellence of the leadership and the membership of AIESEC in USJ. That night the entire audience witnessed this victory of our potential youth leaders of AIESEC in USJ.
Addressing this jubilant moment, the President of the term 22.23 of AIESEC in USJ, Dishan Devakumara conveyed his sincere appreciation to the beloved membership for contributing significantly to this outstanding accomplishment. He also extended his heartfelt gratitude to the Executive Board of term 22.23 for serving as the foundation of success behind this triumph and for their remarkable leadership in elevating the standards of excellence in USJ. By this inspiration, AIESEC in University of Sri Jayewardenepura is ready to fly beyond the limits and to create potential young leaders towards a sustainable future.
AIESEC expressed gratitude to Professor Sudantha Liyanage, Vice Chancellor of the University of Sri Jayewardenepura, and Professor Prasad Jayaweera, staff advisor of AIESEC in USJ, for supporting and guiding the young members of the organization to realize their full potential. Their support and guidance were crucial in elevating AIESEC in USJ and the University to the next level.