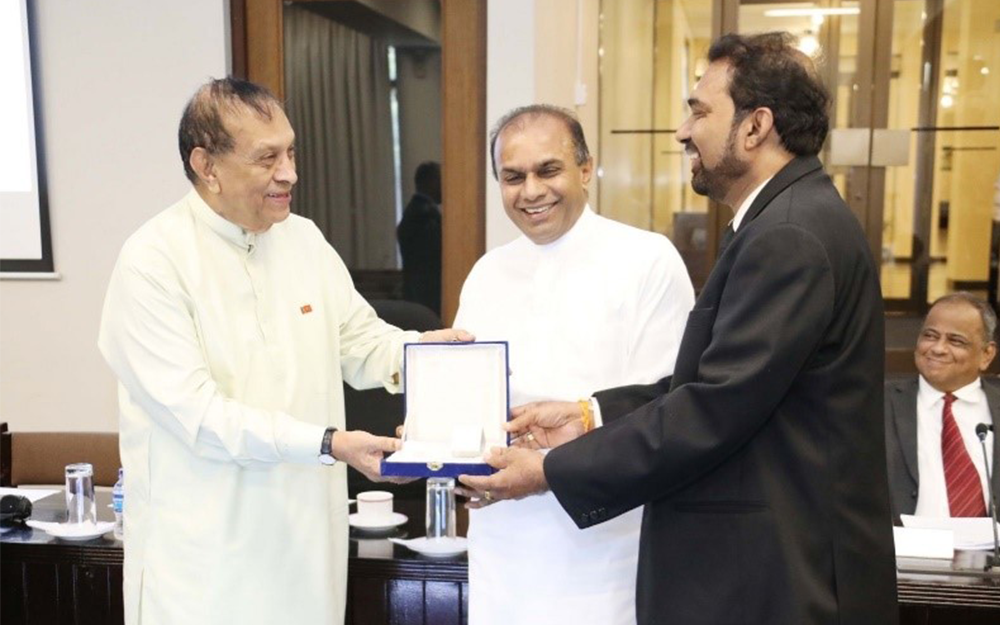 The Centre for Evaluation (CfE) of the University of Sri Jayewardenepura and Sri Lanka Parliamentarians Forum on Evaluation (SLPFE) have won the American Evaluation Association (AEA) Advocacy and Use Award 2019. The awards ceremony was held on 20th February in Committee Room 02 at the Parliament of Sri Lanka. The award was presented to Prof. Sudantha Liyanage; Vice Chancellor of University of Sri Jayewardenepura and Hon Ananda Kumarasiri the Deputy Speaker of the parliament by Hon Karu Jayasooriya; Speaker of the parliament for  Democratic Socialist Republic.
Representatives from different government organizations, academia and international organizations including UNICEF, UNFPA, USAID and World Food Programme participated as invitees for this event.
The Centre for Evaluation (EvalC) at USJP was established in 2016 by the Department of Community  Medicine , Faculty of Medical  Sciences;  University of Sri Jayewardenepura Sri Lanka with  technical and financial support from UNICEF Sri Lanka. It is the first professional institute in South Asia and among the few places in Asia which aims to join the efforts of governments and other partners to develop a strong evaluation culture. The centre offers a range of service including; Capacity Building through training and knowledge sharing; Conducting joint evaluation program with state and private sector to improve evaluation skills; Enhancing the public awareness on uses and importance of evaluation; and Developing and promoting evaluation standards, ethics and guidelines. Centre is under able leadership of Mr Asela Kalugampitiya supported by committee of senior professionals.
The AEA award for Advocacy and Use is presented to an individual or group whose evaluation work has been particularly instrumental in furthering the interests of evaluation through advocacy, sponsorship, management, or promoting the use of evaluation in governmental (including local, state) non-profit, and/or private organizations whose work is consistent with the AEA Guiding Principles for Evaluators.
The collective efforts of the CfE and SLPFE over the years have resulted important achievements in the field of evaluation within Sri Lanka such as the establishment of the Select Committee on Evaluation in Parliament and its mandate to produce the draft National Evaluation Bill and strengthening of parliamentary research services formalized the institutionalization of evaluation by the legislature. These efforts are further supported by the CfE and its own activities of pioneering the Post Graduate Diploma in Monitoring and Evaluation to produce professionals in evaluation,  capacity building g programmes for academics and public officials, and linking with universities to make research and evaluation findings more accessible and comprehensible. All these collective efforts of CfE and SLPFE have contributed to bring the Advocacy and Use Award 2019 to Sri Lanka.