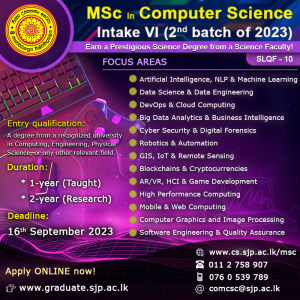 Offered through the Department of Computer Science, USJ
New Admissions for 2023 (2nd Batch)
Computing has become an indispensable skill today both locally and globally. This program has been designed to cover the fundamental concepts of Computer Science as well as in-depth knowledge of specific areas of Computer Science as highlighted below to develop the necessary skills of students to produce innovative solutions to emerging complex problems in computing.
Targeted for those who are seeking qualifications:
to pursue PhDs
to move into computing discipline from other disciplines like Engineering
to join with local/foreign Software Engineering, Data Science, Networking, Cybersecurity or related industries
to be a lecturer/teacher in Computer Science or IT
Eligibility:
A bachelor's degree in Computing, Engineering, Physical Science OR any other degree in related disciplines from a recognized university (with subject to the approval of the senate of the university).
For Full Course Details and Entry Qualifications:
Duration: 1 – year (Taught) / 2 – years (Research)
Course Fee
Rs. 490,000/- (for locals)
US $ 3,000/- (for SAARC countries),
US $ 5,500/- (for Non SAARC countries)
In addition, the following fee should be payable at the time of registration.
Library subscription   Rs. 5,000.00
Registration fee          Rs. 5,000.00
Library deposit           Rs. 5,000.00 (refundable)
Installment payments can be arranged (Conditions apply)
Exit Levels :
MSc in Computer Science (SLQF 10),
Master of Computer Science (SLQF 9),
Postgraduate Diploma in Computer Science (SLQF 8),
Postgraduate Certificate in Computer Science (SLQF 7)
Selection procedure:
An aptitude test and/or interview will be held to select the best candidates for the program.
Focused areas:
Artificial Intelligence, Planning, and Optimization
Machine Learning (Deep Learning and Evolutionary Computing)
Data Science & Data Engineering
Big Data Analytics & Business Intelligence
Cyber Security & Digital Forensics
DevOps, Cloud Computing & Virtualization
NLP (Natural Language Processing) and NLU
Net-Centric Computing
Robotics & Automation
Embedded Systems, IoT, Remote Sensing, and GIS
Blockchains & Cryptocurrencies
Augmented reality (AR) / Virtual Reality (VR) & Game Development
High Performance and Distributed Computing
Human Computer Interaction (HCI) & UI/UX
Mobile & Web Computing
Computer Graphics and Animations
Image Processing and Computer Vision
Software Engineering, Computer Programming, and Data Structures & Algorithms
Software Quality Assurance and Project Management
Application Closing Date: 20th September 2023
How to apply?
Click on the "Apply Now" button below or go to "Applications" page.
Select the Course "MSc in Computrer Science" and login with your email & NIC/passport number
Enter your details and click on Submit.
You will see "You have successfully submitted your Application" on a new web page. Download the application & Bank pay slip from this page.
You can pay the application fee online via Visa or Master Card in LKR from this page by clicking the icon  .
You can pay the application fee of Rs. 2,000/- online only at this stage. If not, you have to visit a People's bank physically and pay the application fee of Rs. 2,000/-to account number 053010005030
Account Holder: University of Sri Jayewardenepura
Bank & Branch: Peoples Bank, Gangodawila branch
If the bank officer informed you that this account number is incorrect, please ask the officer to contact People's bank, Gangodawila branch.
People's bank account contains 15 digits normally. But this account contains only 12 digits. So, you cannot use Cash Deposit Machines or bank applications to pay.
Login again by repeating the above 1st & 2nd steps again.
Click on the "Next" Button at the bottom. (If necessary, you are allowed to edit your details)
You need to upload the following documents

Color Photograph (3.0cm width x 4.0cm height with plain sky-blue background) – .jpg or .png file
Scanned copy of Birth Certificate – .pdf file
Bank payment receipt or Online payment receipt- .pdf file
Scanned copies of Academic Certificates (First Degree & Masters/MPhil) – .pdf files
Scanned copy/ies of Professional Qualifications Certificate/s- .pdf files
Scanned copy/ies of Other Qualifications Certificate/s – .pdf file/s
Service letter – .pdf file
** no need to upload any Research Proposal / Concept paper
Send the downloaded application (from the 4th step above) to bosps.fgs@sjp.ac.lk with scanned copies of the Degree Certificate, Transcript, Birth Certificate, Passport size Colour photograph, and payment receipt.
Please write "Computer Science – 2023 (2)" in the subject field of the email.
Post the printed application (from the 4th step above) along with the certified documents included in the above 8th step through a registered post to the Assistant Registrar, Faculty of Graduate Studies, University of Sri Jayewardenepura, Gangodawila, Nugegoda.
Write "Computer Science – 2023 (2)" on the top left-hand corner of the envelope.