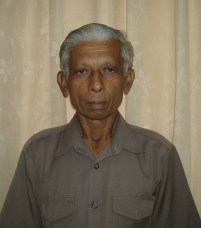 Professor W S Fernando obtained BSC. Hon. In Chemistry from the University of Ceylon (1967) and PHD in Chemistry from the University of Leicester UK (1972). Since then he has continued his career in teaching as a lecturer, Senior Lecturer, Associate Professor, Professor and Senior Professor to the date of his retirement (2010-Feb). In addition to his academic work , Prof. Fernando was also involved in administration work in the University. He was the Head, Department of Chemistry (1990 – 1998) , Dean Faculty of Applied sciences (1998 – 2004 ), the first Deputy Vice – chancellor (student affairs) and also served as the acting vice- chancellor on several occasions. Considering his dedicated service to the university as a whole , University honored him with "Professor Emeritus) status on 2012- February.
He joined the Institute of Chemistry as a visiting lecturer in 1984 and has continued his service as a lecturer in Physical, Inorganic and Mathematics courses since then. He served as a member of the council for eight consecutive years, member of the academic board, Chairman of Royal Society of Chemistry (Sri Lanka) and was also the President of the Institute of Chemistry (2002/2003).
Prof. Fernando has been awarded the long service award by the Royal Society of Chemistry, UK in recognition of the continuous and dedicated service for 20 years and as the chairman for three consecutive years. He was also awarded a certificate of appreciation by the Sri Lanka United Nations Friendship Organization (SUNFO) for excellent service rendered as a Human Resource and membership Development.
The University of Sri Jayawardenepura wishes to express its deepest sympathy in regards to the demise of Professor W. S. Fernando.
The remains lie at No: 591, Mahinda Funeral Parlor – Mount Lavinia.
The funeral will take place on 9th of September 2020 (Wednesday) at 4.00 p.m