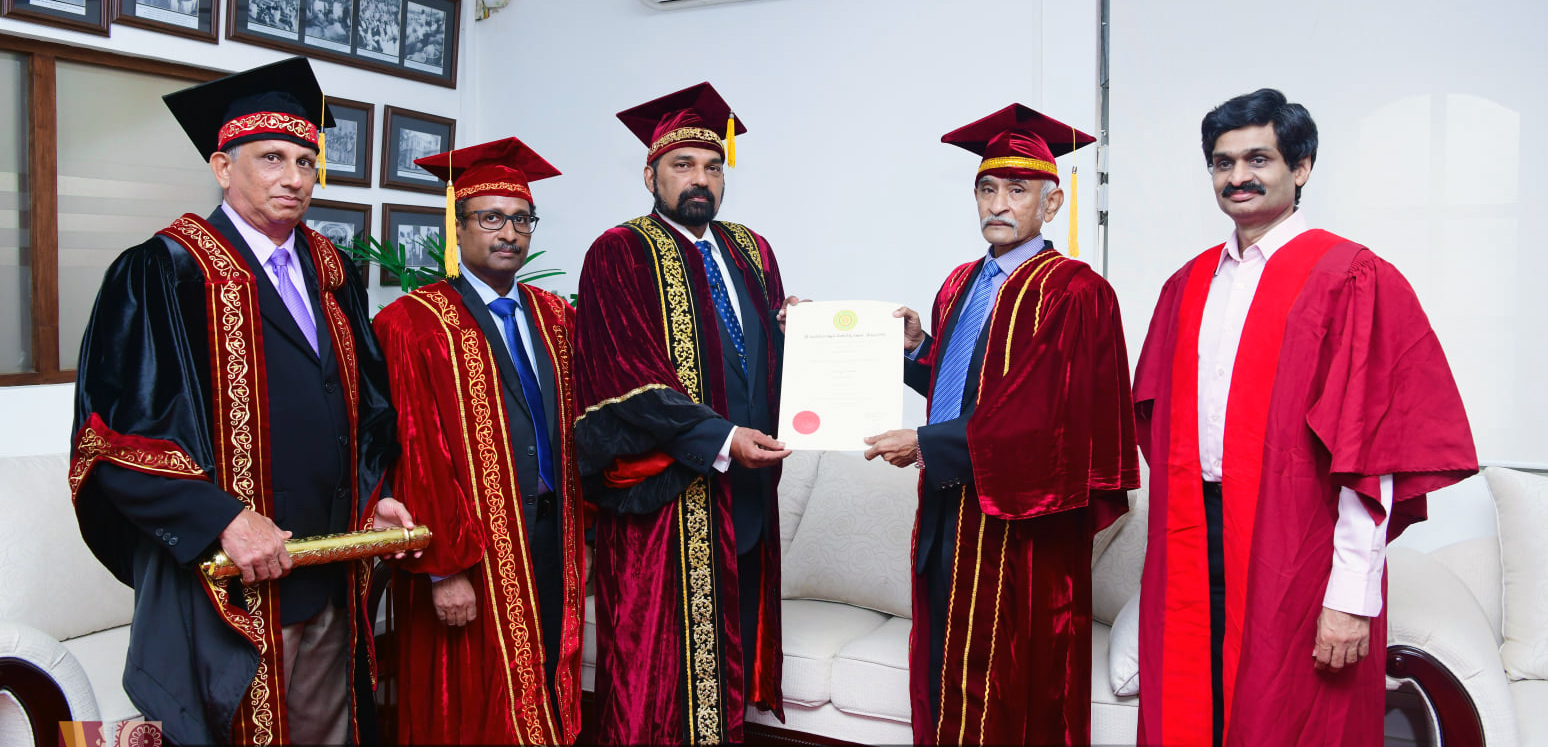 Renowned Sri Lankan environmentalist Mr. Jagath Gunawardana was awarded the Honorary Doctorate (PhD) from the University of Sri Jayewardenepura. Based on the approval of the University Senate and the Council, this was awarded on 20th November 2020 at the Vice Chancellor's Office in the University of Sri Jayewardenepura by Senior Professor Sudantha Liyanage, Vice Chancellor of University of Sri Jayewardenepura in the presence of Mr. K. G. Britto, Registrar, Professor Laleen Karunanayake, Dean, Faculty of Applied Sciences and Prof. Hiran Amarasekera, Professor in Department of Forestry and Environmental Science and Director, Digital Media and Communication of University of Sri Jayewardenepura.
Vice Chancellor, Senior Professor Sudantha Liyanage stated that even though the 46th convocation ceremony was not held as planned due to the prevailing COVID-19 situation in the country, the council of the University of Sri Jayewardenepura has decided that the effective date of Dr. Gunawardana's honorary doctorate will be 2nd November 2020.
As a veteran attorney-at-law on domestic environmental law and environmental educator, he has contributed immensely to the conservation of the flora and fauna in Sri Lanka by providing legal expertise and facilitating national conservation efforts. As a passionate ornithologist he is invested in bird-watching and observation sketching. He is also enthusiastic about flora, fauna and animals and has conducted many studies and researches on these subjects.
Upon receiving the honorary doctorate Dr. Jagath Gunawardana expressed his sincere gratitude to those who helped him in numerous ways and he further stated that he will contribute his best to the environmental conservation efforts in Sri Lanka.
The honorary doctorate is awarded by the university to those who showcase exceptional talent and expertise in their respective fields. With the knowledge and competence gained through this achievement he will be able to contribute more towards the conservation of the environment in Sri Lanka.