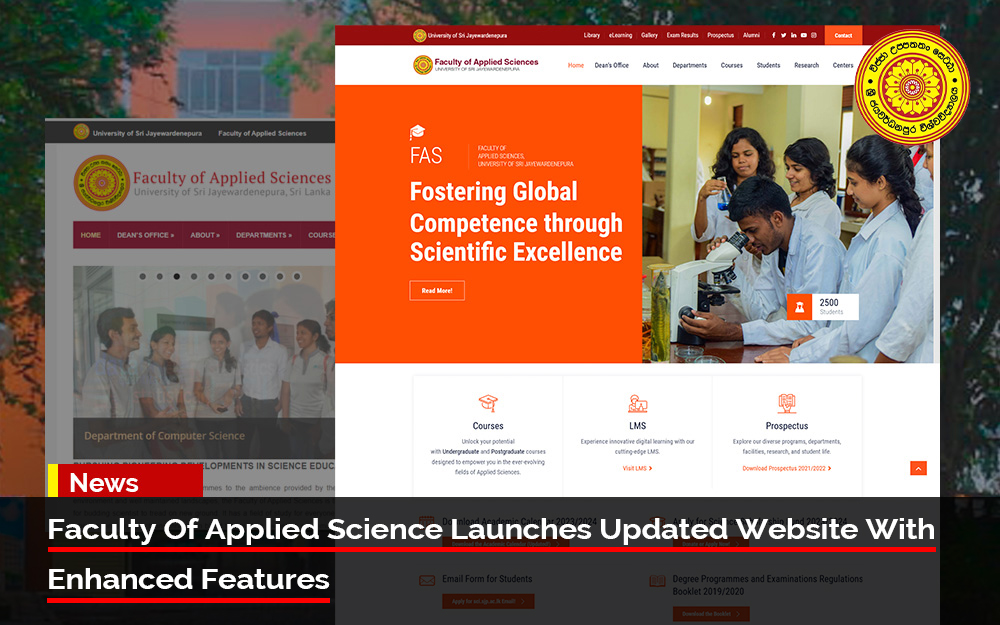 The latest version of the website for the Faculty of Applied Science has been unveiled on May 18, 2023 with the objective of delivering an improved online experience for both students and faculty members. The upgraded website introduces various new features and functionalities that enhance user navigation and provide easier access to essential resources.
Comprising eleven academic departments, the Faculty offers a diverse range of undergraduate and postgraduate courses in subjects such as Chemistry, Physics, Mathematics, Computer Science, Forestry and Environmental Science, Zoology, and more. The updated website now enables prospective students to thoroughly explore these programs, empowering them to make well-informed decisions about their academic journey.
One of the notable highlights of the redesigned website is the enhanced Students section, which offers students convenient access to important information. They can easily check their results, explore available scholarships, engage with various societies, and seek guidance from academic counselors. Furthermore, the integration of a Learning Management System (LMS) ensures seamless access to course materials, facilitating efficient learning for enrolled students.
The website also streamlines the process of downloading essential documents, such as the prospectus and student handbook, providing students with the necessary information at their convenience.
Recognizing the significance of research, the Faculty has dedicated a Research section on the website. Here, students can stay up to date on symposia and ongoing research projects, fostering an environment that promotes academic exploration and advancement.
The website redesign, under the guidance of the Dean's Office, places a strong emphasis on user experience and navigability. The goal is to provide a user-friendly interface that simplifies access to vital information and resources.
In addition to these improvements, the website features dedicated sections for the Library, eLearning, Gallery, Exam Results, and Alumni. The Library section offers access to a wide range of books and resources to support students' academic pursuits. The eLearning and Gallery sections provide supplementary educational resources for enhanced learning experiences. Students can conveniently check their exam results through the designated section, and the Alumni section allows graduates to connect and showcase their achievements.
With a rich educational history spanning over five decades, the Faculty of Applied Sciences currently has more than 2,667 undergraduate students. The academic staff, consisting of nearly a hundred members, bring their expertise and experience to create a conducive learning environment for students.
The updated website reflects the Faculty's commitment to delivering an enhanced online experience for its community. By incorporating user-friendly features and providing easy access to essential resources, the Faculty of Applied Science aims to support its students and faculty in their academic pursuits.
For additional information, please visit the Faculty of Applied Sciences website and explore the wide range of educational opportunities available.