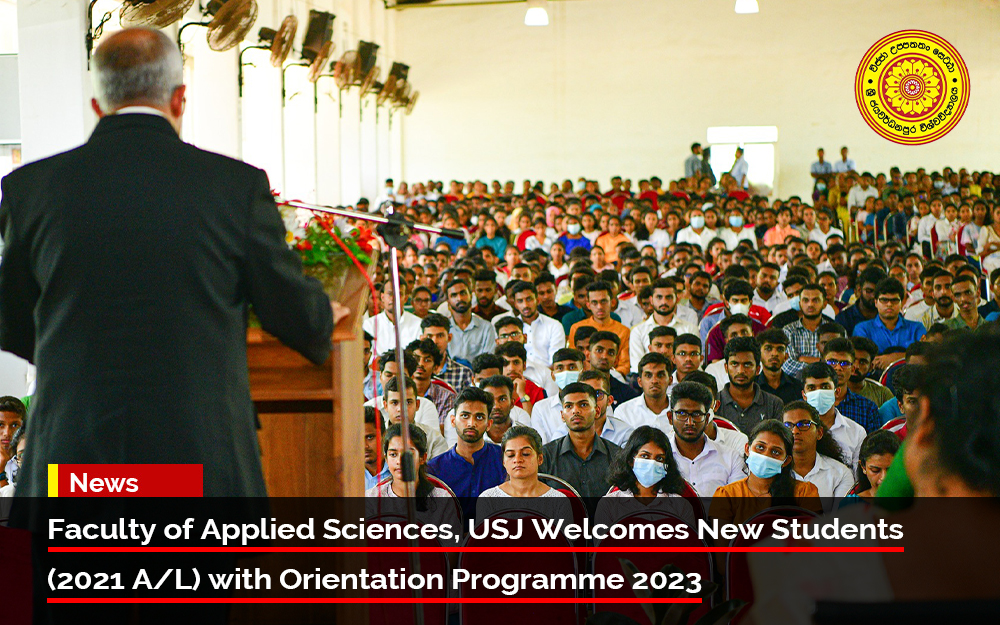 The Faculty of Applied Sciences at the University of Sri Jayewardenepura recently organized its highly anticipated Orientation Programme for the year 2023. The event aimed to provide new students with a comprehensive introduction to university life, equipping them with the necessary knowledge and resources to embark on their academic journey.
The Inaugural Session took place at the prestigious Bandaranayake Hall, where participants eagerly gathered to begin their university experience. The event commenced with the admission of participants to the hall, setting the stage for a day filled with informative sessions and engaging activities.
The lighting of the oil lamp, a symbol of tradition and enlightenment, added a sense of reverence to the atmosphere. The university anthem resonated through the hall, fostering unity and instilling a sense of pride among the attendees.
Distinguished speakers, including Professor Upul Subasinghe, Acting Vice Chancellor and Dean of the Faculty of Applied Sciences, warmly welcomed the new students, expressing their excitement and aspirations for their academic journey. Mr. A.B. Welivita, Registrar of the University of Sri Jayewardenepura, emphasized the importance of dedication and commitment in the pursuit of knowledge.
Senior Professor K.K.D.S. Ranaweera from the Department of Food Science and Technology, Faculty of Applied Sciences, delivered a thought-provoking speech titled "University student's role in the present community." His address highlighted the significance of student engagement in societal matters, encouraging them to become active contributors to positive change.
To familiarize the newcomers with the university's resources, a video showcasing the medical facilities and sports amenities at the University of Sri Jayewardenepura was presented. This segment aimed to inspire students to maintain a balanced lifestyle while pursuing their academic goals.
Mr. Sarath Ananda, Head of the Department of English Language Teaching, shed light on the importance of language proficiency in today's globalized world. His presentation offered insights into the department's initiatives and the support available to students.
Senior Professor Samanchandra Ranasinghe from the Department of Languages, Faculty of Humanities and Social Sciences, delivered an inspiring speech titled "විද්‍යාවයි කලාවයි" (Meaning "The Essence of Knowledge"). His address emphasized the transformative power of education and its role in shaping society.
Recognizing the diversity among the student body, Dr. Sivayini Kandeepan, Senior Lecturer from the Department of Physics, Faculty of Applied Sciences, presented a summary of the inaugural session in Tamil. This gesture underscored the university's commitment to inclusivity and cultural harmony.
Ms. Yashoba Abeysinghe, Assistant Registrar of the Faculty of Applied Sciences, expressed gratitude on behalf of the university to all the speakers, participants, and organizers for their contributions in making the event a resounding success. The day concluded with a collective rendition of the National Anthem, fostering a sense of national pride and unity among the attendees.
The Orientation Programme marked the Faculty of Applied Sciences' dedication to empowering and guiding the next generation of scholars, paving the way for a fruitful and rewarding academic journey.