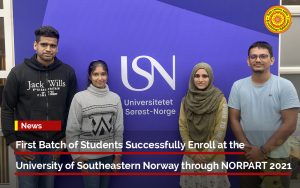 First Batch of Students Successfully Enroll at the University of Southeastern Norway through NORPART 2021
Faculty of Technology, USJ was able to secure a highly competitive grant offered by the Norwegian government last year (2022) under the project title "Instituting of research-based education system for the development of renewable energy technology in the circular economy" This initiative aimed to strengthen the research-based education system in higher education, emphasizing circular economy and renewable energy technology through a partnership between the Global North and Global-South-South-South.
The full commitment of partner universities, including the University of South Eastern Norway (USN), Kathmandu University (KU), Nepal University (NU), Shahjalal University of Science and Technology (SUST), and the University of Sri Jayewardenepura (USJ) from Sri Lanka, led to the achievement of expected outcomes. These outcomes included the establishment of 3 research-based elective courses, 1 MSc program, student mobility involving 28 master's and 6 Ph.D. students from south-north regions and 8 master's and 2 Ph.D. students from north-south regions (with 50% female participation), 20 guest lectures, 20 staff exchanges, 30 joint publications, 24 joint master's thesis supervisions, and 2 online training courses.
In the context of Sri Lanka, the Faculty of Technology at the University of Sri Jayewardenepura will directly benefit from:
Initiating assistance to new MSc programme development in Environmental Technology at USJ.
Organizing a summer workshop at USJ.
Full Master's degree Scholarship – 2024 August (1 Student)
D student Mobility for 3 months – 2024 September (1 Student)
Master Student Mobility for 6 months – 2023 January (2 Student)
Master Student Mobility for 6 months – 2024 January (2 Student)
Master Student Mobility for 6 months – 2025 January (2 Student)
Master Student Mobility for 6 months – 2026 January (2 Student)
Staff Exchange
Distance Supervision
30 Joint Publications
Currently, the Faculty of Technology has granted wonderful opportunities to undergraduate students by offering postgraduate student positions to 4 undergraduates through collaboration with the NORPART project. Among these students, Mr. B.M.C.M. Balasuriya and Ms. S.S. Ekanayaka have been awarded full Master's degree scholarships at the University of South Eastern Norway. Additionally, Mr. M.B.D.K. Siriwardena and Ms. I.F. Aroosa received the opportunity for Master student mobility for 6 months at the same university. This postgraduate program will allow them to gain hands-on experience and knowledge of new trending technologies in Norway, which will contribute to improving the energy and environmental sector in Sri Lanka by enhancing green concepts.
Furthermore, USJ aims to send future students for postgraduate positions and motivate them to participate in conferences and other related activities to foster educational development. The staff at USJ will dedicate their maximum effort to initiate the Master's degree program at the university with the support of the project. In the near future, the Faculty of Technology at USJ plans to establish a new MSc program in Environmental Technology, which involves developing syllabi, curriculum, and lab facilities.
The local coordination team responsible for initiating this project at USJ includes the Dean of the Faculty of Technology, Head of the Department of Civil and Environmental Technology, as well as Finance and Administrative team members. The team is led by Dr. P.R.A. Udara Sampath, who takes responsibility for project implementation and management. The project team consists of academic staff members, namely Dr. P.R.A. Udara Sampath, Dr. Randika Jayesinghe, Dr. A.R. Nihmiya, and Dr. P.A. Koliyabandara.
As a result of the NORPART project, the Faculty of Technology will organize an International summit titled 'Transitioning to a Sustainable Future: Summit on Research-Based Education in Circular Economy and Bioenergy' on December 7th and 8th, 2023. This summit, opening new pathways to a greener future, will provide an excellent opportunity to gain knowledge about innovative ideas for implementing sustainable concepts. The NORPART 2021 project ensures the quality and efficiency of the education system, and the summit will play a key role in the success of the project."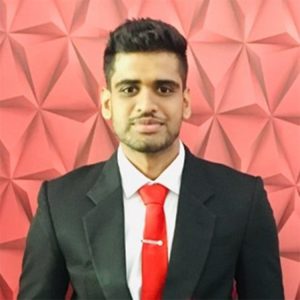 Mr. B.M.C.M. Balasuriya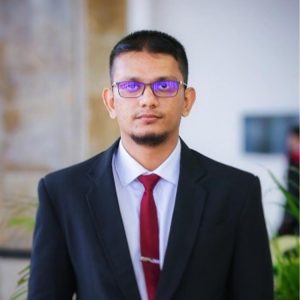 Mr. M.B.D.K. Siriwardena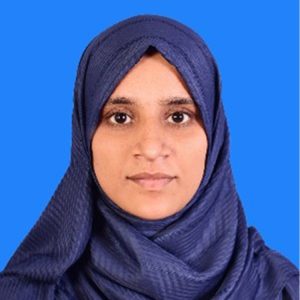 Ms. I.F. Aroosa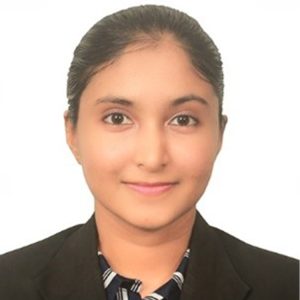 Ms. S.S. Ekanayaka