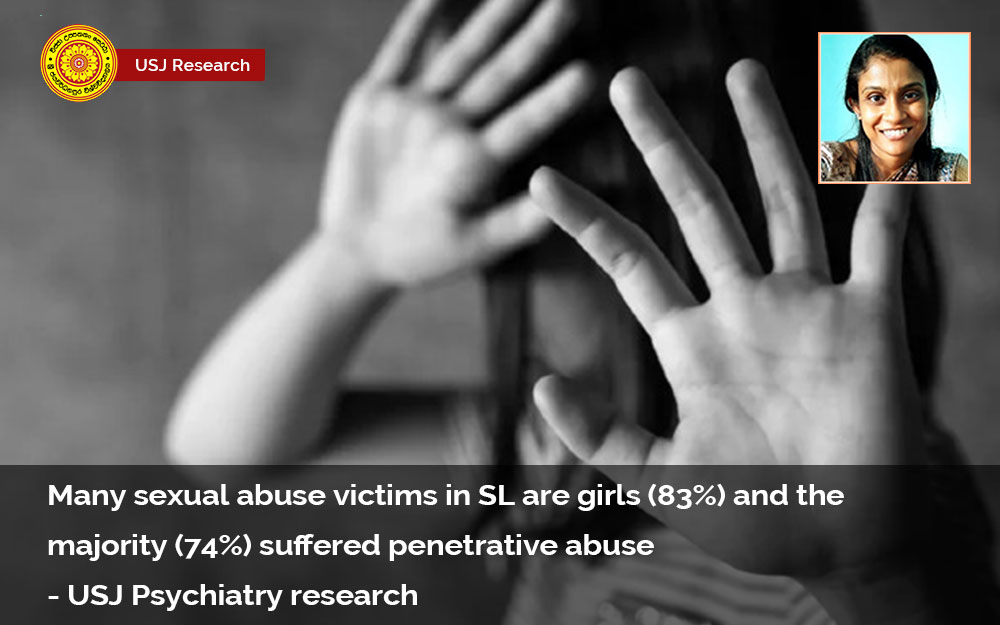 "More" is not a word we do not want to hear on child abuse, but shockingly 94.5% of the criminals who engaged in such things were known to the child. Means your child might not be safe with your own kin.
USJ researchers collected data from 64 children to find out the results that could bring a shock to a civilized society. "Out of these 164 sexually abused children and adolescents, we found 82.9% was females and 67.1% of those are older than 12 years. 94.5% of perpetrators were known to the child and delayed disclosure was significantly high in penetration abuse, multiple incidents of abuse and abuse by a known person" said Dr Rohanachandra,  Senior Lecturer, Department of Psychiatry at the University of Sri Jayewardnepura.  She also told that Psychological sequelae were seen in 28.7% and in 163 out of 164 cases perpetrators were male.
Dr (Ms) Y M Rohanachandra, Ms. I Amarabandu of USJP, and Dr. P Dassanayake of Colombo South Teaching Hospital (aka "Kalubowila Hospital") carried out this research from 2015-2019 by collecting data from patient's paper-based medico-legal records. Researchers considered socio-demographic details, risk factors for abuse – single-parent families, living circumstances, lack of supervision, whether schooling, perpetrator characteristics, type of abuse, the pattern of disclosure, and Consultant Psychiatrist diagnosis record.
Furthermore, 31.1% of cases, the victim had been threatened and 15.2% of the cases had been rewarded with a toy or food. Time taken to reveal the abuse ranged from immediately after the incident to more than a year. The majority (40.9%) of the children had revealed about the incident to the mother, followed by grandmother (13.4%) and sister (9.1%). Delayed disclosure was significantly higher in children who suffered penetrative abuse. Those who had multiple incidents of abuse were abused by a known person. "In our study, only 49.4% of children lived with both parents, compared to 78% in National figures. In addition, in our study, only 81.9% of children were attending school compared to 90.1% in national figures" stated the team.
The trauma done to these victims was significantly high as depression (8.5%), adjustment disorder (7.3%), and acute stress reaction (6.7%) totaling the "statistical" damage in 47 innocent souls. Un-enabling to save these souls from sexual abuse even more than 80% of them are being literate rising a question that we ought to ask, "should we still forbid the sexual education shadowing to the culture, or should we save our kids from sexual abuse by educating them and opening our ears to them?"
Read the full research article: Child sexual abuse presenting to a teaching hospital in Colombo, Sri Lanka