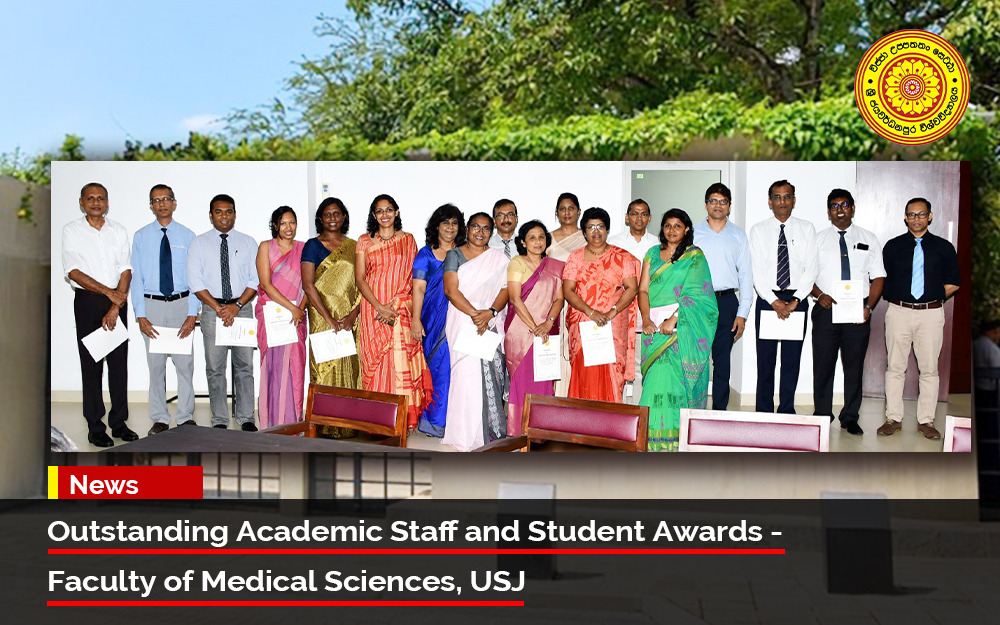 The University of Sri Jayewardenepura recently held its annual award ceremony on March 8th, 2023, to recognize the most outstanding students and staff of the year 2022. The event was held under the patronage of the Acting Vice-Chancellor, Prof. Upul Subasinghe and awards were presented to academic staff members who demonstrated excellence in student teaching and mentoring.
The awards for Excellence in Student Teaching were given to nine faculty members, including Dr E.A.S.T. Edirisinghe, Dr Chandana Hewage, and Prof Savithri Wasundara Wimalasekara. Meanwhile, the Excellence in Mentoring award was presented to ten individuals, including Prof P.P.R. Perera, Prof T.S. Suresh, and Prof Savithri Wasundara Wimalasekara.
In addition to recognizing staff members, the Faculty of Medical Sciences at the University of Sri Jayewardenepura also offered awards to students in the MBBS program. The Most Outstanding Student award was presented to six deserving students, including Ms Avanti Sulochana Hapugalle and Mr Noroshan Sivaranjan, while the Most Improved Student award was given to two students, Mr Rajapaksha Kumara Unnahelage Praneeth Vindaka Alphonsu and Mr Rajakaruna Nawarathna Hangiligedara Juthindara Bhanu Wijethilake. These awards aim to motivate students to excel in both academic and extracurricular activities.
The list of awardees,
The Excellence in Student Teaching was awarded to:
Dr E.A.S.T. Edirisinghe
Dr Chandana Hewage
Dr Himansu Waidyasekera
Prof Savithri Wasundara Wimalasekara
Prof Dulani Hasanthi Beneragama
Prof Neelika Malavige
Dr G.V.N. Sandakumari
Prof Bawantha Gamage
Prof Jegarajah Indrakumar
Dr Kanchana Wijesinghe
The Excellence in Mentoring was awarded to:
Prof P.P.R. Perera
Prof T.S. Suresh
Prof Savithri Wasundara Wimalasekara
Prof C.S.E. Goonawardane
Dr Dinesha Sudusinghe
Prof Renu Wickremasinghe
Prof Chamil Marasinghe
Prof K.C.D.P. Silva
Dr Kanchana Wijesinghe
Most Outstanding Student award was awarded to:
Ms Avanti Sulochana Hapugalle
Ms Dewni Yasara Rathnapriya
Mr Noroshan Sivaranjan
Ms Jesenthu Liyana Thisuri
Ms Sachitra Gayanthi Rathnasooriya
Mr Wijesinghe Pandithage Asel Nimnaka Wijesinghe
The Most improved Student award was awarded to:
Mr Rajapaksha Kumara Unnahelage Praneeth Vindaka Alphonsu
Mr Rajakaruna Nawarathna Hangiligedara Juthindara Bhanu Wijethilake
Read the original news here