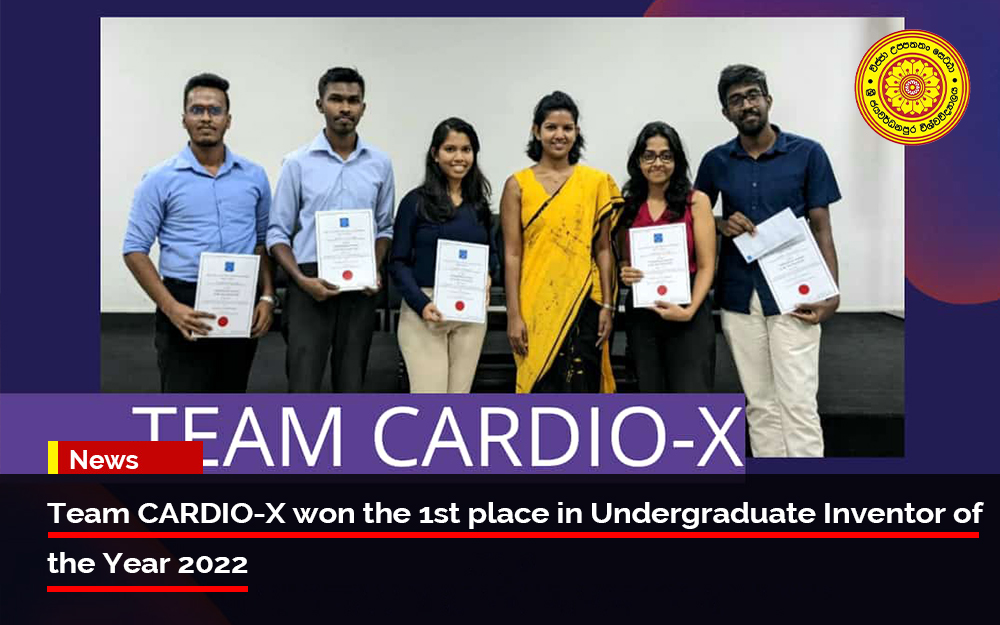 "Cardio-X," – pre-heart attack detector designed by a group of undergraduate students from the Faculty of Engineering at the University of Sri Jayewardenepura have won first place and the award for the best market viable category at the Institute of Engineers, Sri Lanka (IESL) Undergraduate Inventor of the Year 2022.
The project was developed by a team of five students from the Department of Electrical and Electronic Engineering, I.A. Senal Inovin Fernando, R. M. D. H. Adithya Rajapakshe, T. H. Nimshan Isuranga, M. S. Induwara and P. A. Dinushika Chithrani, and one student from the Department of Mechanical Engineering, D. Akila Dilshan Wickramathilaka.
Cardio-X uses advanced technology to detect signs of a potential heart attack before it occurs, such as changes in heart rate, blood pressure, and other vital signs. The device is designed to be worn on the body and can be easily connected to a smartphone or other device to provide real-time monitoring and alerts and it helps to prevent heart attacks before they occur. The team's goal with Cardio-X is to improve the early detection and prevention of heart attacks, which are a leading cause of death worldwide. According to the World Health Organization, heart disease is the leading cause of death globally, accounting for 17.9 million deaths per year.
The IESL Undergraduate Inventor of the Year competition aims to encourage and support the development of innovative projects by undergraduate students in Sri Lanka. The competition is open to all undergraduate students enrolled in engineering and technology programs at universities in Sri Lanka, and is held annually. The Institution of Engineers Sri Lanka (IESL) is a multidisciplinary professional engineering institution in Sri Lanka. It is the foremost institute for engineers in this country.