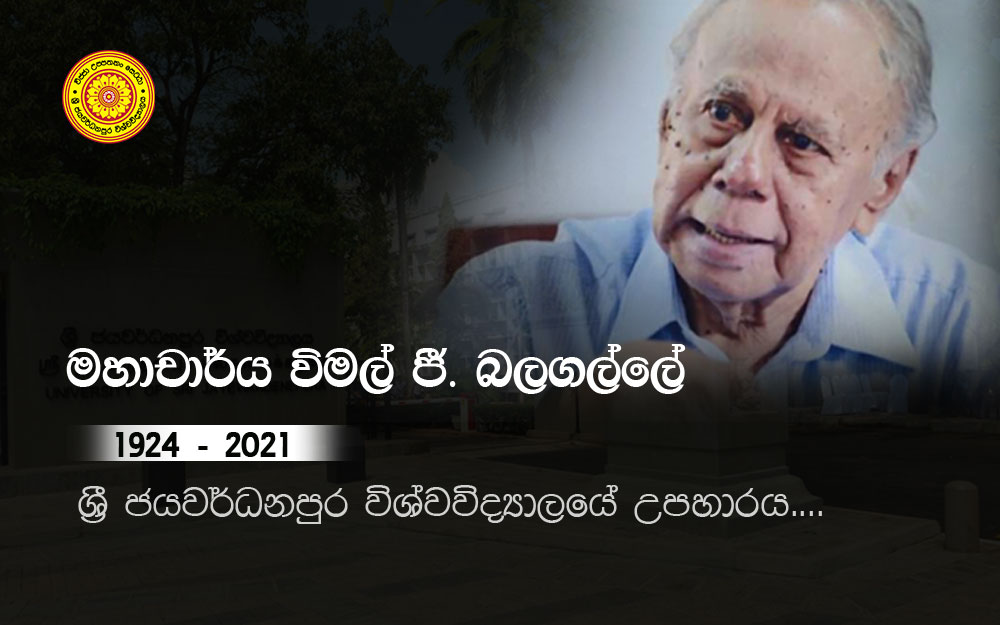 University of Sri Jayewardenepura expresses its deepest sympathies on the demise of Emeritus Professor Wimal G. Balagalle, former Dean of the Faculty of Humanities and Social Sciences.
He was a well-known linguist versatile in Sinhala, Pali, Prakit, Sanskrit, Bengali languages and English as well. Born on November 1924, in the village of Balagalle in the Gampaha District, initially, he attended Ullapola Vidyatilaka Boys' Buddhist School where he completed the GSC with first-class honours. He entered the Pallevela Vikramasila Pirivena in 1938 to continue his post-secondary education.
In 1950, he saved his Pandit Diploma (O.S.S.) and subsequently, he entered the University of Ceylon (Colombo and Peradeniya) in 1952 and was awarded the BA Honours Degree in Sinhala in 1956.
His national contribution includes the key role he played as the Chief Editor of the Sinhala Dictionary from 1994 to 2002 and the Chairman of the Sinhala Mahavamsa Compilation Committee.
He won the UNESCO literary award for his translation of the Record of the Buddhist Kingdom by Fa Xian which was published in 1958. In 1964 he published A Critical Edition of Sinhala Thupa Vansaya which he co-edited with Professor Vimala Vijesuriya. He was awarded the State Literary Award in 1995 for Language Studies and Sinhala Usage and in 1998 for the publication The History of the Studies on Sinhala Language.
In recognition and appreciation of his academic contribution and service, the University of Sri Jayewardenepura conferred an Honorary Doctorate on Prof. Wimal G. Balagalle in 1984, and a second Honorary Doctorate was conferred upon him by the Buddhist and Pali University in 2008.
In 1990, Professor Wimal G. Balagalle was conferred the title Professor Emeritus by the University of Sri Jayewardenepura.
In recognition of the unparalleled contribution for Oriental languages and Linguistics, Sinhala language studies in particular, the Royal Asiatic Society of Sri Lanka took great pride in awarding its Gold medal for 2018 to Professor Wimal Gunasekera Balagalle.
Our heartfelt condolences to his beloved family and loved ones. May he attain the supreme bliss of Nibbana.
Read more on:
Academic Discourse on behalf of the 93rd Commemoration of Prof. W. G. Balagalle>>
මහාචාර්ය විමල් ජී. බලගල්ලේ: පුද්ගලයා හා ඔහුගේ සේවාව, මහාචාර්ය ඒ. වී. සුරවීර
භාෂාධ්‍යයන විෂයයෙහි මහාචාර්ය විමල් ජී. බලගල්ලේ සූරීන්ගේ දායකත්වය, ජ්‍යේෂ්ඨ මහාචාර්ය රත්නසිරි අරංගල
වදනිසුරු මහැදුරු බලගල්ලේ, මහාචාර්ය කේ. එන්. ඕ. ධර්මදාස
කීර්තිශේෂභාවෝපගත සම්මානිත මහාචාර්ය විමල් ජී. බලගල්ලේ මහතාගේ දේහය පිළිබඳව අවසන් ගෞරව දැක්වීම

දිනය – 2021. 07. 17
වේලාව – පෙ. ව. 9.00 සිට පෙ. ව. 10.00 දක්වා
ස්ථානය – ශ්‍රි ජයවර්ධනපුර විශ්වවිද්‍යාලයේ ශ්‍රි සුමංගල මන්දිරය
– සහභාගිවන සියලුම ආචාර්යවරුන් පෙ. ව. 8.50 වන විට උපාධි ලෝගුවෙන් සැරසී විශ්ව විද්‍යාලයීය ප්‍රධාන පිවිසුමේ සිට පෙළ ගැසී සිටීම අපේක්ෂා කෙරේ. (සිංහල හා ජනසන්නිවේදන අධ්‍යයනාංශයෙන් උපාධි ලෝගු ලබා ගත හැකිය.)
– ආගමික කටයුතු හා අවමංගල්‍යය සභාව පෙ. ව. 9.30ට ආරම්භ කිරීමට නියමිතය.
– එදිනම පෙ. ව. 10.15 සිට ප. ව. 5.30 දක්වා දේහය මහරගම රෝහිණී මල් ශාලාවෙහි මහජන ගෞරවය සඳහා තැන්පත් කෙරේ.
– සවස 6.00ට මහරගම ගොඩිගමුව පොදු සුසාන භූමියේදී දේහය පිළිබඳ අවසන් කටයුතු සිදු කෙරේ. (ආගමික කටයුතු හා අවමංගල්‍යය සභාව පැවැත්වෙන්නේ විශ්වවිද්‍යාල පරිශ්‍රයේ පමණි.)
– මේ සියලු කටයුතු සංවිධානය කෙරෙනුයේ සෞඛ්‍ය මාර්ගෝපදේශවලට අනුකූලවය.
– ආචාර්යවරුන්ගේ සහභාගිත්වය ගෞරවයෙන් අපේක්ෂා කෙරේ.
සිංහල හා ජනසන්නිවේදන අධ්‍යයනාංශය සමග මානවශාස්ත්‍ර හා සමාජීයවිද්‍යා පීඨය,
ශ්‍රී ජයවර්ධනපුර විශ්වවිද්‍යාලය