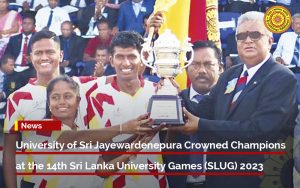 In an exhilarating showcase of talent and determination, the University of Sri Jayewardenepura (SJP) emerged as the triumphant victors in the 14th Sri Lanka University Games (SLUG) held in 2023. This prestigious sporting event, organized every three years among Sri Lankan state universities, witnessed SJP's athletes dominate in all categories – Men, Women, and Overall – making it a momentous achievement in the university's history.
With a total of 411.5 points, SJP demonstrated their unwavering commitment to sports excellence. Their impressive tally included 228.5 points in the Men's category and 183 points in the Women's category, securing them the coveted title of Overall Champions in this fiercely contested 24-game tournament. This victory marked the third consecutive triumph for SJP, following their successes in 2016, 2019, and now 2023.
SJP's exemplary performance left an indelible mark across a wide array of sports. Notably, they clinched the Champions title in Badminton-Women, Cricket, Elle-Men, Kabaddi-Men, Road Race, Rugby, Swimming-Women, Tennis-Women, Track & Field-Women, Swimming-Overall, and Track & Field-Overall. These achievements highlight the university's diverse sporting talent and dedication to fostering well-rounded athletes.
Furthermore, SJP's prowess extended to several other disciplines, with their teams securing 1st Runner-up positions in Baseball-Men, Carrom-Men, Carrom-Women, Football-Men, Table Tennis-Men, Table Tennis-Women, Taekwondo-Women, Track & Field-Men, Volleyball-Women, Weightlifting-Men, and Weightlifting-Women. This consistent performance across multiple sports underlines SJP's commitment to sportsmanship and teamwork.
The university's athletes also clinched 2nd Runner-up in Beach Volleyball-Men, Elle-Women, Netball, Karate-Women, and Tennis-Men, showcasing their versatility and determination in diverse sporting domains.
In addition, SJP had commendable 4th-place finishes in Badminton-Men and Chess-Women, highlighting their dedication to improving and competing at the highest level.
Rounding up their achievements, SJP's athletes secured 5th place in Karate-Men, Swimming-Men, Taekwondo-Men, and Wrestling, reinforcing their status as formidable competitors.
The 14th Sri Lanka University Games not only celebrated athletic excellence but also emphasized the importance of sports in promoting a peaceful and harmonious society. SJP's resounding victory not only brings pride to the university but also serves as an inspiration to aspiring athletes across Sri Lanka, illustrating that with dedication and perseverance, one can achieve remarkable feats in the world of sports. Congratulations to the University of Sri Jayewardenepura on their exceptional performance in SLUG 2023, a testament to their commitment to sports and the pursuit of excellence.