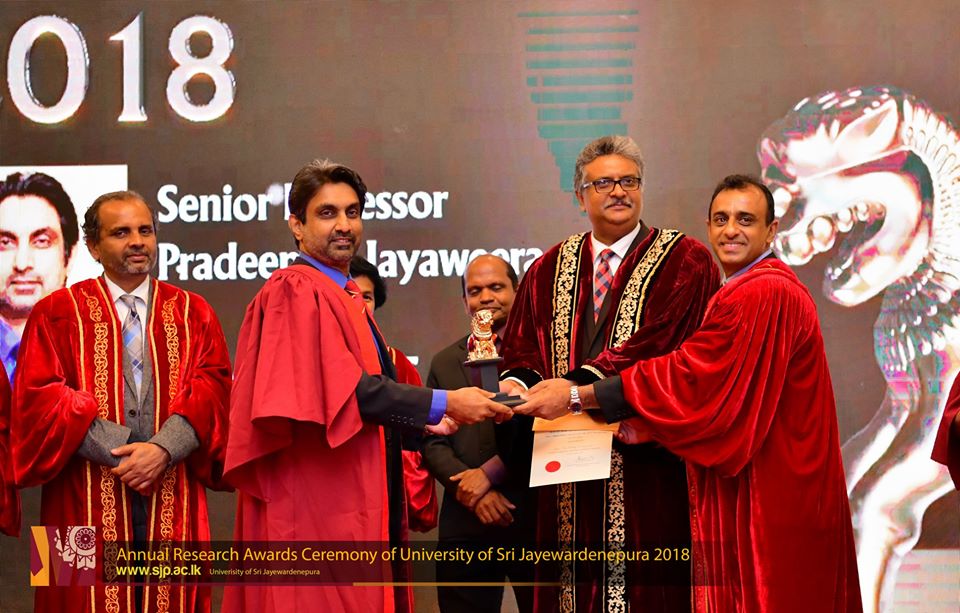 Research Awards Ceremony – 2018 of the University of Sri Jayewardenepura organized by the Research Council; USJ was held at the Golden Rose Hotel on 13th November 2019 with the participation of Senior Prof. Sampath Amaratunge; Vice-Chancellor of the USJ, Deans of Faculties, Members of the Research Council and academic members.
At this prestigious annual event, a large number of academic members were honored for their contribution to publishing research at national/international conferences, peer-reviewed/indexed journals and conducting high-quality researches.
This Research Award system was conducted through 16 categories where eligible candidates were given monetary awards, certificates, and Souvenirs. The researcher has the highest h index was awarded a special prize at the faculty level, the Early Career Researcher Awards was awarded to the Best Researcher for less than 40 years and Vice Chancellor's Award was awarded to the Best Researcher of the University following a stringent selection process.
List of winners
Vice Chancellor's Award (Award for the Best Researcher of the Year)
Snr. Prof Pradeep M Jayaweera
Department of Chemistry
Faculty of Applied Sciences
Early Career Research Award
Dr. K N M Wijayathilaka
Department of Zoology
Faculty of Applied Sciences
Researchers Having Highest Citations (Three awards for each faculty) 
Faculty of Applied Sciences
First Place:      -Dr. M G D S Manamgoda (Citations 278)
Second Place:  -Snr. Prof. M M Pathmalal (Citations 115)
Third Place:     -Snr. Prof. P P M Jayaweera (Citations 64)
Dr. P K D D P Pitigala (Citations 64)
Faculty of Management Studies and Commerce
First Place: -Snr.  Prof. R L S Fernando (Citations 28)
Second Place: -Snr. Prof D S N P Senarathne (Citations 27)
Third Place: -Dr. K M V Sachithra (Citations 24)
Faculty of Medical Sciences
First place: -Snr. Prof. K A K K Wijewardene (Citations 113)
Second Place: -Dr. M M Weerasekara (Citations 96)
Third Place: -Dr. J M K C Jeewandara (Citations 85)
Faculty of Technology
First Place: -Dr. H K S Amarakeerthi (Citations 19)
Faculty of Engineering
First place        :- Dr. M N Dharmaweera (Citations 33)
Second Place   :- Dr. K M C Konthesinghe (Citations 23)
Third Place      :- Dr. U K Wijenayake (Citations 15)
Researcher Having Highest H-Index (Three awards for each faculty) 
Faculty of Applied Sciences
First Place: – Dr. W L I Wijesekara (h-index 17)
Second Place: – Dr. P K D D P Pitigala (h-index 15)
Third Place: – Snr. Prof. B M P Singhakumara (h-index 13)
Faculty of Management Studies and Commerce
First Place:-Dr. P G S A Jayarathne (h-index 6)
First Place :- Dr. K M V Sachithra (h-index 6) (Both are First Place)
Second Place: – Snr.  Prof. R L S Fernando (h-index 5)
Second Place: – Dr. M D Pushpakumari (h-index 5)
Second Place: – Dr. K S L Gunawardane (h-index 5)
Faculty of Medical Sciences
First Place: -Snr. Prof. K A K K Wijewardene (h-index 13)
Second Place: -Prof. D R Wickramasinghe (h-index 12)
Second Place: – Dr. M M Weerasekara (h-index 12)
Faculty of Technology
First Place: – Dr. H K S Amarakeerthi (h-index 5)
Faculty of Engineering
First Place: – Dr. U K Wijenayake (h-index 7)
Second Place: – Dr. K M C Konthesinghe (h-index 5)
Third Place: – Dr. M N Dharmaweera (h-index 5)
Researcher having Highest Citation Impact (One Award for each faculty) 
B V N Wijewardene, Faculty of Humanities & Social Sciences (Citation Impact – 5)
S. Vithanage, Faculty of Applied Sciences (Citation Impact – 273.5)
P. L. Chandralal, Faculty of Mgt. Studies & Commerce (Citation Impact – 20.5)
G N Malavige, Faculty of Medical Sciences (Citation Impact – 29.5)
G. L. R. Jayathunga, Faculty of Technology (Citation Impact – 10.5)
N. Dharmaweera, Faculty of Engineering (Citation Impact – 8.5)
Researchers who have obtained External Research Grants
Faculty of Applied Sciences            
S M C U P Subasinghe –Department of Forestry and Environmental Sciences
P K P Perera –Department of Forestry and Environmental Sciences
Meththika Vithanage- Dean's Office
Faculty of Management Studies and Commerce  
Prof. R L S Fernando- Department of Public Administration
N C Wickramarachchi- Department of Estate management and Valuation
Faculty of Medical Sciences
Prof. K A K K Wijewardena- Department. of Community Medicine
U G Chandrika– Department of Biochemistry
K R D de Silva- Department of Anatomy
G N Malavige- Department of Microbiology
S Prathapan- Department of Community Medicine
P H K I S Ranasinghe- Department of Parasitology
E A S T Edirisinghe- Department of Anatomy
A T Matthias- Department of Community Medicine
Faculty of Engineering
M N Dharmaweera – Department of Electrical & Electronic Engineering
Emeritus Professors having H-index 10 or more        
Prof. S B Gunatilake (H Index 17)
Department of Medicine
Faculty of Medical Sciences
Departments Having the Highest Cumulative Citations in the Year 2017 (Three awards per faculty)
Faculty of Humanities & Social Sciences
First place: – Department of Anthropology (Citations 27)
Second Place: – Department of Economics (Citations 19)
Third Place: – Department of History & Archeology (Citations 19)
Faculty of Applied Sciences
First place: -Department of Food Science & Technology (Citations 650)
Second Place: – Department of Chemistry (Citations 556)
Third Place: – Department of Botany (Citations 389)
Faculty of Management Studies & Commerce
First place: -Department of Human Resource Management (Citations 238)
Second Place: – Department of Accounting (Citations 191)
Third Place: – Department of Marketing Management (Citations 122)
Faculty of Medical Sciences
First place: -Department of Microbiology (Citations 796)
Second Place: – Department of Community Medicine (Citations 356)
Third Place: – Department of Bio Chemistry (Citations 230)
Faculty of Technology
First place: -Department of Bio-system Technology (Citations 435)
Second Place: -Department of Engineering Technology (Citations 36)
Third Place: -Department of Information & Communication Technology (Citations 39)
Faculty of Engineering
First place: -Department of Electrical & Electronic Engineering (Citations 60)
Second Place: – Department of Civil Engineering (Citations 27)
Third Place: – Department of Mechanical Engineering (Citations 26)
Conference Proceedings published by University
 Faculty of Applied Sciences
23rd International Forestry & Environment Symposium 2018
Symposium-Chairperson – Prof. S M C U P Subasinghe
2nd International Conference on Food Quality, Safety and Security 2018
Symposium-Chairperson – Snr. Prof. K K D S Ranaweera
Faculty of Management Studies & Commerce
International Conference on Real Estate Management and Valuation ICREMV 2018)
Symposium-Chairperson Prof. K G P K Weerakoon
Faculty of Medical Sciences
International Conference on Health Sciences 2018
Symposium-Chairperson Snr. Prof. S S N Fernando
Journals published in the University
Faculty of Applied Sciences
Journal of Tropical Forestry & Environment
Chief Editor – Prof. H S Amarasekara
Vidyodaya Journal of Sciences
Chief Editor – Prof. S M C U P Subasinghe
Faculty of Management Studies & Commerce
Sri Lankan Journal of Human Resource Management
Chief Editor – Snr.  Prof.  H H D N P Opatha
Sri Lankan Journal of Real Estate (Issue 12 & 13)
Chief Editor –Prof. K G P K Weerakoon
Human Resource Management Journal
Chief Editor – Snr. Prof. K H Hemantha Kottawatta
Human Resource Management Review
Chief Editor – Snr. Prof. K H Hemantha Kottawatta
Researchers having published 5 or more full papers in recognized indexed journals in 2018
Snr. Prof. M M Pathmalal-Department of Zoology
Snr. Prof. S S N Fernando-Department of Microbiology
Dr. M M Weerasekara             -Department of Microbiology
Dr. T D C P Gunasekara-Department of Microbiology
Snr. Prof. K K D S Ranaweera-Department of Food Science and Technology
Prof. M N S Kottegoda-Department of Chemistry
Dr. M S Vithanage-Office of the Dean
Prof. G N Malavige-Department of Microbiology
Authors of top 5 research papers having the Highest Number of Citations with USJ affiliation
S Weerakoon -Department of Mathematics
T G I Fernando -Department of Computer Science
B C V Senaratna -Department of Community Medicine
K R D de Silva -Department of Anatomy
Prof. P P M Jayaweera -Department of Chemistry
Prof. M M Pathmalal -Department of Zoology
Researchers who have obtained Presidential Awards for Scientific Publication 2017                        
G N Malavige -Faculty of Medical Sciences
T N B Etampawala-Faculty of Applied Sciences
M Vithanage -Faculty of Applied Sciences
A Sisira Kumara -Faculty of Management Studies and Commerce
N Perera -Faculty of Medical Sciences
O Wedage -Faculty of Humanities & Social Sciences
N Kottegoda-Faculty of Applied Sciences
A M B Priyadarshani -Faculty of Medical Sciences
S Samaranayaka -Faculty of Medical Sciences
Prof. B M P Singhakumara -Faculty of Applied Sciences
A R Kumarasinghe -Faculty of Applied Sciences
R Wickremasinghe -Faculty of Medical Sciences