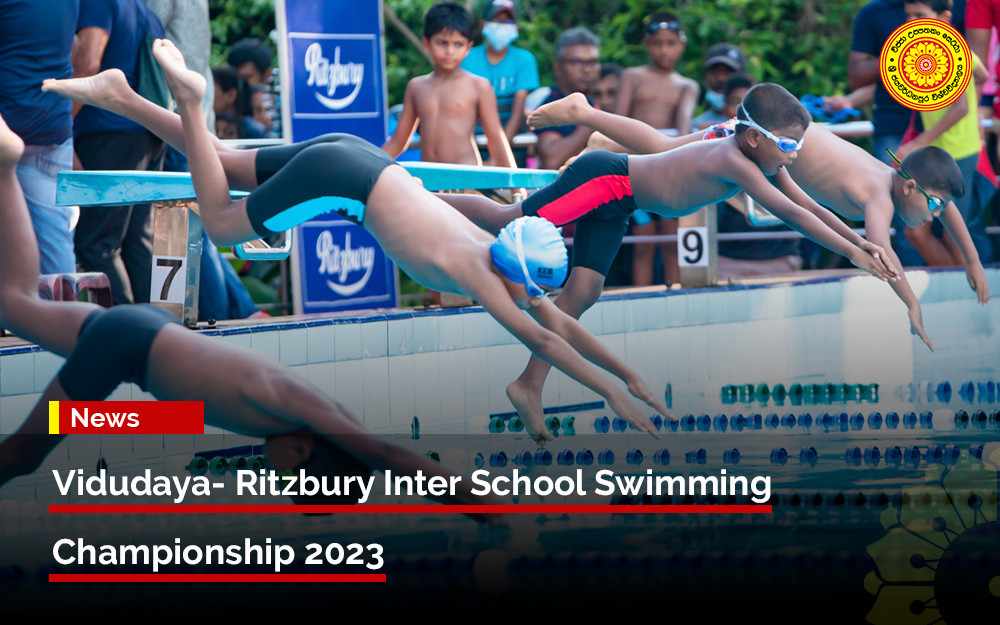 The Vidudaya-Ritzbury Swimming Championship 2023 organised by the Sports Council and the Department of Physical Education, University of Sri Jayewardenepura, and  sponsored by Ritzbury, was held at the Swimming Pool Complex of USJ on the 26 th of May with the presence of the distinguished guests, including Prof. Upul Subasinghe, the Acting Vice Chancellor of the University of Sri Jayewardenepura, Senior Prof. Pradeep Jayaweera, the Co-Chairman of the sports advisory board, Senior Prof. Wasantha Perera, Dr. Kaushal Manawadu, Mrs. Nishanthi Vidanage, and Mr. Nilupul De Silva, the Marketing General Manager of Ceylon Biscuit Ltd.
The Vidudaya-Ritzbury Swimming Championship 2023 witnessed the participation of nearly 1000 swimmers representing over 95 schools and swimming sports clubs across the island. The swimming events, ranging from 50m to 200m distances in each stroke, were conducted under five age categories (Under 10, 12, 14, 16, and 18), totaling 128 events that showcased the diversity and talent within the swimming community. These competitions were held under the support and guidance of the Sri Lanka Aquatic Sports Union.
St. Sebastian College dominated the Boys' overall championship with an astounding total of 415 points, securing the first place, followed by The Triton Aquatics' Swimmers Club. In the Girls' overall championship, Triton Aquatics swimmers emerged as the champions, amassing an impressive total of 329 points, followed by Anula Vidyalaya, Nugegoda. The Blue Wave Swimming Academy and the Accelerate Swimming Academy won the Junior team championship in the Girls' and Boys' categories, respectively.
The 10 individual champions were:
Under 10 Girls Champion – Sanumi Nehansa, Lyceum International School, Panadura
Under 10 Boys Champion – B.D. Silva, Butterfly Swimming Academy, Galle
Under 12 Girls Champion – Jithya Mettananda, Blue Wave Swimming Academy
Under 12 Boys Champion – Chanuga Weerarathne, Blue Wave Swimming Academy
Under 14 Girls Champion – Heshara De Silva, Lyceum International School, Rathnapura
Under 14 Boys Champion – A.I.M. Haathim, Triton Aquatics
Under 16 Girls Champion – Nethali Outschoorn, Triton Aquatics
Under 16 Boys Champion – M.F. Muhammad, Zahira College
Under 18 Girls Champion – R.N.P. Maleesha, Leeds Aquatic Club, Panadura
Under 18 Boys Champion – Ean Jake, Triton Aquatics
The event also featured an awarding ceremony, where a total of 16 titles were presented, including 2 overall championships, 4 senior and junior team championships, and 10 individual championships, to honor the outstanding efforts of the participants. Additionally, all participants received certificates to acknowledge and appreciate their valuable participation.
The Vidudaya-Ritzbury Swimming Championship 2023 concluded with an incredible sense of sportsmanship and professionalism, exemplified through exceptional performances by talented emerging swimmers.