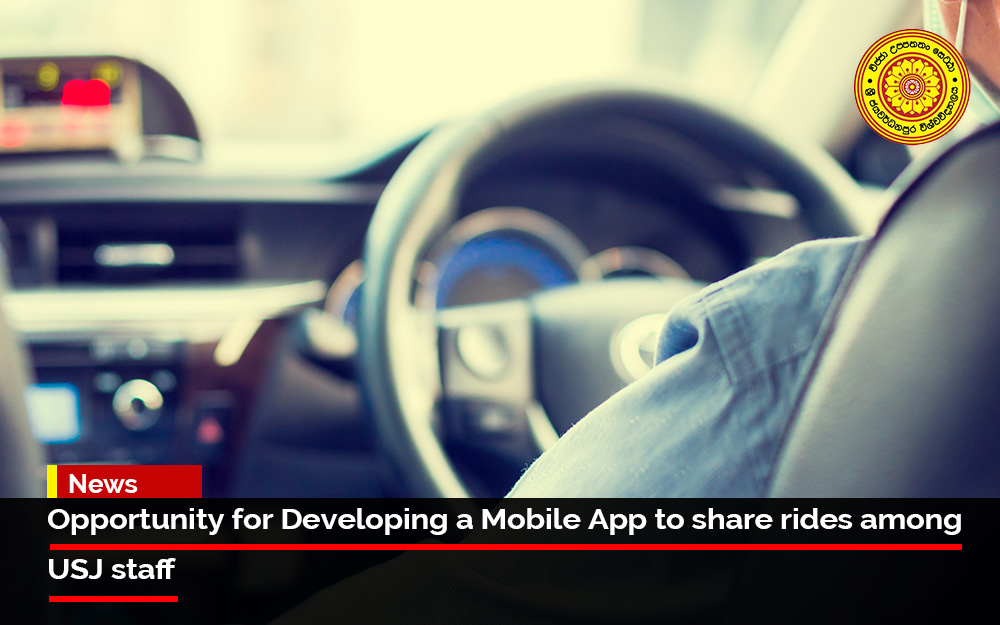 Innovation, Invention and Venture Creation Council of USJ invites an individual or a team of USJ staff to create an app to communicate riding information among colleagues AKA a Ride Sharing app. This will aid USJ staff to commute to the USJ premises by sharing their vehicle with others and assist to minimize their traveling hassle during the fuel crisis in Sri Lanka.
Time frame assigned to this project completion is one month, and USJ is looking for the candidates who are interested in initiating this project before 5th July 2022. 
The Target user group of this product is all USJ staff, including Academics, Administrative, Academic Supportive and Non-Academics.
Developers will automatically get included into the final evaluation procedure of IICE-2021 Competition, will get a certificate of service recognition signed by the Vice-Chancellor, and recognition and assistance by Sri Lanka Inventors Commission to further develop and commercialize the product. 
Mobile app/Web app may use the USJNET credentials to restrict app usage to staff and may be hosted on a virtual machine at the Centre for IT Services USJ provided it's resource footprint is law, Also, should use Open Resources/Maps as much as possible and avoid features such as google place search which may add to the recurrent cost of the services. 
For further information, please contact Prof. Lasith Gunawardena, Dr. Nilushi Nugara via email iivcc@sjp.ac.lk