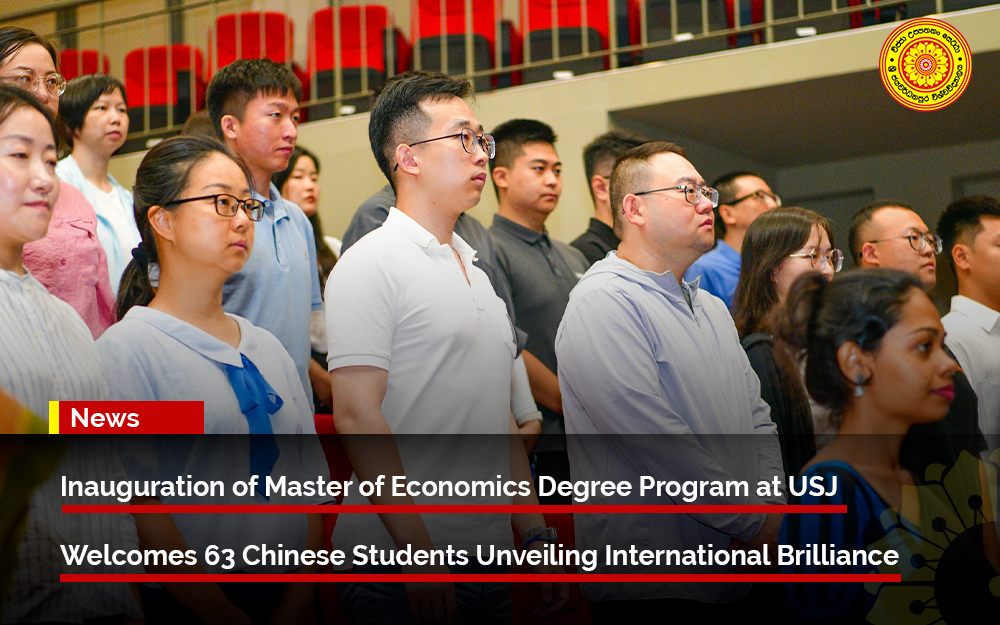 The Inauguration Ceremony of the Master of Economics Degree Program at University of Sri Jayewardenepura was held at the  Sri Sumangala Auditorium at the Faculty of Humanities and Social Sciences on 2nd of August 2023.
The event was graced by the presence of Vice Chancellor, Senior Prof. Pathmalal M. Manage, along with Deans of faculties, lecturers, and students. This occasion marks a notable milestone in strengthening the educational ties between Sri Lanka and the global community. As these bright students embark on their academic journey, they have the unique opportunity to immerse themselves in Sri Lanka's rich academic and cultural environment while pursuing advanced studies in Economics.
The Master of Economics program jointly provided by the Faculty of Graduate Studies and the Department of Economics, Faculty of Humanities and Social Sciences equip individuals with a distinctive blend of theoretical knowledge and practical expertise, positioning them for employment success. It prepares students to excel in tackling economic challenges and contribute to national and global development. The specialized curriculum emphasizes research and practical application, covering areas like macroeconomics, microeconomics, econometrics, and international economics. With 30 credits aligned to the Sri Lanka Quality Framework at Level 09, this degree readies students for a globalized world, with English as the primary language of instruction.
Their decision to study in Sri Lanka demonstrates their commitment to broadening their horizons and embracing a global perspective.
The J'pura Web Team and the entire university community wish the inaugural batch of Masters of Economics all the very best for their academic journey to be filled with knowledge, growth, and new opportunities that open doors to a world of possibilities.