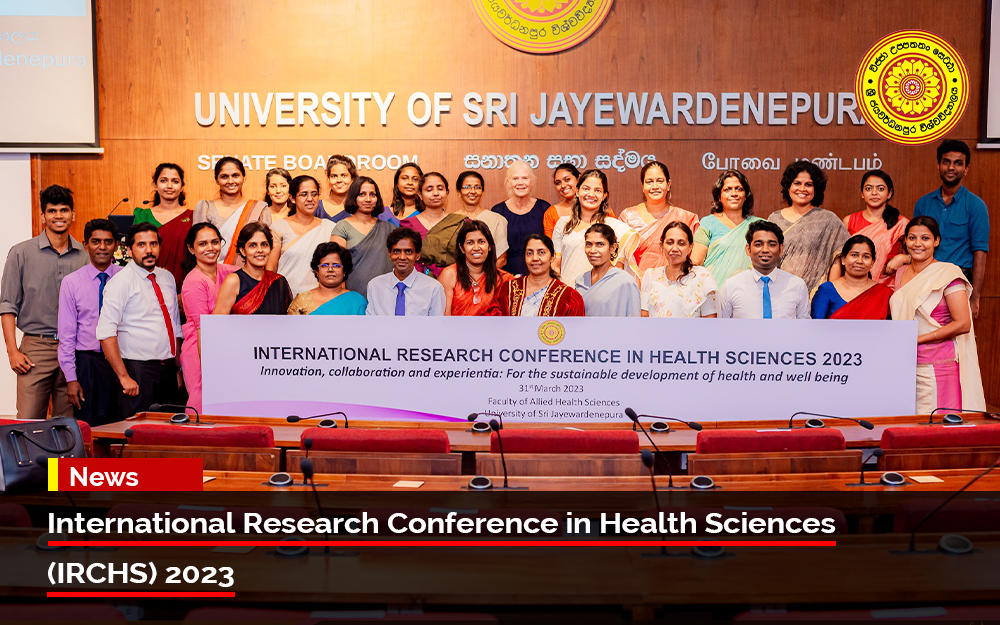 The Faculty of Allied Health Sciences of the University of Sri Jayewardenepura (USJ) successfully organized the International Research Conference in Health Sciences (IRCHS) 2023 on the theme of "Innovation, collaboration and experientia: for the sustainable development of health and well-being". The conference was held on 31st of March 2023 as a hybrid event, with online sessions and a ceremony at the senate board room of USJ.
The conference aimed to provide a platform for researchers, academics, professionals and students to share their knowledge and experience in various fields of health sciences. The conference tracks covered topics such as education and use of technology in health sciences, nursing management and health promotion, discovery, development, and quality use of medicines, and health, nutrition, and laboratory diagnostics.
The chief guest of the conference was Snr Prof Susirith Mendis, of Faculty of Medicine General Sir John Kotelawala Defence University. Other distinguished guests included VC Prof Upul Subhasinghe, Dean of the Faculty Prof D I Uluwaduge and deans of other faculties, department heads and other invited speakers.
The keynote speaker of the conference was Dr S M K S Senevirathna of Department of Nursing and Midwifery of FAHS. He delivered a speech on "Innovation, collaboration and experientia: for the sustainable development of health and well-being". The orator of the conference was Prof D I Uluwaduge, Dean of the FAHS. He spoke on "The role of allied health sciences in achieving the sustainable development goals".
A symposium was also held along with the conference on "Sustainable development of health and well-being". Three eminent speakers shared their insights on various aspects of this theme. Prof Leanne Boyd, of Monash University & La Trobe University, Executive Director-Learning and Teaching Chief Nursing and Midwifery Officer made a speech on "Contemporary challenges for the nursing and midwifery profession". Dr Hellyza Moedina Sjwani- Co-chair FIP Environmental Sustainability Policy Committee (2023) Co-founder/Co-chair of Canadian Association of Pharmacy for the Environment, Board Member of Pharmacists Without Border Canada delivered a speech on "Sustainability environment and planetary health; role of the pharmacist, pharmaceutical scientists and pharmacy educators". Ms Magen Colemen-Compliance Manager of Department of Microbiology and Immunology, University of Otago delivered a speech on "Laboratory safety and compliance, with a focus on human element".
The conference was well attended by participants from both local and international institutions. The conference also featured poster presentations, oral presentations and workshops on various topics related to health sciences. The conference concluded with a vote of thanks by the organizing committee and a certificate distribution ceremony for the participants.