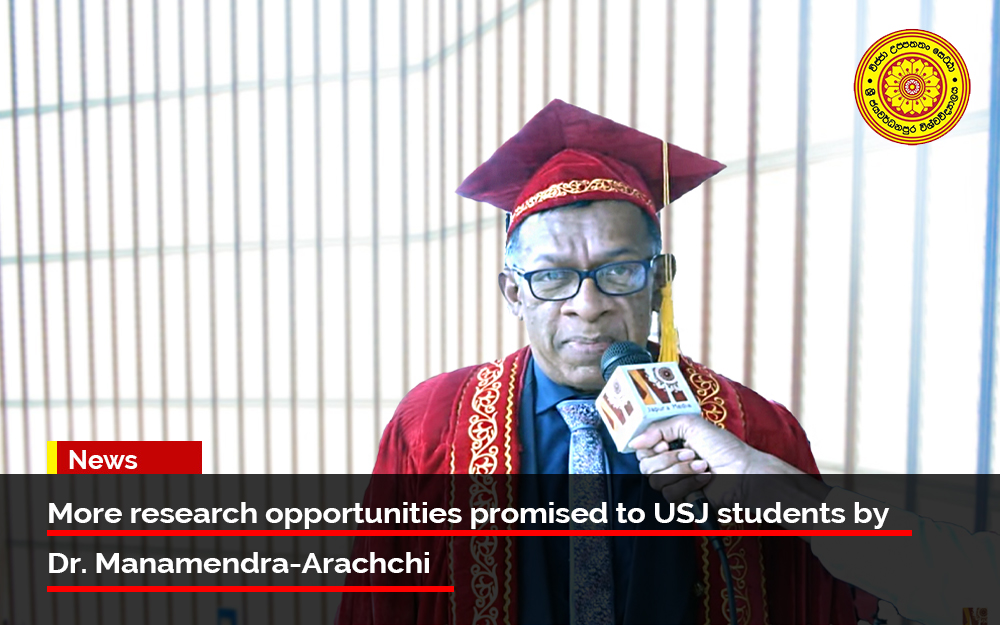 More research opportunities are open and promised to USJ students by renowned Sri Lankan Naturalist, Paleontologist, Researcher, and Taxonomist and Scientist Dr. Kelum Manamendra-Arachchci who recently awarded with the Honorary Doctorate (PhD) from the University of Sri Jayewardenepura at the 48th of Convocation.
"University of Sri Jayewardenepura has awarded me an honorary doctorate PhD to appreciate the research conducted by me over the past four decades in the fields of Zoology, Biology and as a naturalist. Firstly, I'd like to give my gratitude to the University of Sri Jayewardenepura, academicians, and staff for appreciating my service with an honorary PhD in this convocation." said Dr. Manamendra-Arachchi in the interview he had with Japura Media at the end of the 48th Convocation. 
Dr Manamendra-Aracchi added that he loves reptiles and amphibians, fossils and (in general) some of the fields within the sector of Natural Sciences. And that led him to follow his passion as a naturalist. He has done many research of the extinct animals who lived in Sri Lanka and was able to find the evidence in 2005 and published in the international research journals research publications that Tigers lived in Sri Lanka in early stages. He has introduced many amphibians, reptiles. Also, he has contributed to introducing mammals and reptiles.
"With this honorary doctorate I will be able to help and support biologists, archaeologists and naturalists who are generated from the University of Sri Jayewardenepura. I also expect to conduct more research in the field and give more opportunities to the students from USJ in those researches."
Dr Manamendra-Arachchi is a specialist on Biodiversity Conservation, Taxonomy, Biogeography, Zooarchaeology, Paleontology, Herpetology, Ichthyology, and Osteology and has described more than 70 new species of amphibians, reptiles, freshwater fishes, and mammals in Sri Lanka. He has published over 110 publications in most influential journals of the world and with over 2000 citations so far. Dr Manamendra-Arachchi is a visiting lecture of the Postgraduate Institute of Archeology of University of Kelaniya, and he is an Amphibian Specialist of IUCN SSC Amphibian Specialist Group since 1996. Recognizing his contribution to knowledge enhancement, Dr. Manamendra Arachchi was awarded by the International Institute for Species Exploration, Arizona State University. He is a Presidential Awards winner for Taxonomy and Zoo-Archaeology in 2003, 2004, 2005, and 2009. He received the Top Ten Award for discovering remarkable new species in 2008 and honoring the service to taxonomy and biodiversity conservation of the last 40 years, two species, viz. Puntius kelumi and Calotes manamendrai were named after Dr. Manamendra-Arachchi's name (patronymic) by the founders of those species. This is a golden opportunity for USJ students who has interest in the field of Biodiversity Conservation, Archeology and other fields where Dr. Manamendra-Arachchi is specialized in.