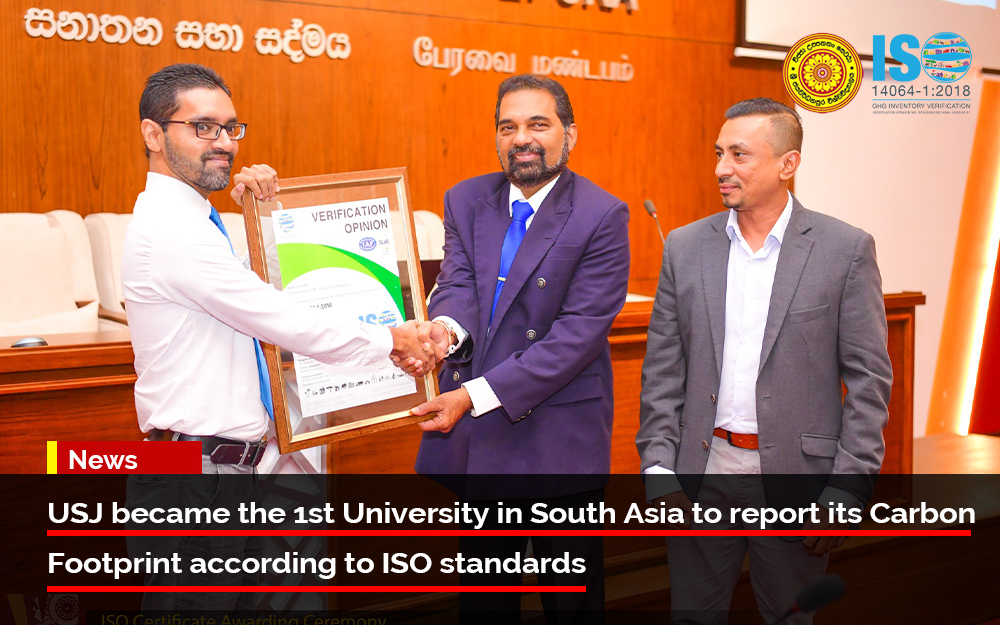 University of Sri Jayewardenepura became the first university in South Asia to report its Carbon Footprint according to the ISO 14064-1: 2018 standard. USJ achieved this milestone as a part of "USJ Road to Carbon Neutral" program with the hard work and execution of the action plan by The Center for Sustainability.
The Center for Sustainability of University of Sri Jayewardenepura accomplished this certification by completing the disclosure of the Carbon Footprint of the University of Sri Jayewardenepura for the academic year 2019- from 1st of January 2019 to 31st of December 2019, according to ISO 14064-1: 2018 Standard. This statement included operational activities with all applicable emission sources. Under this program Center of Sustainability of USJ was able to report 518.40 tonnes of Carbon Dioxide Equivalents (CO2e), 2,406.91 tonnes of CO2e and 913.25 tonnes of CO2e sums up to 3,838.56 tonnes of CO2e in total emission emit by USJ within 2019. This reporting has been verified in accordance with ISO 14064-3:2019 as meeting requirements of ISO 14064-1: 2018
The Center for Sustainability received this Certificate Award on Thursday, 20th of October and the award ceremony held from at 2.30 pm – 4.00 pm at the New Senate Boardroom.
The Center for Sustainability is a body for environmental extension, research and community outreach unit, linked to the Department of Forestry and Environmental Science (DFES), University of Sri Jayewardenepura. The Center for Sustainability promotes environmental protection and sustainable development in the country through industry support and productive University-Industry partnerships.