Emeritus Professor Antoinette Perera is featured as the WONCA Global Family Doctor.
PERERA, Prof Antoinette
Sri Lanka: SAR conference president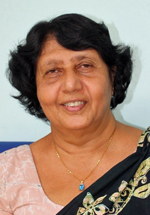 Antoinette is President of the College of General Practitioners of Sri Lanka (CGPSL) and president of the organising committee for the WONCA South Asia region conference being held in February 2016, in Colombo in Sri Lanka.
What work are you doing now?
At present I am working as Emeritus Professor and consultant to the department of Family Medicine, Faculty of Medical Sciences, University of Sri Jayawardenepura Sri Lanka. It is situated about 12 km south of the capital city of Colombo. I teach undergraduate medical students but I also take part in training nursing students and pharmacy students at the university Family Practice Centre established in 1997, a model centre for training, service and research which I helped to establish and sustain. We have a large clientele of patients from in and around the village and also from different parts of the country. I also have trainees undertaking the Diploma courses in Family Medicine or Geriatric Medicine, trainees following the MD in family medicine those sitting for MRCGP (international) exam.
I continue to see my patients most of whom I have followed over the last 17 years. I see patients on two days of the week. And I am on call if any problem arises.
I was elected the President of the College of General Practitioners of Sri Lanka (CGPSL) in April 2015, and ceremonially inducted on the 13 June – the day of the feast of St Anthony, one of my favorite saints. This position has added to my responsibilities. However I have been a council member for many years and was the Vice President of the CGPSL for the last two years and am familiar with the work.
I am also heavily involved in the Sri Lanka Association of Geriatric Medicine launched last year and am a council member. I actually am a "mother" to the young physicians who launched the association.
Since July, I have been involved in the election campaign of my husband Srinath Perera a President's Counsel(Queens Counsel to you). He is contesting for parliamentary elections in Sri Lanka from Colombo district!
Other interesting things you have done?
My original medical interest was in Dermatology as I was posted as house officer to a large General Hospital in the hill country, where I was sent to work with the dermatologist. I seem to be able to remember skin lesions without any effort. However, after I selected Family Medicine as a career I have never looked back. I continued with my interest in dermatology and have worked with the Dermatologists for nearly 42 years.
Among the interesting things I have done which I enjoyed hugely has been organising international conferences, conducted by the Sri Lanka Association of Dermatologists (SLAD) which later became a College. I have played many roles in organising their conferences for example as the social activities Chair and later as the Publications Chair.
My research published in index journals also was on many dermatological problems. I have been the main research author on the epidemiology of skin problems in Sri Lanka for the eighth community survey done in the world. I am also very interested in herbs and the practices of Ayurvedic medicine and carry out research in the use of these, especially for skin problems.
I have been the Chair of the Community based medical learning programme in which we carry out a residential programme for 150 students, where they reside in a purpose built training centre in a rural area and visit the primary care hospitals. One of the interesting things that I have done is organising a day with the villagers in the area, to have face to face chats and find out about the villagers' backgrounds, beliefs and practices. On the whole I have enjoyed these programmes and I was also able to identify the poorly resourced hospitals and start medical laboratory services by getting funds from the provincial council and the provincial Directorate.
Read More http://www.globalfamilydoctor.com/member/WoncaPeople/PERERAProfAntoinette.aspx