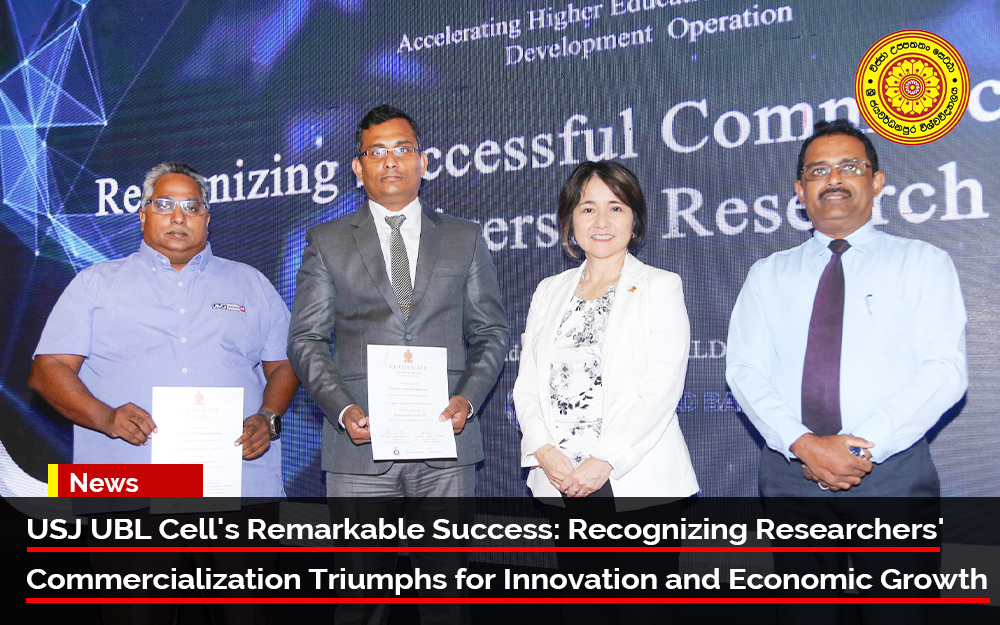 With the aim of recognizing successful commercialization of university research to promote innovation and economic growth, the AHEAD (Accelerating Higher Education Expansion and Development) operations organized an event to recognize the commercialization efforts of researchers from all HEI cells and universities, as well as its business partners. The event was held on the 02nd of May, 2023 at the BMICH. Emphasizing the successful commercialization which can lead to new products, services, and technologies is one of the major aspect of organizing this event.
Establishing a University Business Linkage Cell to promote collaboration between universities and the industry in order to facilitate knowledge transfer and commercialization is a yet another important initiative of the AHEAD project which supports to bridge the gap between academia and industry experts, bringing together the necessary resources to contribute to the global economy and advance research and development. USJ Tech Transfer Office (UBL Cell) of the University of Sri Jayewardenepura is now a successful outcome of the AHEAD project considering its substantial contribution to commercialize the outcomes of the university research.
The substantial advancements made by the USJ Tech Transfer Office in the commercialization of research were highly appreciated in this event. Certificates were awarded for the inventors behind the invention as well as the commercial partners who took the responsibility of introducing the valuable outcomes of the research to the market and University of Sri Jayewardenepura was able to be awarded for the researches conducted in different thematic areas. USJ was able to be recognized for its research commercialization success through two organic cosmetic products developed using natural soil compound; laterite soil, Sudarshana suspension, the revolutionary ayurvedic medicine, nine innovative drum designs with novel sounds, novel technology of Efficient Bio-diesel Production, and a new technology to produce high thermal conductive graphite incorporated latex rubber products.
The advancement of the nation depends on the intellectual work being done by the academic community. This is a unique query that has been brought to the nation's attention. Research, trade, and industry are greatly needed, especially in developing nations.
Furthermore Mr Sandun Amarasiri the student and owner of theYOUR CHOICE CEYLON EXPORTS (PVT) LTD who won the third place in the university student startup competition organized by AHEAD/ICTA to celebrate Global Entrepreneurship Week 2022. Received a cash prize of 100,000.00LKR from Commercial Bank PLC.
The event was graced with the presence of Minister of State for Higher Education, Dr. Suren Raghavan, Chairman of the University Grants Commission, Professor Sampath Amaratunga, Vice-Chairman of the Commission, Professor Chandana P. Udawatta, Sri Lankan representative of the World Bank, Ms. Chio Kanda, all University Vice Chancellors, OTS Directors, UBL Diretors & Managers and the business community.