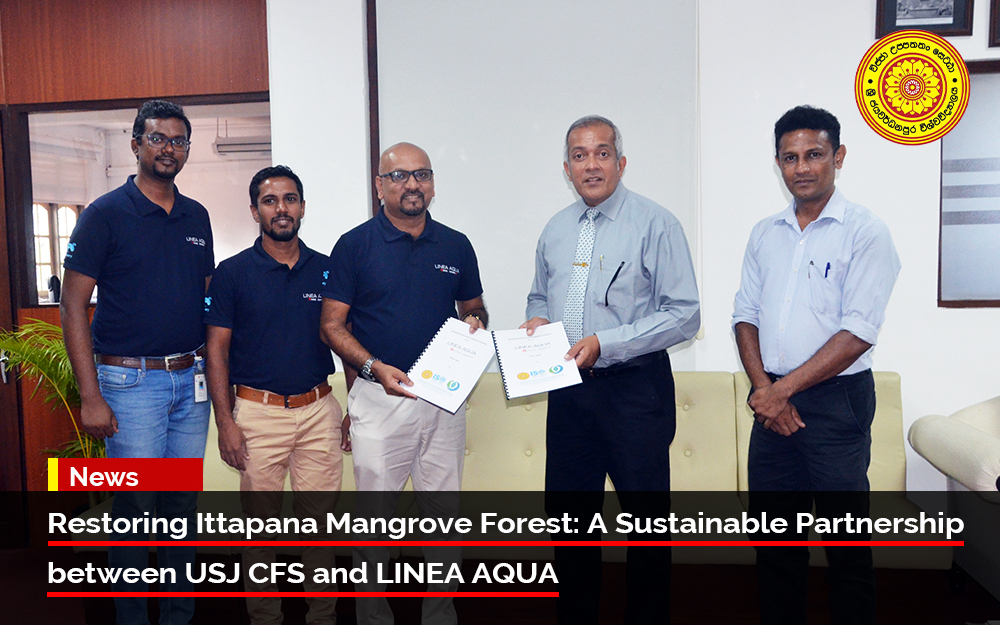 The Center for Sustainability (CFS), which is part of the Department of Forestry and Environmental Science at the University of Sri Jayewardenepura, recently signed a Memorandum of Understanding (MOU) with MAS Active to restore one acre of forest in the Ittapana Mangrove Conservation Forest. The MOU was signed on April 18th, 2023, at the Vice Chancellor's office board room, with Prof. Upul Subasinghe, Acting Vice Chancellor of the University signing on behalf of the institution.
Representatives from LINEA AQUA (PVT) LTD, including Lalith Herath, General Manager of Human Resources and Administration, Compliance and Sustainability, Assistant Manager of Compliance and Sustainability, Gemunu Iroshana, and Executive of Environmental Sustainability, Devaka de Silva, attended the signing ceremony. The Center for Sustainability (CFS) was also represented by Dr. Thilakawansha Chandrathilake, the Director of the center, and members of the CFS team, including Ms. Kaushani Wimalasiri, Mr. Vimukthi Prathap Fernando, and Mr. Sakuntha Hirimuthugoda.
The main objective of the MOU is to restore one acre of forest land in the Ittapana Mangrove Conservation Forest. This degraded land, which is located within the University-managed mangrove forest, will be restored using native mangrove species under the joint collaboration of the CFS and LINEA AQUA.
The CFS has a proven track record of success in promoting and disseminating knowledge and practices related to sustainability, particularly through its partnerships with private sector organizations. The project to restore one acre of degraded mangrove forest land exemplifies LINEA AQUA's strong commitment to environmental sustainability, while also serving as another successful example of a sustainable industry-university partnership initiated by the CFS.
The signing of the MOU represents an important step forward for both the University and LINEA AQUA, as it demonstrates their shared commitment to environmental sustainability and to promoting the restoration and preservation of natural resources. This project will not only restore the degraded land but also create a healthier ecosystem that will benefit the surrounding community and the wider environment.