"Shilpa Sena – Sri Lanka Technological Revolution" organized by the Ministry of Science Technology and Research to which Interdisciplinary Center for Innovation in Biotechnology & Neuroscience (ICIBN), University of Sri Jayewardenepura has become an affiliated partner in organizing a tech zone in the field of Neurotechnology – was held from 18th to 21st of July 2019 at the BMICH. The intention of this exposition was taking the new knowledge in science, technology, and innovation to the general public.  The Initiative of the Center, under the guidance of Prof. Ranil de Silva, the Director of the Center &b Dept. of Anatomy, for the exposition was to introduce:
"Healthy Brain Aging – The Challenge of the 21st Century" – focused on Educating people on Stroke, Dementia, Parkinson's along with the positive effects of Natural product consumption and relaxation therapies on the aging brain. The public was presented with results proven by Collaborative research done by the Centre, associated with brain aging and a healthy lifestyle, where the center hopes, will enable our community to approach a healthy lifestyle with knowledge and confidence.
The Centre also provided the general public with the opportunity of:
Undergoing a free memory test.
Free genetic testing for neuro/neuromuscular genetic diseases and future clinical trials in Gene Therapy.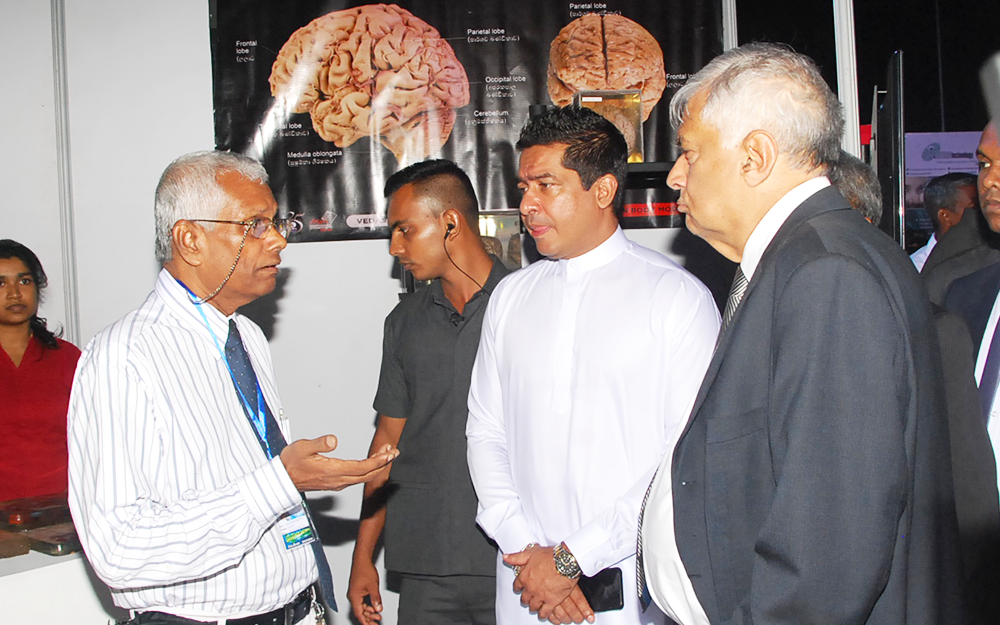 Prof. Ranil de Silva, Director of ICIBN, conversing with the Chief Guest of the opening ceremony; Hon. Prime Minister Ranil Wickremasinghe and Hon. Minister of Science Technology and Research on the Centers' BioBank which is the largest in South East Asia, and the Centers' free Genetic testing service along with the approach for Gene Therapy in the future.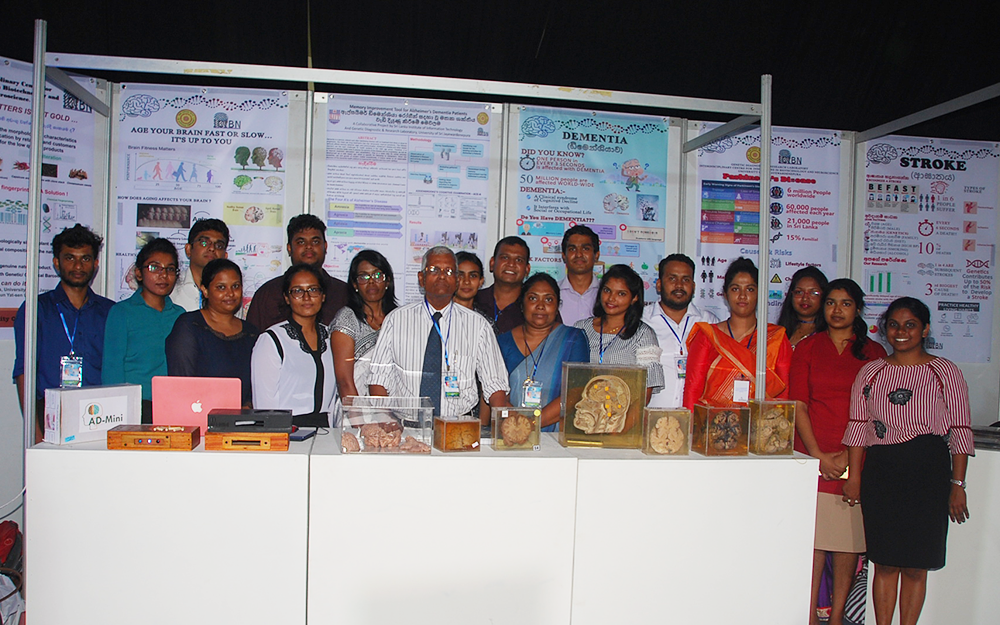 Postgraduate students of the Centre (Mr. Lakmal , Mr. Nalaka , Mr. Yoonus , Dr. Pulasthi , Ms. Darshi, Ms. Shamali, Ms. Stephanie, Dr. Liraj , Ms. Chirathma, Dr. Lokajini, Dr. Nuwani, Dr. Gayatri), Students from Sri Lanka Institute of Information Technology (SLIIT) Ms.Shanilka, Ms. Prasansani) and Medical students of USJP  at Shilpa Sena Exposition.