Pavements represent a high fraction of the urban land use and contribute to the Urban Heat Island (UHI) effect in cities. This effect leads to microclimatic variations in urban areas, where ambient temperatures become relatively high compared to their outskirts.
"Terracotta pavers have significantly lower surface temperature levels for both daytime and night time compared to Grass and  Cement Pavers", says Dr. Varuni Jayasooriya, Senior Lecturer at Department of Forestry and Environmental Science, University of Sri Jayewardenepura. The incorporation of grass patches in the design allowed the absorbed heat energy of paving blocks to be cooled down rapidly. The radiative heat flux estimations further showed that Terracotta pavers emit the absorbed heat energy at a rapid rate thus, contribute less to the nighttime UHI.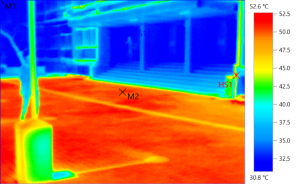 Different types of pavers are available for pavement construction with extensive variations in color, material, surface texture, and mixed designs. These variations in pavers account for distinct levels of absorption in heat energy and radiation while generating different UHI intensities. Such factors make it important to identify the relationships between physical attributes of pavements concerning the urban microclimates when designing pavements for optimum human comfort conditions in contemporary sustainable and livable cities.
Researchers at the Department of Forestry and Environmental Science have carried this study on assessing the UHI contribution through three commonly available paver types in Sri Lankan urban areas representing changes in materials; 1) Cement Pavers (CP), 2) Terracotta Pavers (TP) and 3) Grass Pavers (GP). According to the results
The research was carried out by Dr.Varuni Jayasooriya from the Department of Forestry and Environmental Science and Mr. Dinuka Senevirathne (research assistant) in collaboration with Associate professor Shobha Muthukumaran from the School of Engineering and Science, Victoria University, Melbourne, Australia. The research group is currently working on developing a numerical model for the assessment of UHI impacts through various pavement physical attributes considering their surface texture, colour, and other material properties.
Researchers concluded, "Commonly used materials should be integrated into urban pavement designing in order to regulate microclimates in city temperature".
(The research work was supported by research grant No.ASP/01/RE/SCI/2018/45, funded by the University of Sri Jayewardenepura, Sri Lanka.)
Read the full Article: https://ieeexplore.ieee.org/document/9525655
Read more Research Articles :
USJ and USDA-ARS collaborative research team discovered new Pathogenic Fungal species
Translating waste to wealth : Colloidal and nano biochars convert human urine to safe organic fertilizer
Biofuel from Cyanobacteria and paper waste – The Centre for Water Quality and Algae Research
Endocrine disruptor Tributyltin (TBT) found in water and invertebrates in ship traffic zones for the first time in Sri Lanka – USJ Water Quality and Algae Research
FOT researchers produce Bioethanol from Banana fruit waste
Antibody responses declined but T cell responses remained 12 weeks after Sinopharm second dose – USJ research