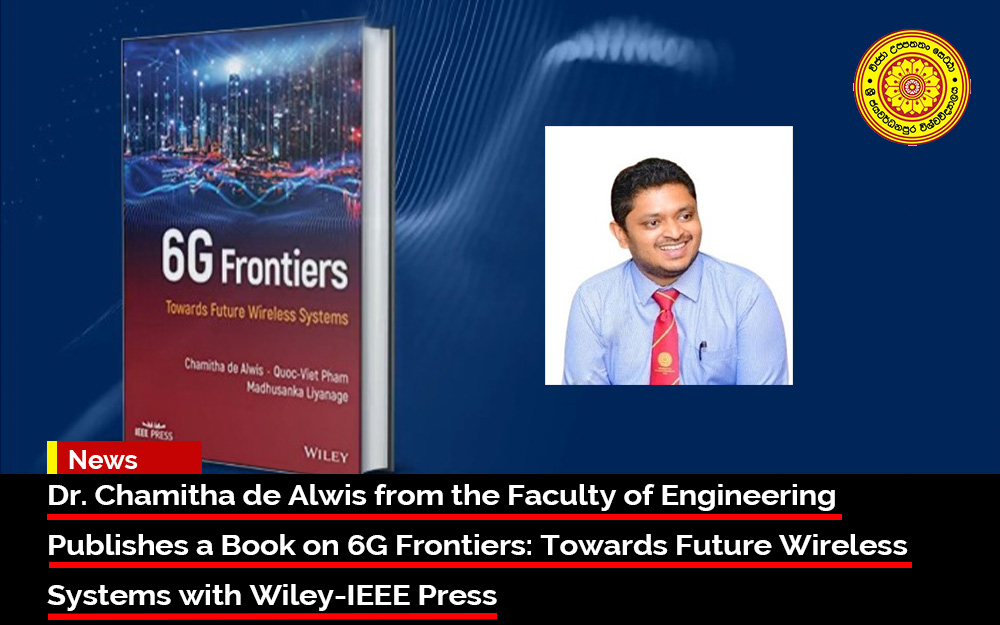 Dr. Chamitha de Alwis, Head and Senior Lecturer of the Department of Electrical and Electronic Engineering, University of Sri Jayewardenepura has published a book on 6G Frontiers: Towards Future Wireless Systems with the highly reputed publisher Wiley-IEEE Press. This work is done in collaboration with Dr. Madhusanka Liyanage, Assistant Professor/Ad Astra Fellow and Director of Graduate Research at the School of Computer Science, University College Dublin, Ireland and Dr. Quoc-Viet Pham, Research Professor, Pusan National University.
Following the launch of 5G, the world is embracing new advancements of mobile communication to realize enhanced mobile broadband, massive machine type communication and ultra-reliable machine type communication. These technologies will enable a multitude of novel applications ranging from virtual reality, augmented reality, smart health care and smart factories, and the world envisages the dawn of a new era of mobile communication in the coming decade.
This new generation of mobile communication will be the sixth generation of mobile networks to enable applications that are not imagined yet, such as holographic teleportations, space and deep-sea communication, yet can only enhance the known, and existing applications to UAV networks, intelligent Internet of medical things, and the next industrial revolution, Industry 5.0.
This book authored by Dr. Chamitha and the team provides a unique reference, offering an intelligent insight into the ongoing and future research treads, use-cases, and key technologies towards the 6G networks. This book is already being featured by many 6G related forums including 6G Flagship by University of Oulu (https://twitter.com/6Gflagship/status/1539130282879684609?s=20&t=aUIolrcpnr1EPlRY6UEppg). This book is presently on pre-order through Amazon(https://www.amazon.com/6G-Frontiers-Towards-Wireless-Systems/dp/1119862345)