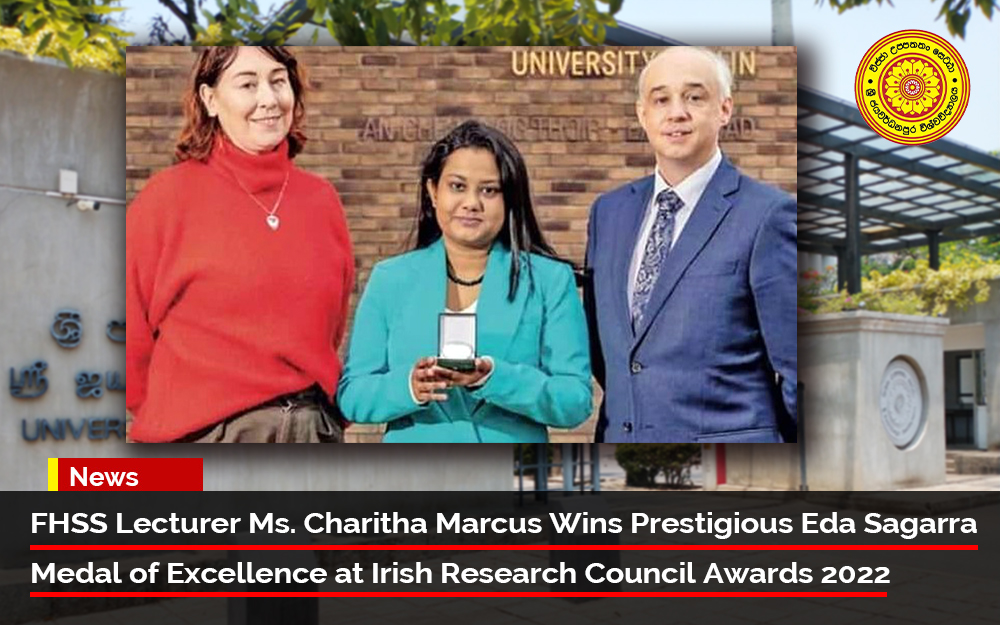 Charitha Marcus, a Sri Lankan lecturer who is attached to the faculty of Humanities and Social Sciences of the University of Sri Jayewardenepura pursuing her doctoral studies in Ireland, has been awarded the Eda Sagarra Medal of Excellence at the annual Irish Research Council Researcher of the Year awards, 2022. The medal is one of the most prestigious academic awards in Ireland and is awarded to the highest ranked Government of Ireland Postgraduate Scholarship recipient in the Arts, Humanities and Social Sciences domain.
Charitha's doctoral research in the School of Media at Technological University Dublin is titled 'Constructing female identity in Irish politics: the impact of digital media'. Her research examines digital media tactics used by Irish female politicians to build their political identities and proposes improved digital media strategies to increase women's role at local, national, and EU levels.
Charitha, Mass Communication lecturer from USJ, expressed her gratitude for receiving the Eda Sagarra Medal of Excellence award, calling it an honor. She added that there's a need to understand how modern communication methods can increase gender representation in politics in Ireland, and how it can be applied to other countries. She dedicated the award to the free education system of Sri Lanka and the faculty of Humanities and Social Sciences at the University of Sri Jayewardenepura.
Dr Brendan Jennings, Vice President, Research and Innovation at TU Dublin, praised Charitha's academic excellence and her research's relevance in examining female political representation in the digital sphere. Charitha's research is co-supervised by Dr Caroline Ann O'Sullivan, Head of the School of Media, and Dr Kevin Hora, MPRII, Assistant Head of School and Head of Discipline of Journalism and Communications.
The Eda Sagarra Medal of Excellence is awarded in honour of Professor Eda Sagarra, Fellow Emeritus in the Department of Germanic Studies, Trinity College Dublin, who was the first chairperson of the Irish Research Council for Humanities and Social Sciences, the forerunner of the IRC. Charitha's achievement in receiving this honour underscores the importance of Humanities research in understanding our relationship with the digital world, especially the issues faced by women politicians.