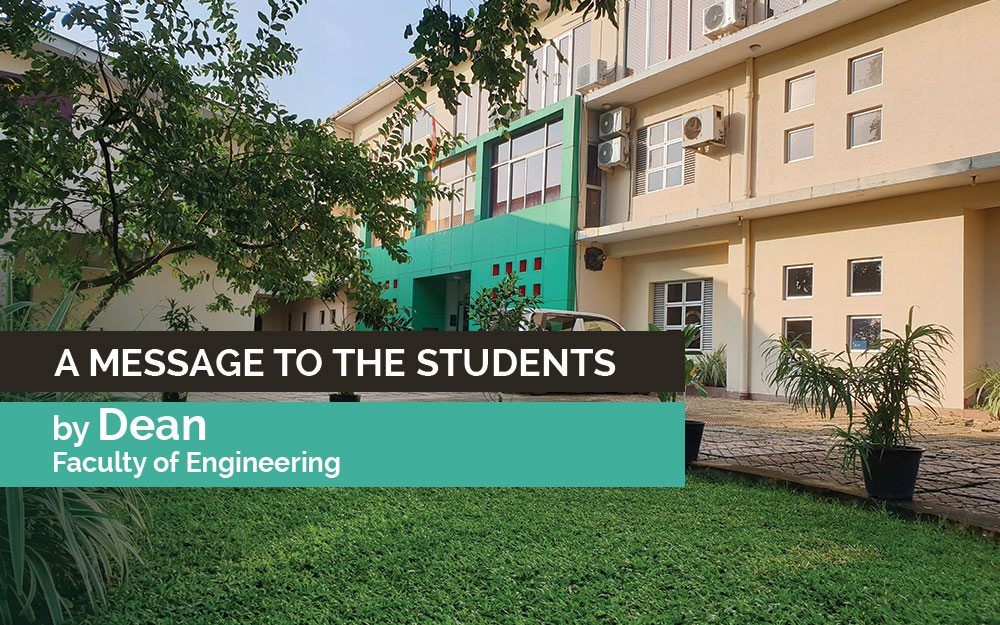 Dear Students,
Academic activities of Faculty of Engineering during COVID – 19 Outbreak
Our lives have been changing dramatically in the past few weeks due to the global pandemic COVID-19. We all are passing probably the most uncertain period of our lifetime, confined to our homes. I sincerely hope you and your family are not directly affected by this prevailing situation and that we all will be able to return to our normal lifestyle as soon as possible.
All the staff members of the Faculty of Engineering are willing to assist you in this difficult time. Below are a few links for your information.
https://www.who.int/srilanka/covid-19
However, despite these tiresome circumstances, we need to move forward. With the directions of the Vice Chancellor, we are facilitating the students to engage in self-studies using online learning systems so that they can be occupied with their studies. In the Faculty of Engineering, we are adjusting to support you to continue your learning as much as we can. Accordingly, from Friday 27th March, course materials of lecture components and some other relevant materials have been made available online via the LMS. Respective Heads of Departments and/or Course Coordinators will keep you updated about these uploads timely. All our academics are tirelessly working to help you minimize the damage on your academic progression.
This is a difficult time for all of us as we all try social distancing and self-isolation as a nation. It is important that you look after the wellbeing and mental health of yourselves, your families and local community. This also is a testing time for us in our adaptability, patience and self-discipline. Please try your best to bare the prevailing situation patiently until your life returns to normalcy. Follow the instructions given by the authorities to stay safe. Please unite to fight COVID-19.
Please contact myself, Heads of Departments or any other Faculty Staff Member(s) if you are in need of any kind of assistance, academic or otherwise.
Take care, stay safe and stay healthy.
Kind regards,
Dr. KMC Konthesingha
Dean/Faculty of Engineering