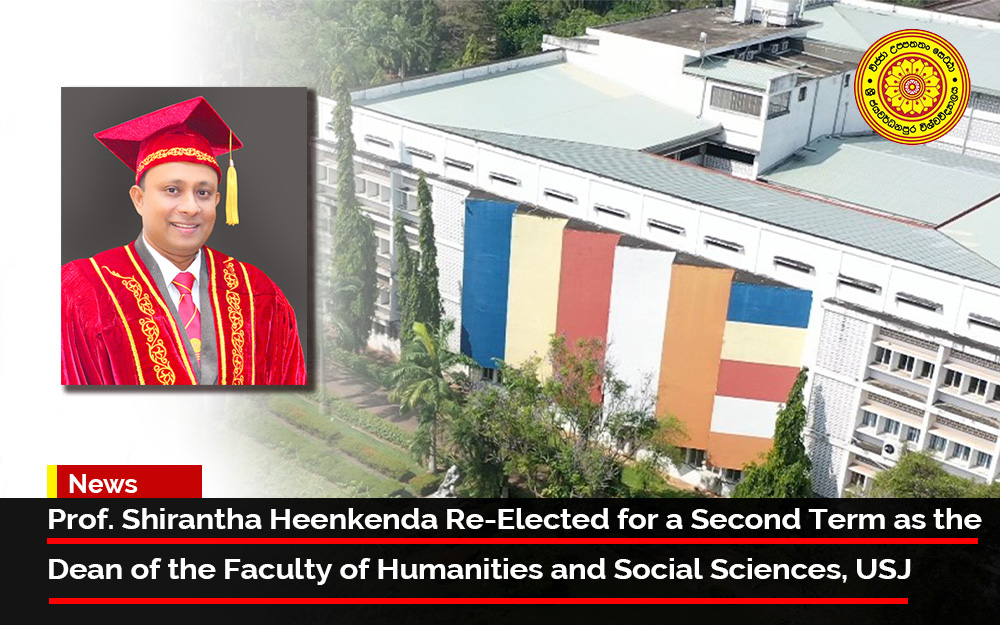 Professor Shirantha Heenkenda was re-elected for a second term upon a unanimous decision as the Dean of the Faculty of Humanities and Social Sciences of the University of Sri Jayewardenepura on 23rd June 2022. His second term of office will be effective from July 1st, 2022, for another period of three years.
During the tenure of Professor Heenkenda from 2019 to 2022, the faculty strived toward enhancing the educational and learning opportunities of the faculty undergraduates. Some of the salient features in the progress of the faculty during his tenure include and are not limited to the introduction of new degrees to match the existing demands of the world of employment, developing and integrating digital teaching and learning strategy, building on cooperation and partnerships with external stakeholders and research institutions worldwide. In his attempt to increase the employability of the undergraduates, several new centres and units were established to focus on developing the employability and soft skills of the students. Professor Heenkenda has also given a notable contribution to enhancing and developing the infrastructure facilities of the faculty. A second mandate gives Professor Heenkenda and his dedicated team the opportunity to build on past accomplishments and consolidate their efforts in line with the strategic plan of the faculty.
Professor Heenkenda, an alumnus of the University of Sri Jayewardenepura and the Nagoya University, Japan has also actively contributed his knowledge and expertise to several domains of higher education namely the Council committee of the university, the Standing Committee on Humanities and Social Sciences, evaluation panels of state universities, etc. He is also an active member of the JASID (The Japan Society for International Development) research group. In addition, he has been actively contributing to several task forces of the Sri Lankan government.