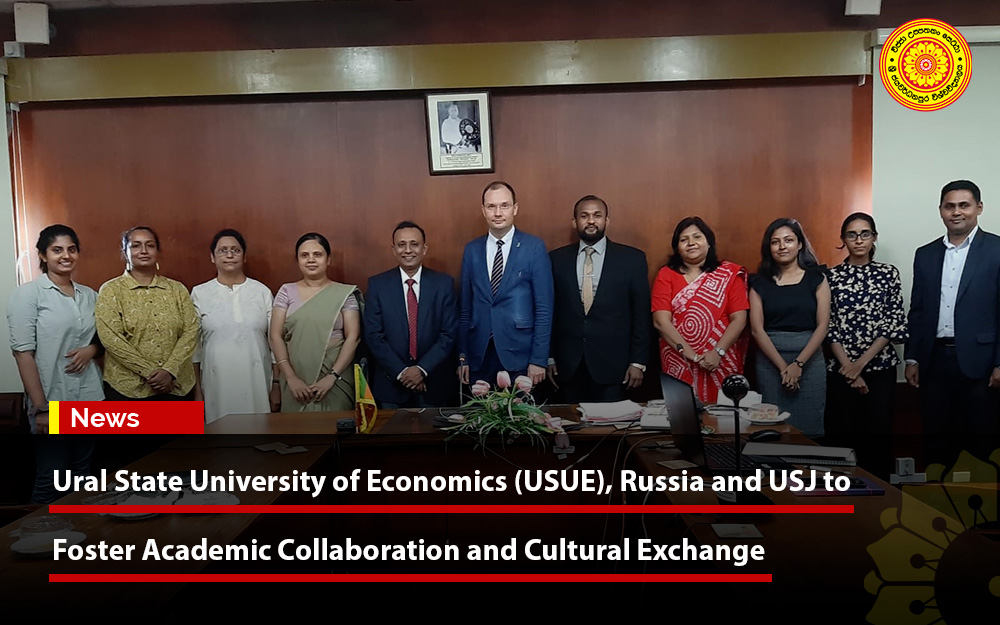 During a formal working visit to Colombo, Sri Lanka, Roman Krasnov, the Vice-Rector for Social Work and Youth Policy at Ural State University of Economics (USUE) in Russia, met with Prof. Shirantha Heenkenda, the Dean of the Faculty of Humanities and Social Sciences at the University of Sri Jayewardenepura (USJ) with the aim of strengthening discussions on fostering cultural exchange and promoting academic collaboration between the two institutions.
Productive discussions took place, focusing on enhancing cooperation and interaction, including continuing student exchange programs and scientific collaboration aimed at strengthening the bond between USUE and USJP. As a significant outcome of the visit, plans were made to establish a dedicated Russian Language Centre at USJP  promoting the Russian Language, fostering cultural understanding, and offering valuable educational opportunities for students and professionals from both Sri Lanka and Russia.
The collaboration involves the inclusion of two native Russian Language teachers from Russia, ensuring effective language instruction at the Russian Language Centre. Diverse language courses suitable for learners of all levels will be offered, providing an immersive and interactive learning experience through visual and audio materials. Successful completion of the Russian language course will grant students eligibility to pursue higher education at any university within the Russian Federation, creating new academic and professional opportunities for Sri Lankan students and strengthening ties between the two nations.
Beyond language instruction, the collaboration between USUE and USJP extends to cultural exchange programs, workshops, and seminars, with the goal of deepening the appreciation of Russian culture among Sri Lankan students and faculty members.
The upcoming formal agreement signing between Ural State University of Economics and the University of Sri Jayewardenepura represents a significant milestone in Sri Lanka-Russia relations, fostering a more interconnected global learning community and solidifying educational ties between the two nations.