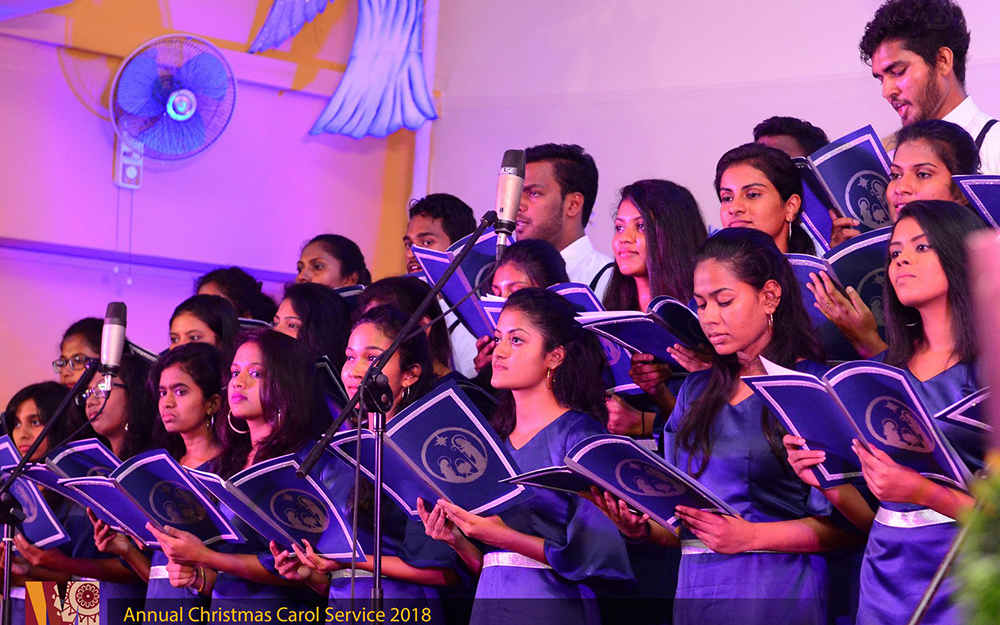 The Annual University Christmas Carol Service 2018 organized by the Catholic Students' Movement (CSM) of the University of Sri Jayewardenepura (USJP) was successfully held for the ninth consecutive year. The Carol Service 2018 themed, "Venite Adoremus – Oh Come Let Us Adore Him" was held on Monday, the 17th of December 2018 commencing at 6.00 p.m. at the Auditorium of the Faculty of Applied Sciences, USJP.
Cultural diversity and religious harmony in our University was highlighted at this event with the graceful presence of Most Venerable Dr. Ittapana Dhammalankara Maha Nayaka Thero, the Most Venerable Chancellor Thero of our University and His Eminence Most Rev. Dr. Malcolm Cardinal Ranjith, Archbishop of Colombo on this joyous evening. On behalf of Senior Prof. Sampath Amaratunge, Vice- Chancellor of the University, Senior Prof. (Ms.) Surangi Yasawardene, Dean of Faculty of Medical Sciences welcomed the chief guests of the event.
Very Rev. Fr. Ivan Perera – Former Council Member of USJP Governing Council, Very Rev. Fr. Placidus De Silva – Episcopal Vicar for Special Projects & Chancellor of Archdiocese of Colombo, Catholic Priests, Senior Prof. Sudantha Liyanage – Dean of Faculty of Applied Sciences, Senior Prof. Hemanthi Ranasinghe – Dean of Faculty of Graduate Studies & Chief Advisor of CSM USJP, Prof. Ajantha Dharmasiri – Director of Postgraduate Institute of Management, Members of Academic Staff, Administrative Staff, Non – Academic Staff, Undergraduates from Universities of Colombo, Kelaniya & Moratuwa along with Parents witnessed this year's carol service.
The voices of undergraduates representing all religions harmoniously joined together to proclaim the birth of Jesus Christ into this world, by giving true meaning to the words of Sarah Dessen,  "Music is the great uniter. An incredible force. Something that people who differ on everything and anything else can have in common."
The Carol Service not only made the evening colorful with the voices singing in unison, but also with a drama to reveal the true meaning of Christmas to all who were present. The decorations and preparations for the Carol Service made everyone sense the mystical atmosphere of the season.
The Carol Service amidst its festivities and glittering lights did not fail to convey the message of joy, peace and love that the baby Jesus brought into the world, which are the fundamentals to the teachings of all religions in the world.
On the following day, members of CSM USJP organized a carol service at Children Wards of Maharagama Apeksha Hospital also and shared Christmas gifts to share the happiness of Christmas with those little ones.